Back in December 2016 Infected Mushroom showed off their latest collaboration with Polyverse, Manipulator. It was in BETA back then... and today it's available to buy as version 1!
Manipulator is designed as a new type of vocal transformer. Of course, you don't have to use it only on vocals, other instruments can be processed too. Manipulator alters the pitch and timbre of your voice using "unique grain algorithms". So, if you enjoy warping and manipulating sounds beyond the recognizable, but still making them usable it looks like Manipulator is for you.
We think Manipulator looks and sounds like a lot of fun indeed. Check out the video below for an overview of the plug-in's settings and really cool examples.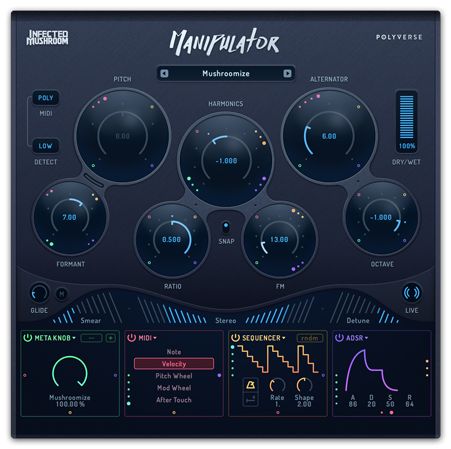 FEATURES
Bend and sculpt your sounds into new ones
Alter timbre and pitch of vocals and instruments
10 Different effects with endless combinations
Change melodies of existing performances
Create harmonies with up to 4 polyphonic voices
Extensive modulation capabilities
Real-time processing for live performance
Supports VST / AU / AAX plug-in formats
And here's an overview tutorial of Manipulator from Polyverse:
Price: Manipulator v1 is currently available for $99 (normally $149).