With the exception of the nostalgic '80s synth guru, most of us would be in agreement that many synths now available in the App Store are almost if not as pro sounding as their VST or hardware equivalent. The fact that they can be programmed and tweaked on your iPad while away from your computer is of course another plus point. However, for the Ableton users among us, what is the point of coming up with patches on your iPad if you can't fully incorporate them into your Live setup? As it turns out, however, many of these iOS synths can be fully integrated into your project with just a simple audio cable (for audio) and a Wi-Fi connection (for MIDI). Let's take a closer look.
Before you spend your hard-earned $10 or whatever, check to see what kind of MIDI functionality a particular iOS synth offers. With the introduction of Core MIDI with iOS 4.2, iPad users finally had the chance to connect their MIDI devices wirelessly to their tablet without the need for bespoke hardware. Therefore Core MIDI functionality is the first thing you should look out for. Other MIDI features that would be beneficial in a setup like this would be the ability to map the parameters within the synth and MIDI file export but we will look at these later in the article.
Step One
Firstly, we need to set up an ad hoc Wi-Fi network to connect our iPad and computer. On your Mac, click the Airport symbol and select Create Network. Rename network accordingly and add password to avoid any intruder logging on during your set. In the settings menu on your iPad, log on to the aforementioned network.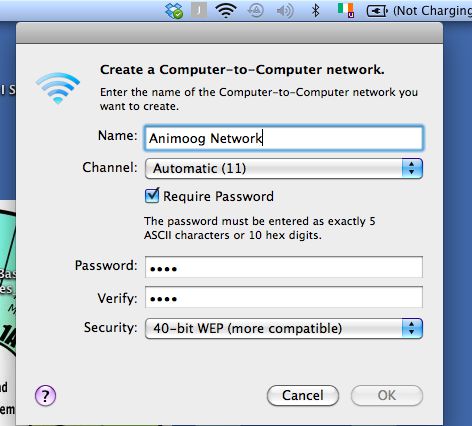 Step Two
Next we will create a MIDI network to transfer MIDI data between our devices. On your Mac, go to Applications > Audio MIDI Setup. On the menu bar select Window > Show MIDI Window and double-click on the 'Network' icon. As long as your Synth app is open on your iPad, your iPad name should appear in the 'Directory' window. Select it and click 'Connect'. Your iPad and computer are now connected by the MIDI network 'Session 1'.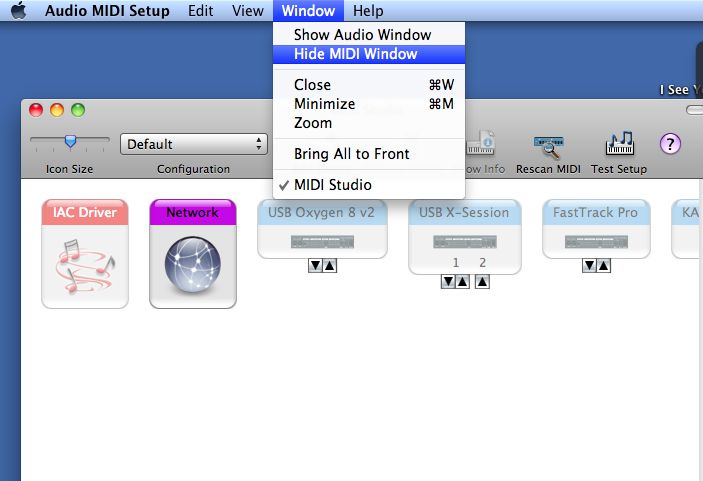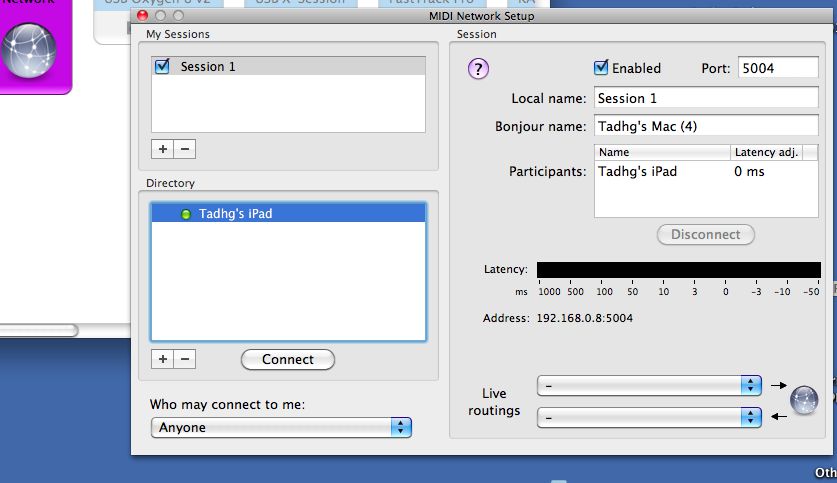 Now let's connect Ableton and the synth themselves. In Live, under Preferences, select the MIDI tab and under the Input and Output drop-down menus select Network (Session 1). In the MIDI ports section of the tab make sure the Input and Output from the network all have Track, Sync and Remote turned on.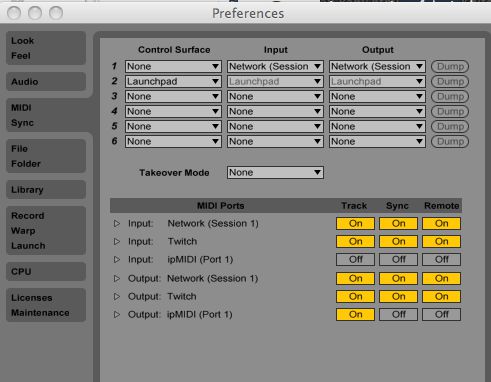 Step Three
Next drag an External Instrument from Live's Browser to a MIDI track. This will handle both the Audio and MIDI to and from the app on our iPad. On the tracks I/O section choose 'All Ins' from the 'MIDI From' menu. This will allow you to play your iOS synth from any MIDI keyboard/controller you have connected along with your computer's keyboard. In the External Instrument plug-in, select Network (Session 1) and Ch. 1 from the 'MIDI To' Menu. Make sure that that this network is also selected in the setup menu of the app as well. To send audio from your iPad into Live connect an audio cable from the iPad's headphone jack to either the input port on your computer or preferably the inputs of an audio interface if you have one. Finally, select these inputs in the 'Audio From' menu of the External Instrument. You should now be getting both an audio and MIDI signal from the app when you hit a button on your controller.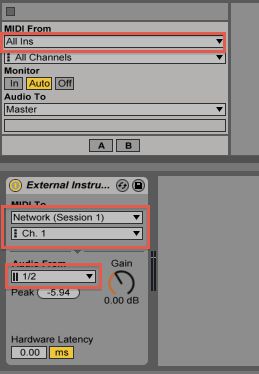 You can now play and record the synth as you would any of Live's virtual synths, the only difference being you can still tweak its parameters from your iPad. This can be a welcome break from using your mouse to program a synth patch. Now that we know the basic setup, let's have a look at two of the best iOS synths on the market to see what extra MIDI functionality they offer.
Animoog
To say Animoog is an innovative, powerful synth would really be an understatement and its MIDI features don't disappoint either. It does of course support Core MIDI with both MIDI in and out capabilities meaning you can not only control the Animoog's parameters from Ableton, but also Ableton's parameters from Animoog. Version 1.1.1 also saw the release of a MIDI Expansion Pack (one in-app purchase I didn't mind coughing up for) The reasons? Well, one of them would have to be Polyphonic MIDI notes whereby the keyboard in Animoog can now send out multiple MIDI data including velocity and aftertouch. MIDI mapping was also improved to include several on-screen controls, most notably Animoog's ingenious X/Y Pad. In fact let's take a look at how to map Animoogs parameters to Live and vice versa.
Starting with the X/Y pad, we are going to map the X and Y parameters to knobs on our controller. With everything still in place from the first part of the tutorial, tap 'Setup' at the top of the Animoog interface and hit 'Map CC's'. Next tap 'X/Y Pad' and press the 'Origin X' box so that it becomes highlighted in green. Move a knob on your controller and the relevant CC value should appear inside the box. Repeat this step with the 'Origin Y' box. We now have hardware control over the X/Y pad in Animoog.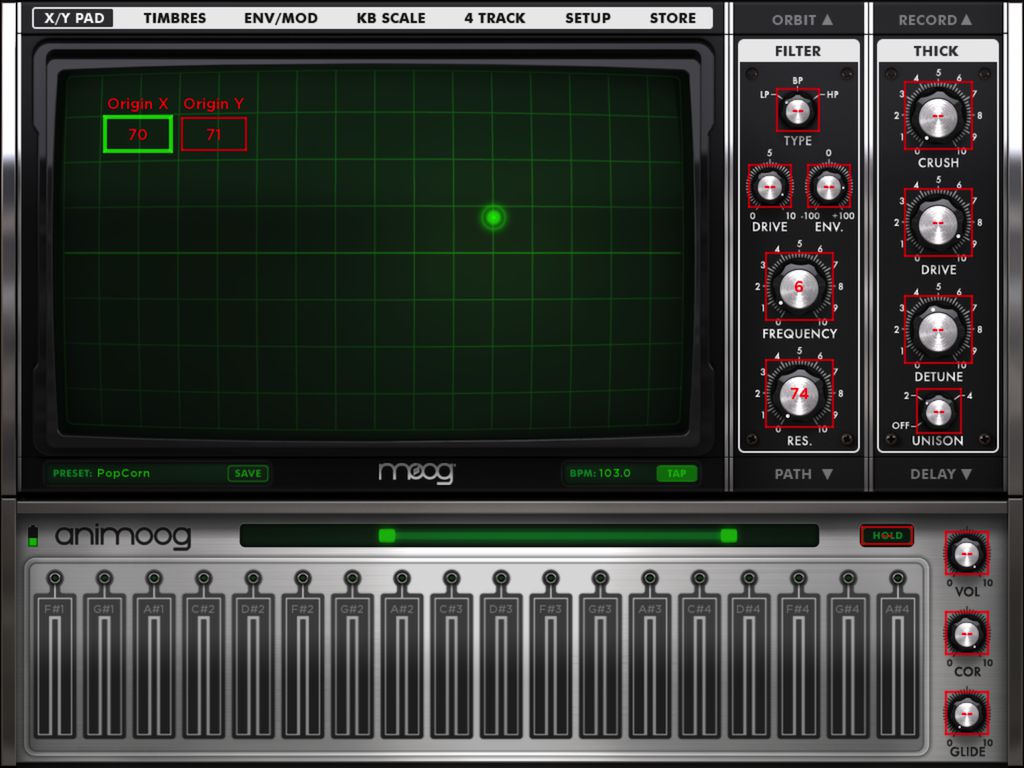 Now let's do the opposite and make Animoog control parameters in Ableton. Enter mapping mode in Live (Command-M) and select a particular parameter. Move a knob in Animoog and the CC value should appear beside the control in Ableton. Repeat with any remaining parameters that you want mapped. You can also use the keyboard in Animoog to play any of Live's virtual instruments, just make sure the particular track where the instrument is placed is armed and either 'All Ins' or Network (Session 1) is selected in its 'MIDI From' menu.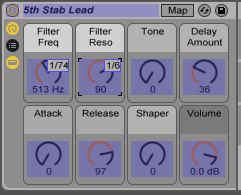 NLog Pro
NLog Pro is an equally powerful synth, opting more for the traditional synth layout. Like Animoog integrating it with your Live setup is also made very easy with its MIDI features. One such feature is MIDI file export, which allows you to easily transfer your synth patterns into Ableton. Here's how to do it.
To record your pattern, tap 'Tape' at the top of the NLog interface and hit 'MIDI'. Next tap 'Record' and start to play. When you are finished, hit 'Stop' followed by 'Save'. Rename the MIDI file accordingly and press Return. Now tap 'Export' and select Wi-Fi from the pop-up menu. A message will appear with an address that you need to type into your computer's Internet browser. Once there, you will find the MIDI file waiting for you. Download it on to your hard drive and drag into on to a MIDI track in Live.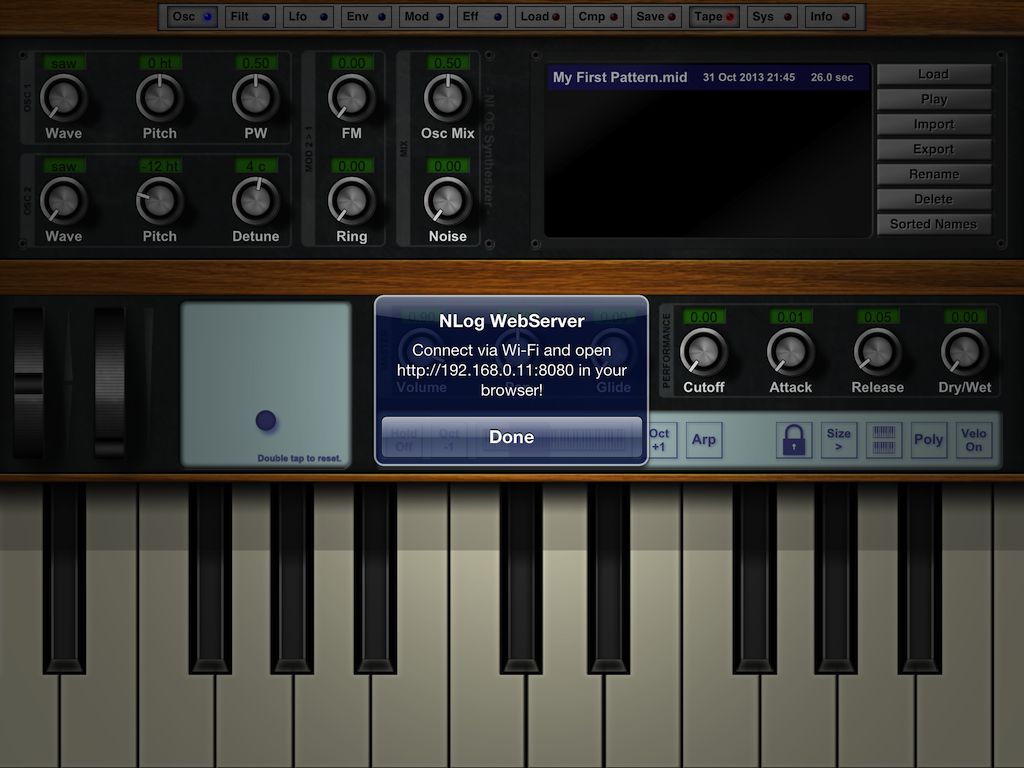 Hopefully this will have given you a better understanding of how to implement iOS apps into your DAW setup. It's not just pro sounding audio but also these increasingly powerful MIDI capabilities that make iOS a serious contender in the music making industry.