With the CoronVirus now seemingly bringing the entire world into a state of lockdown, many musicians and synth enthusiasts are in a state of isolation. As severe as this situation is for us all, it can also be a time for reflection, reading, meditation, learning about producing music and sound design, and improving on your DIY skills.
In this case we're talking about making a DIY mono synthesizer. But where would you start with such an ambitious project?
The Tssss.org StartHere is an introduction to Synth DIY. On one level it is a very simple kit for beginners to learn to build a synthesiser and on another, it's a very powerful midi controlled mono synth, with a digital oscillator and analogue filter.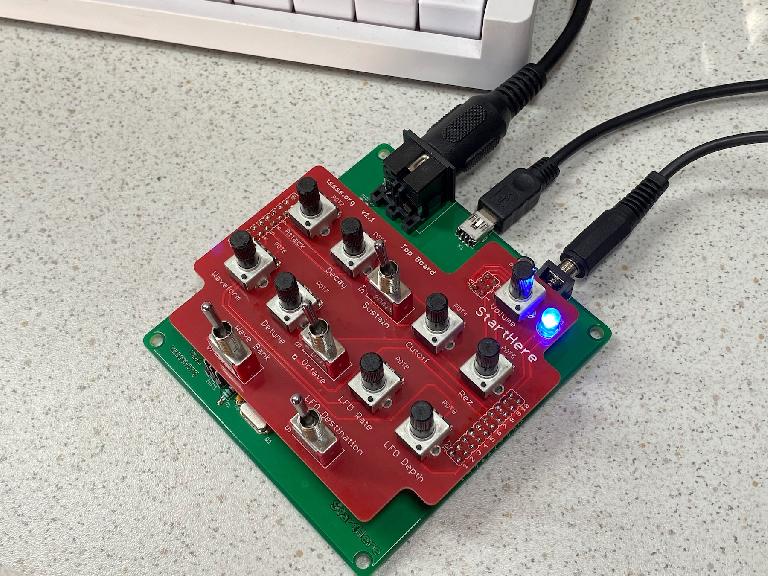 It's based on the MeeBlip Anode, but with a few beginner friendly changes:
Converted to all through hole components, making is much easier for beginners to build.
The 9V power socket has been replaced with a Mini USB port so this can be powered straight from a USB socket.
The output socket has been swapped for a mono 3.5mm jack, so it can be plugged straight into a mixer, which means it will fit into an existing hardware setup.
Web: https://tssss.org/product/start-here/
What is Tssss.org?
The Secret Southside Synthesiser Society is a group of artists based on Glasgow's Southside, who meet up every Thursday evening to build synths. Once a month we also host a DIY Electro Open Mic Night. Members would buy a kit from the tssss.org website to build during the workshop.
Unfortunately due to the current Coronavirus situation we have had to cancel all workshops until further notice. The flipside is there are now plenty of spare kits. These are a great way to get into Synth DIY and keep your mind active whilst in lock down.
Specs:
Beginner Desktop Midi Controlled Mono Synth Kit
Component Type: Through Hole
Power: 5V with Mini USB Socket
Output: Mono 3.5mm Jack
Input: Standard MIDI Socket
Learn more about synthesis and hardware synths here.