Se si stanno collaborando con un altro utente Logic sicuramente youll essere passare i file audio tra macchine e monolocali. Spesso, quando un partito si presenta con un concetto del tempo, indicazione del tempo e la struttura è sconosciuta all'altra parte.
Naturalmente si potrebbe ottenere al telefono e ritrasmettere tutte queste informazioni, ricostruire in Logica e ottenere qualcosa di molto simile a quello audio originale, oppure si potrebbe utilizzare un paio di pratiche funzioni che sono nascoste nel menu di sistema Logica. Heres come ...
I file originali To Be esportati
Allora supponiamo di avere un po 'di un'idea che cambi di tempo e ha marcatori diversi in Certamente non voglio perdere queste importanti porzioni di dati quando li invia a un collega.
Si può vedere dalla foto qui sotto che ho preso in giro un progetto che ha tutti questi elementi. Concesso il suo solo un ciclo ripetuto ma voglio che tutti i cambi di tempo e marcatori presenti a rimanere intatto ed essere riprodotto sulla mia macchina di amici.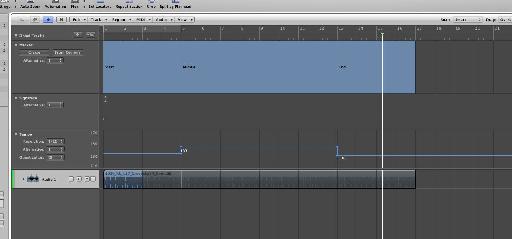 Un progetto preso in giro con cambi di tempo e marcatori
In primo luogo fino youll necessità di esportare la traccia in un file AIFF. A questo punto davvero non devi fare nulla di diverso. Basta esportare come di consueto, accertandosi di catturare tutti i marcatori e cambi di tempo nella vostra selezione. La maggior parte della magia che accade all'altra estremità.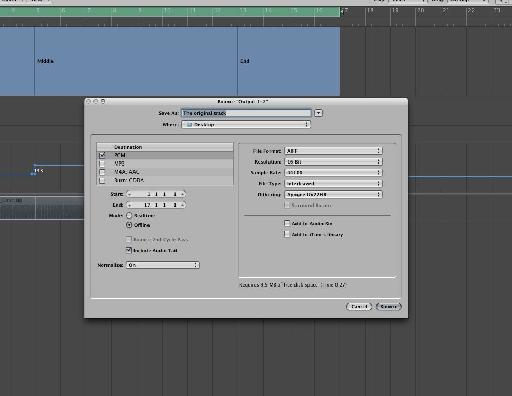 Esportare la pista come al solito
Estrazione dei dati Tempo From The audio importati
Con la nostra audio esportati in tutto che il tempo e dati utili marcatori basati è stato impresso nel file. Quando portare questo tipo di file indietro in Logic in realtà vi sono alcuni modi che i dati extra può essere estratto. Diamo un'occhiata a questi metodi ora.
Il più semplice (e il mio preferito) metodo per estrarre i dati di tempo da file audio è quello di utilizzare il sullo schermo che presenta Logic gentilmente quando si importa il file. Se i dati o di tempo marcatore viene rilevato, Logic vi chiederà se si desidera utilizzarlo. Con un semplice clic sì tutto il necessario sarà aggiunto al tuo nuovo progetto.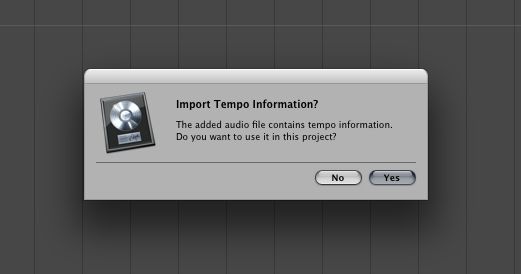 Logica chiede se vogliamo usare i dati del tempo impressi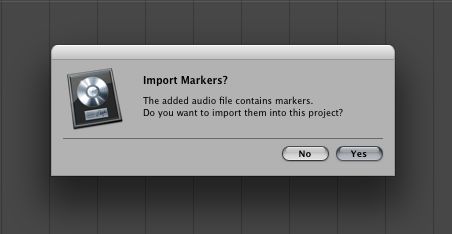 E lo stesso per i dati marcatore
L'ho fatto nel mio nuovo progetto vuoto con il file che è stato esportato e come si può vedere tutto è stato portato alla perfezione. L'ho riprodotto con lo stesso risultato e questo sarebbe inestimabile per un collaboratore.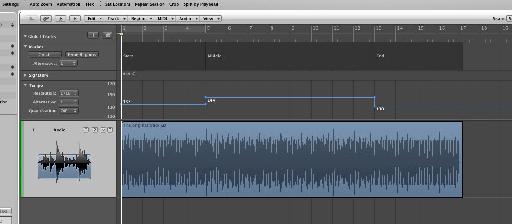 Tutte le informazioni sono intatte nel nuovo progetto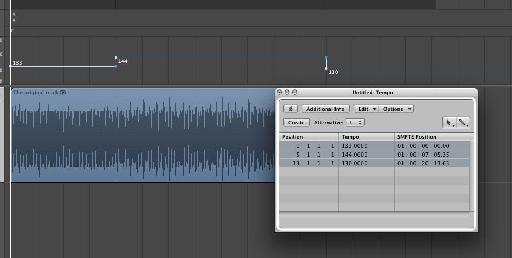 Le variazioni di tempo può essere visto chiaramente nella vista elenco
È inoltre possibile utilizzare il marcatore e sezioni tempo sotto il menu Opzioni per portare questi dati in mano. Questo può essere utile per i file che sono già importati o file da vecchi progetti.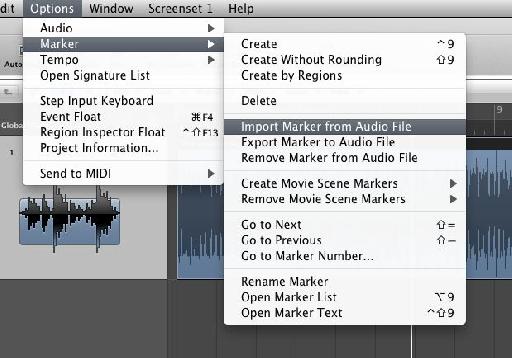 Manualmente l'estrazione di dati tempo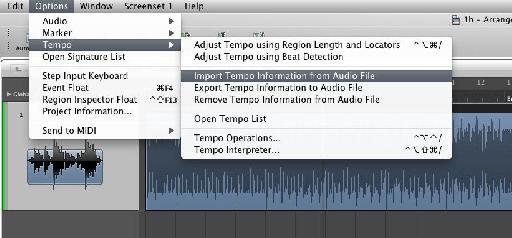 E marcatori
Marcatori e altri dati
Non dimentichiamoci le sue non solo le informazioni di tempo che può essere importato qui, ma anche tutti i marcatori. Questo è grande per mostrare un altro partito esattamente come si vede un progetto di essere disposti o addirittura come una traccia deve essere modificato.
Se si prevede di avere tempo cambia firma nelle tracce (non ce n'erano nel mio esempio) è possibile anche salvare questi con i vostri file e dovrebbero essere tradotti senza intoppi. Come per tutte le altre informazioni impresso questo può anche essere estratto manualmente.