Portuguese based Imaginando announced today the launch of a brand new virtual instrument, with the worldwide release of FRMS for Windows, Mac, iOS and Android. The second software synth from Imaginando, FRMS combines granular, subtractive and FM synthesis, with a flexible layering system.
How does the layering system work?
Each sound consists of up to 4 layers, each of which can be either granulator or oscillator, but can also work as an FM operator. This allows for a wide range of creative possibilities, with deep modulation options available for each layer.
What kind of sounds can be granulated?
FRMS comes with it's own built-in library of more than 100 high-quality samples, it can load audio files, record audio to use as a sample, and even granulate live audio. FRMS comes loaded with a bank of 150 preset patches to spark your inspiration too.
Is FRMS Cloud Sync compatible?
FRMS comes with Imaginando's Cloud Sync technology built in across all versions - it's as simple as signing in to your Imaginando account inside the app/plugin.
What platforms/versions of FRMS are available?
FRMS is available as a standalone 64 bit app for Windows and Mac OS from the Imaginando website, on iOS from the App Store and on Android from Google Play. It is also available in the following plugin formats: VST, AU, AAX, AUv3.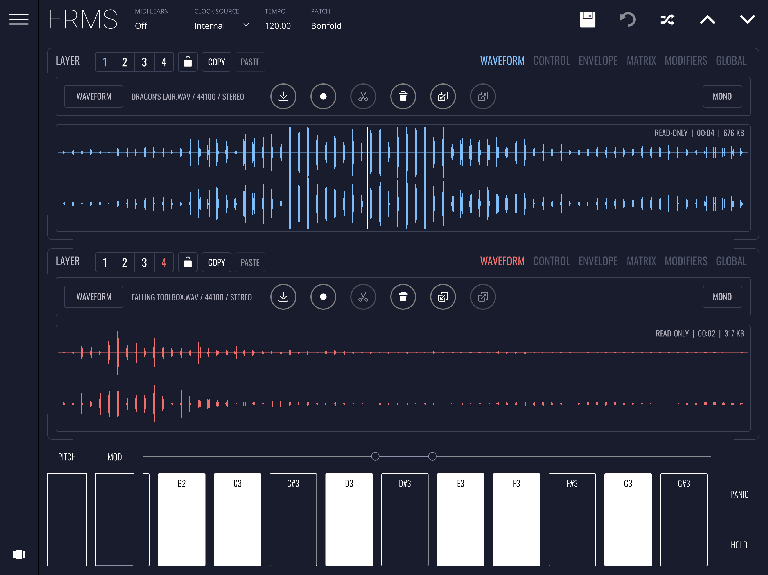 How is FRMS priced?
FRMS for PC and Mac is available for a one time purchase of 119 EUR or via Imaginando's Rent To Own payment plan of 11.90 EUR for 12 months. On mobile FRMS is priced at 14.99 EUR. At launch there is a special promotion offering 50% off one time purchases until 12th April (Excludes Rent To Own):
Desktop - 59 EUR
iOS & Android - 7.99 EUR