We had a great time with IK's UNO Drum when we reviewed it recently - you can check out the review here. Now, the company has released a software editor that takes things to the next level. Here's all the details.
October 8, 2019 - IK Multimedia has released a dedicated software editor for its UNO Drum analogue/PCM drum machine. Designed to offer deep control for more impactful recordings and performance, it provides easy access to all parameters, easy customization, and advanced kit and pattern management, with convenient support for Mac/PC and iPad.

 More than a traditional software editor, UNO Drum Editor can function both as a standalone application (Mac/PC/iPad) and an integrated DAW plug-in (Mac/PC) for use in the studio, live performance, or on-the-go music creation. It provides seamless integration and real-time parameter control, allowing users to instantly change any parameter on the UNO Drum for complete control directly from a computer or iPad.
Users can also load and edit presets created on UNO Drum, or build kits and patterns from scratch on the editor and transfer them to UNO Drum for unplugged use. When UNO Drum Editor is used to control parameters in real-time, the hardware UNO Drum instantly responds to those parameter changes. Similarly, the Editor tracks changes made on the hardware, for a seamless workflow.
UNO Drum Editor also makes it easy to manage kits and patterns on UNO Drum itself. Presets can be loaded locally or from the hardware unit, then edited and saved on the user's device or stored back on UNO Drum for stand-alone use.

 The Drum panel makes sound design a breeze, displaying all of UNO Drum's 12 analogue and PCM sound elements at once. The drop-down menus above each element let users instantly change between each element's five sound options, then tweak them using the tune, snap, decay and other controls, just like on the hardware unit itself.

The included mixer can be used to quickly set or adjust levels for each element, and on-screen drum pads make it easier to trigger sounds from UNO Drum while using a computer mouse.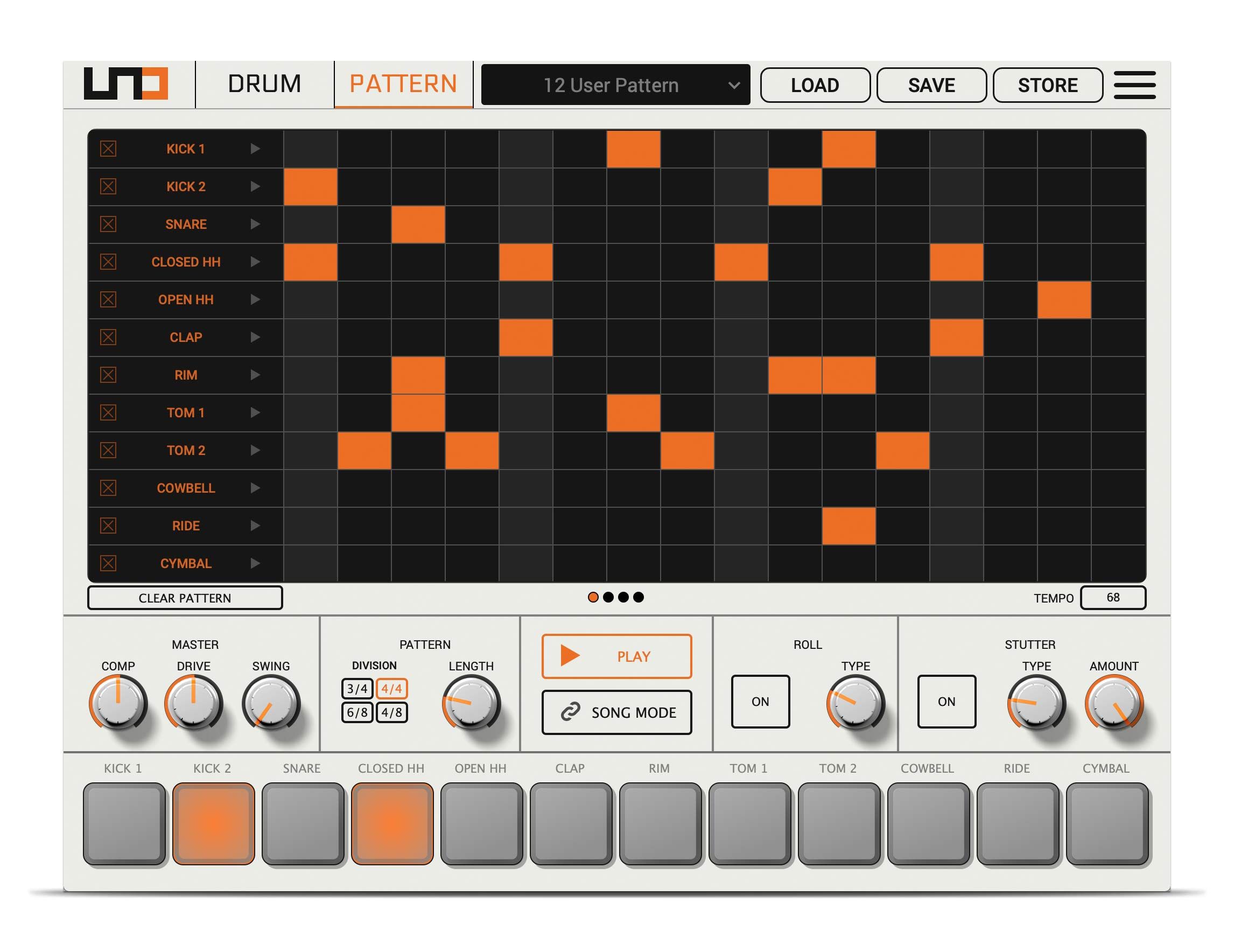 The Pattern panel makes it faster than ever to program patterns. A grid layout shows all elements and 16 steps for easily editing or creating grooves, and makes it easy to write or record automation.

This screen also offers convenient access to the Master effects (compression, drive and swing), as well as the pattern divisions and length, plus roll and stutter controls.

 Similar to drum kits, pattern presets can be loaded, saved and stored either locally or on UNO Drum itself.


UNO Drum Editor can help quickly customize UNO Drum to suit user preferences. The Global Settings menu can be used to map MIDI routings, channels, behaviour and more. It also lets UNO DRUM be used as both a MIDI interface and MIDI controller. These comprehensive controls offer a trouble-free way to integrate UNO Drum into even the most advanced rig.

 
In addition to the convenient control offered when using UNO Drum Editor as a standalone application, using it as a plug-in in a DAW of choice unleashes an amazing new workflow.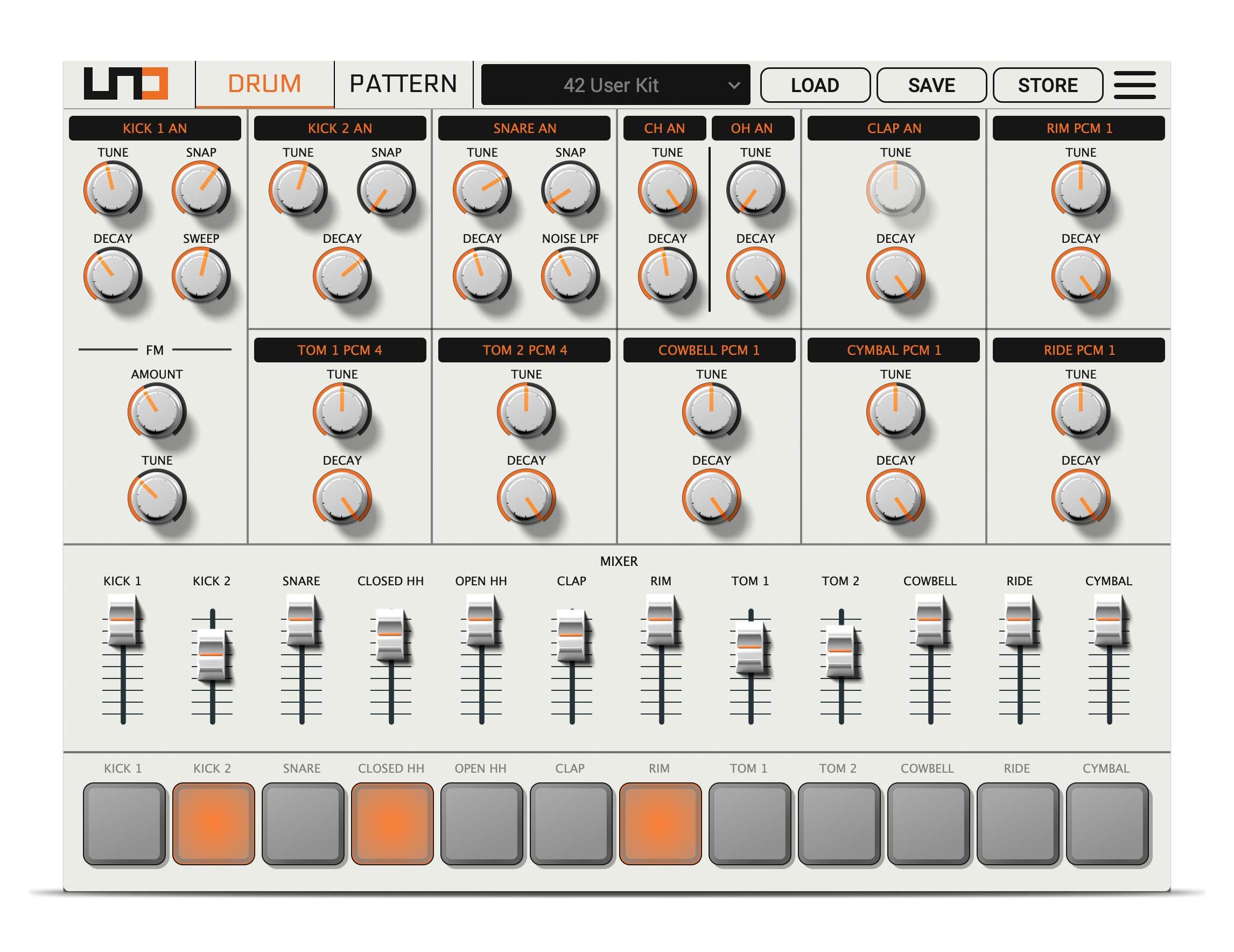 UNO Drum can be played and programmed just like a virtual instrument with total recall, so the Editor will recall its previous settings each time an older session is opened. It's also freely resizable, allowing the screen size to be adjusted to fit any workflow. Overall, it offers the convenience and flexibility of plug-ins, but with real analogue sound and hands-on control.

 In addition to offering powerful ways to integrate UNO Drum into a computer-based studio, UNO Drum Editor also makes it possible to edit on the go from a mobile device such as an iPad.