6. Juli 2015 - IK Multimedia freut sich, die Verfügbarkeit von 2 aufregende neue Klangbibliotheken für Sampletank 3 für Mac und PC zu verkünden. Exklusiv für den ultimativen Sound und Groove-Arbeitsstation gemacht, sind diese Sammlungen: Zukunft Synths, eine umfassende Sammlung von Synthesizer Leads, Pads, Bässe und mehr, die perfekt für alle Arten der elektronischen Tanzmusik aus großen Raum EDM zu Underground-Techno sind. Hugh Padgham Drums, eine riesige Bibliothek von Drumkits und MIDI-Muster, die Hersteller geben einstellbare Steuerung Hugh Padgham einzigartige "Steinzimmer" Sound, wie auf seinem klassischen Werke mit Phil Collins, The Human League, Abba Frida Lyngstad und unzählige andere gehört.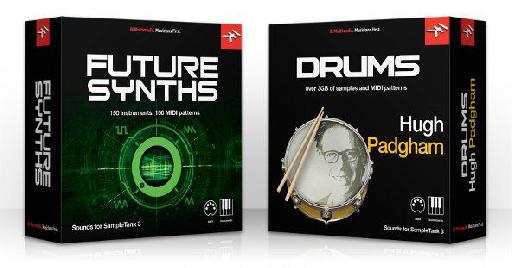 Zukunft Synths und Hugh Padgham Trommeln für Sampletank 3
Zukunft Synths
Das brandneue Zukunft Synths Sound-Library bietet im Wert von Sound-Design Wissen ein Leben lang auf Knopfdruck. Inspiriert durch die Pump Klänge der Hardwell, Tiesto, Afrojack und andere Top-Tier-Künstler, mit 150 leicht zu bedienende Instrumente, die verwendet werden können, um alles von Hand-in-the-Air-EDM-Hymnen zu zuschlagen Underground-Techno bangers machen es kommt und darüber hinaus.
Die Bibliothek lässt Musiker mit seiner Unterschrift Sound zu spielen, indem sie 20 Drum-Kit Instrumente, die jedes Angebot eine einstellbare Menge an Raumatmosphäre, die in für künstlerisches Flair angewählt werden können. Es gibt 2 Bassdrum, Snare Drums 2, 6 Toms, 5 Becken und viel hallo-Hüte, und alle diese Hits mit mehreren Geschwindigkeiten und Ringversuchsproben zur Verfügung gestellt. Es ist gerade die Karte für immer, dass Ton, Padgham für Phil Collins '"In the Air Tonight" und Frida Lyngstad von Abba verwendet "Ich weiß, es ist etwas los."

Hugh Padgham Drums enthält auch 240 MIDI-Muster erinnert an klassischen Werke des Mannes. Diese Muster wurden von IK-Team von Experten programmiert wurde, um neue on-the-spot perkussiven Ideen inspirieren.

Obwohl seine Klangpalette macht es ideal für Rock- und Pop-Produktionen sind Hugh Padgham Drums auch ein großer fit für Metall, EDM und Filmmusik Musik aufgrund der einzelnen Probenraum mic Einstellbarkeit und der Vielseitigkeit der Proben selbst.

Sampletank 3
Sampletank 3 IK Multimedia erweiterbar ultimative Sound und Groove-Workstation für Mac und PC. Es verfügt über einen intuitiven Workflow, der Musiker, um schnell und einfach auf das Geschäft der Musik machen kann. Seine massive und erweiterbar Sound-Library (mit mehr als 33GB von Inhalten!) Hat unzählige Hits und Aufnahmen inspiriert. Mit seiner ständig neue Inhalte, Sampletank 3 weiterhin den Industriestandard für professionelle Sound sein.
Perfekte Kontrolle
Diese neuen Sound-Libraries wurden entwickelt, um mit der wachsenden Palette von Hardware-Controllern Begleiter IK die erlebt werden. Die neuen Hugh Padgham Drums sind perfekt für IK ist iRig Pads Nut Produktionssteuerung, während traditionelle Tastatur Spieler werden feststellen, dass die Mobilität und Universalität des IK ist iRig Keys oder iRig Keys PRO kann nicht angepasst werden, wenn es zum Spielen kommt Zukunft Synths.
Preise und Verfügbarkeit
Die Zukunft Synths und Hugh Padgham Drums Sound-Bibliotheken für Sampletank 3 sind jetzt über die IK Online-Shop und die Sampletank 3 Custom Shop für einen speziellen Einführungspreis von je nur $ / 79.99 *.
* Alle Preise ohne Steuern

Weitere Informationen zu dieser neuen Bibliotheken finden Sie unter:

www.ikmultimedia.com/sampletank3sounds
Für weitere Informationen über Sampletank, besuchen Sie:

Eine kostenlose Version von Sampletank ist auch hier zur Verfügung: