October 5, 2015 - IK Multimedia, the leader in mobile music creation, is pleased to announce a new update to AmpliTube®, the ultimate mobile tone studio for iPhone and iPad that adds 7 new pieces of gear that include everything from bone shaking metal amps to versatile stomps and more. The update now also lets musicians export loops made in the Looper feature so they can be used in the DAW for song composition or other audio apps. In addition to the new gear and features, AmpliTube now sports easier gear navigation and selection, iOS 9 compatibility and a number of new in-app gear bundles.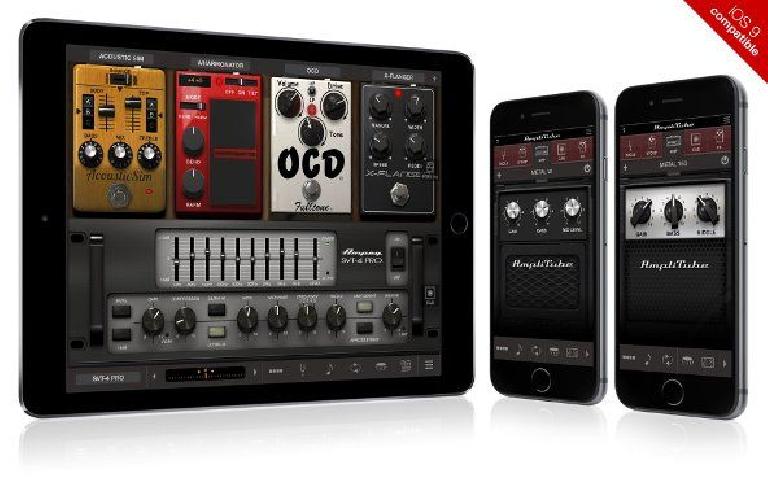 A number of the new amplifiers are now also available for free to registered users of iLoud, iRig 2, iRig Stomp and iRig BlueBoard. Add it all up and it's easy to see why AmpliTube for iPhone and iPad is the most professional, cutting-edge and easy-to-use mobile guitar and bass tone studio of all time.
Watch Part 1 of the new gear for AmpliTube for iOS:
A whole new world of gear
AmpliTube for iOS now features 7 new pieces of gear available via in-app purchase. New gear includes 3 new amps and 4 new stomps that expand AmpliTube's already comprehensive tonal palette. The new spread includes:
Ampeg SVT-4PRO: A meticulously modelled virtual version of Ampeg's famously solid high-end bass amplifier. It features a versatile tube preamp with a 5 position mid-frequency centre point selection, an onboard graphic EQ and a tight solid-state power amp that all combine to provide a wealth of sounds that cover the entire sound spectrum from neutral and transparent to powerful and aggressive. The bass tone sculpting features and solid tight power section make it a virtual bass chameleon able to adapt to every playing style.
Fulltone OCD: One of the most popular Fulltone pedals, this overdrive pedal provides the same kind of touch sensitivity and complex harmonics that can be found in a high-quality tube amplifier. Its on-board volume, tone and drive knobs give musicians the control they need to add a perfect level of aggressive drive to their tone. This spot-on pedal gets Michael Fuller's stamp of approval for "an amazingly convincing OCD any time it's needed".
Metal W: This amp head is based on an insanely heavy amp co-designed and used by a legendary metal guitarist. Musicians don't have to "dime" everything to win the war for high-gain power. They just need to plug in and rock the Metal W.
Metal 150: This amp head is based on an "American police code for crazy" and legendary high-gain metal amp that lets guitarists really rattle the windows and shake the floors. Players want that "brown" sound? It's in the Metal 150.
Acoustic Sim: This stomp lets players choose and blend between 3 acoustic body styles and 3 types of top materials to sound like a range of different acoustic guitars.
Wharmonator: A must have stompbox effect, this pedal can add harmonies and bends to the input signal creating lush multi-note lead lines and effortless slides and divebombs. Operating in 2 distinct modes - Bend & Harmonize - players can now go up to 2 octaves in tonal variance or add two selectable harmony notes to the signal and slide between the two. The Wharmonator also features a detune setting for shallow and deep detune effects providing a more natural sounding chorus effect.
X-Flanger: This stompbox provides AmpliTube's tonal palette with one of the most distinct and "granddaddy of all flangers" sounds of all time.
A looper that's even more super
Introduced in the last update, AmpliTube's Looper function gives users a convenient way to make and play up to 4 loops at a time - perfect for generating new musical ideas, leads and chord changes. The latest version offers a "loop export" functionality that lets musicians export and save their Looper creations. It's perfect for musicians who want to create and save their ideas, incorporate them into a composition and scratchpad song ideas into fully produced works of art.
Better navigation & more
AmpliTube 4.1 now features better navigation throughout the gear browsing system. Gear can be sorted by brand or by "type" of gear, and users are now alerted via visual cues that certain in-app purchase gear has special new features. AmpliTube 4.1 also features new gear bundles that make it easier for players to get all the gear they want with just a single click. Gear bundles are now available for in-app purchase via the "store" feature inside of the app. And to top it all off, the latest version is fully compatible with iOS 9.
Pricing and availability
The new versions of AmpliTube for iPhone/iPod touch and AmpliTube for iPad are available now as a complimentary update for existing users or as a paid app for just $/€19.99 for new users. Expandable demo and LE "Light Edition" versions are available for iPhone and iPod touch. An expandable demo version is also available for iPad.
The new gear is available for purchase inside AmpliTube individually with prices ranging from $€4.99 to $/€9.99. An Ampeg Pack is available for $/€9.99, an ENGL Pack is available for $/€9.99 and a Full Metal Packet (which bundles all the AmpliTube Metal gear) is available for $/€19.99.
As in the previous versions, all purchased gear can be freely transferred between all versions and between iPhone, iPad and iPod touch.
For more information, please visit: