Qual è l'aspetto più importante della creazione di una registrazione / project studio? Scelta di una DAW e 3a parte
Montaggio delle apparecchiature adeguate, e l'impostazione in alto a destra, è di fondamentale importanza quando si tratta di registrazione e mixaggio in uno studio del progetto. Nel nostro ultimo MPVHub Expert Guida ebook, Musica Studio Essentials , pro musicista, sceneggiatore e produttore, Mike Watkinson, cammina attraverso l'essenziale ogni musicista di studio ha bisogno di conoscere.
Youll acquisire le competenze necessarie e suggerimenti per aiutarvi a ottenere i risultati ottimali dalla tua attrezzatura da studio, concentrandosi sulle migliori pratiche per il monitoraggio e la cattura del microfono. C'è un sano mix di teoria e tecniche pratiche suddivise in 5 capitoli facile da digerire. Sono inclusi anche 14 video superba (oltre 40 minuti in totale) che weve selezionati dalla libreria macProVideo.com per illustrare ulteriormente i concetti e le HOW-TO in questo libro.
Scarica Musica Essentials Studio da iBookstore di Apple a $ 4.99 / 2.49.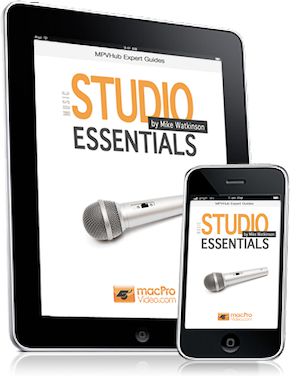 Musica Essentials Studio di Mike Watkinson è iPad
Cosa c'è dentro Essentials Music Studio?
Il primo capitolo è un ottimo fondo per la scelta della marcia (DAW, interfacce audio, MIDI controller e mixer) ogni studio di progettazione richiede. Nei capitoli 2 e 3 youll scoprire tutto sul monitoraggio, capire quali tipi di cuffie e monitor da utilizzare e soprattutto, come impostare una posizione ideale di ascolto e calibrare i diffusori. I due capitoli conclusivi esplorare il processo di registrazione in profondità. Mike presenta la scienza e gli usi pratici dei diversi tipi di microfoni, in modo da sapere esattamente quali youll microfono scegliere per il lavoro di registrazione, e perché. Youll anche imparare hands-on tecniche di ripresa microfonica di registrazione per le voci, chitarre e tamburi, supportati da accurati disegni, fotografie e video.
I video, schemi illustrativi, foto e suggerimenti pro fanno di questo una guida veramente essenziale, immediato e accessibile sulla creazione di un project studio per i musicisti esperti e principianti.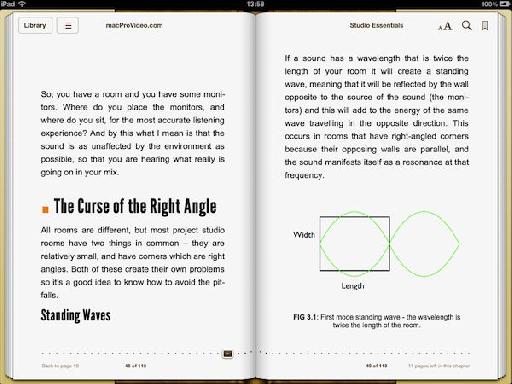 Screenshot da esperte guide MPVHub Musica Essentials iBook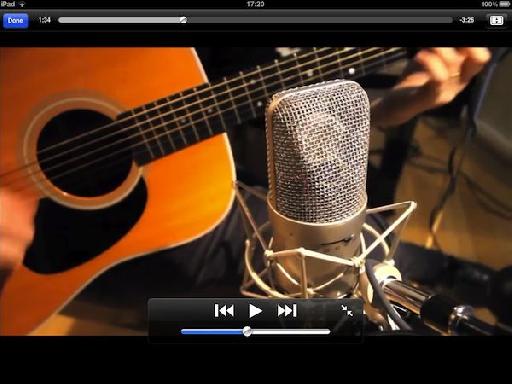 I 14 video inclusi portare nuova vita agli argomenti in questo ebook Studio Essentials .
Vantaggi di lettura di questo ebook
A macProVideo.com siamo sempre alla ricerca di nuovi modi per rendere l'apprendimento pertinenti e divertente. Ci piace portarvi contenuti di qualità, e realizzato questo weve Musica MPVHub Studio Essentials serie in una
detailed, zoomable images and illustrative video tutorials

easy navigation and full search functionality

bookmarking, highlighting and note-making tools, with built-in dictionary
Ci auguriamo che questa musica MPVHub Studio Essentials iBook e avere grande successo la creazione di musica nel tuo studio!
Rounik Sethi
Executive Editor, MPV Hub