Quel est le plus important aspect de la mise en place d'un studio d'enregistrement / projet? Le choix d'un DAW et 3ème partie
Montage de l'équipement approprié, et sa mise en place droite, est d'une importance primordiale quand il s'agit de l'enregistrement et le mixage dans un studio de projet. Dans notre dernier MPVHub Guide expert ebook, Musique Essentials studio , musicien pro, scénariste et producteur, Mike Watkinson, promenades à travers les éléments essentiels à chaque musicien de studio a besoin de savoir.
Youll acquérir les compétences nécessaires et des conseils pour vous aider à obtenir des résultats optimaux à partir de votre matériel de studio, en se concentrant sur les meilleures pratiques pour la surveillance et la capture du microphone. Theres un mélange sain de la théorie et les techniques pratiques répartis en 5 chapitres faciles à digérer. Sont également inclus les 14 vidéos superbes (plus de 40 minutes au total) qui weve sélectionnés de la bibliothèque macProVideo.com pour illustrer les concepts et les modes d'emploi dans ce livre.
Télécharger Musique Essentials studio de iBookstore d'Apple pour 4,99 $ / 2,49.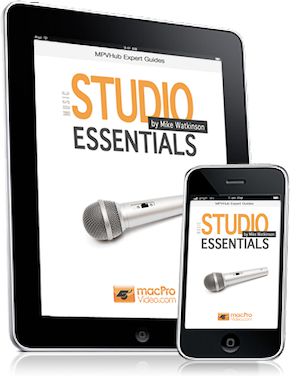 Musique Essentials Studio par Mike Watkinson est iPad
Dans ce numéro Essentials studio de musique?
Le premier chapitre est une excellente introduction sur le choix de l'engin (DAW, interfaces audio, les contrôleurs MIDI, et mélangeurs) tous les studios du projet l'exige. Dans les chapitres 2 et 3 youll découvrir tout au sujet de la surveillance, la compréhension de quels types de casque et aux moniteurs à utiliser et, surtout, comment mettre en place une position idéale d'écoute et calibrer vos haut-parleurs. Les deux finales chapitres explorer le processus d'enregistrement en profondeur. Mike présente la science et les utilisations pratiques des types de microphones différents, de sorte youll savent exactement ce qui micro choisir pour le travail d'enregistrement, et pourquoi. Youll apprennent également les mains sur les techniques d'enregistrement micro pour voix, guitares et des tambours, des prises en charge par les schémas détaillés, des photographies et des vidéos.
Les vidéos, des diagrammes, des photos d'illustration et des conseils pro en font un véritable guide essentiel, immédiat et accessible sur la mise en place d'un studio de projet pour les musiciens expérimentés et novices.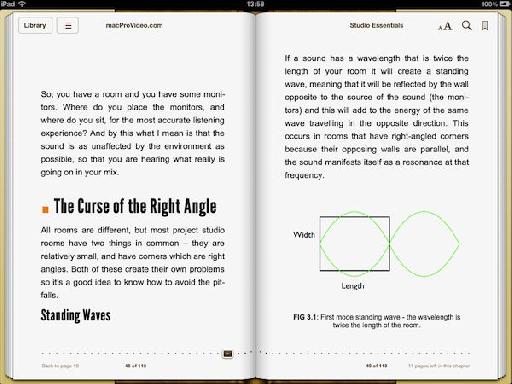 Capture d'écran de MPVHub Guides d'experts Musique iBook Essentials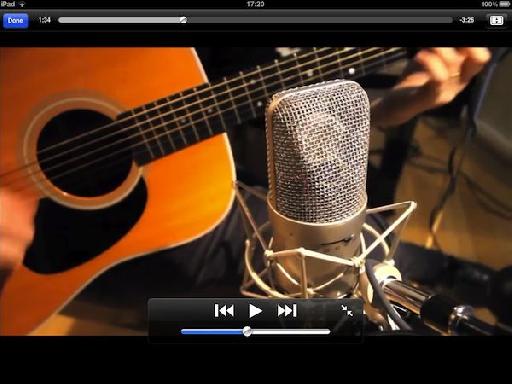 Les 14 vidéos incluses apporter une nouvelle vie aux sujets dans ce ebook Studio Essentials .
Avantages de la lecture de ce ebook
Au macProVideo.com nous cherchons toujours de nouvelles façons de rendre l'apprentissage pertinent et amusant. Nous aimons vous apporter un contenu de qualité, et weve artisans de cette musique MPVHub Studio Essentials série dans un
detailed, zoomable images and illustrative video tutorials

easy navigation and full search functionality

bookmarking, highlighting and note-making tools, with built-in dictionary
Nous espérons que vous apprécierez cette MPVHub Music Studio Essentials iBook et ont beaucoup de succès la création de la musique dans votre studio!
Rounik Sethi
Rédacteur en chef, MPV Hub