What's the most important aspect of setting up a recording / project studio? Choosing a DAW and 3rd party plug-ins? Picking up an appropriate audio interface? What about a control surface or MIDI Controller? Just how important is choosing the right monitoring equipment and setting it up? And, let's not forget how crucial microphones are too..!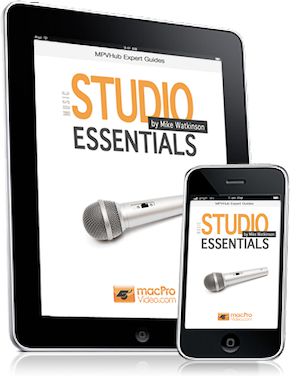 Music Studio Essentials by Mike Watkinson is iPad & iPhone compatible.
Assembling the appropriate equipment, and setting it up right, is of paramount importance when it comes to recording and mixing in a project studio. In our latest MPVHub Expert Guide ebook, Music Studio Essentials, pro musician, writer and producer, Mike Watkinson, walks through the essentials every studio musician needs to know.

You'll acquire the skills and tips needed to help you get the optimum results from your studio gear, focusing on best practice for monitoring and microphone capture. There's a healthy mix of theory and practical techniques split into 5 easy to digest chapters. Also included are 14 superb videos (over 40 minutes in total) that we've selected from the macProVideo.com library to further illustrate the concepts and how-to's in this book.
Download Music Studio Essentials from Apple's iBookstore for $4.99 / £2.49.
What's Inside Music Studio Essentials?
The first chapter is an excellent primer on choosing the gear (DAWs, audio interfaces, MIDI controllers, and mixers) every project studio requires. In Chapters 2 and 3 you'll discover all about monitoring, understanding which types of headphones and monitors to use, and crucially, how to set up an ideal listening position and calibrate your speakers. The concluding two chapters explore the recording process in depth. Mike presents the science and practical uses of the different microphone types, so you'll know exactly which mic to choose for the recording job, and why. You'll also learn hands-on mic recording techniques for vocals, guitars and drums, supported by detailed diagrams, photographs and videos.
The videos, diagrams, illustrative photos and pro tips make this a truly essential, immediate and accessible guide on setting up a project studio for experienced and novice musicians alike.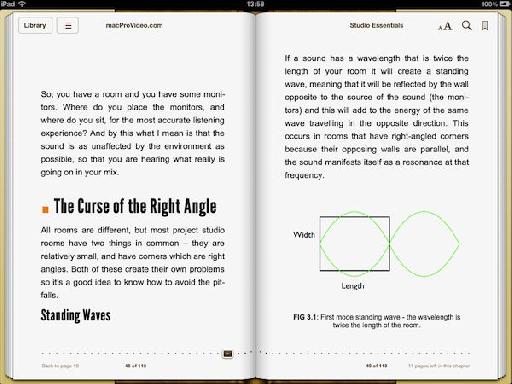 Screenshot from MPVHub Expert Guides Music Essentials iBook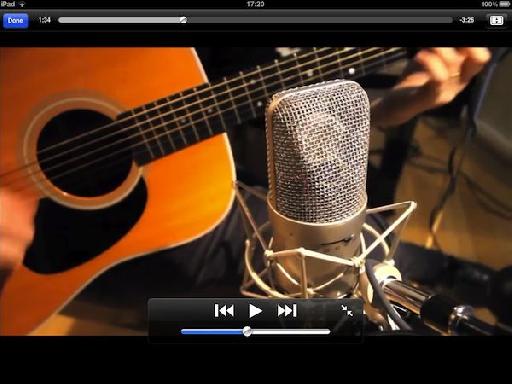 The 14 included Videos bring new life to the topics in this Studio Essentials ebook.
Advantages of reading this ebook
At macProVideo.com we are always looking for new ways to make learning relevant and fun. We love to bring you quality content, and we've crafted this MPVHub Music Studio Essentials series into a beautifully enhanced iBook. iPad and iPhone friendly, this convenient and portable guide delivers a host of features:
detailed, zoomable images and illustrative video tutorials

easy navigation and full search functionality

bookmarking, highlighting and note-making tools, with built-in dictionary
IMPORTANT NOTE FOR MAC USERS:
If you'd like to read this or any of our series of media-rich eBooks on your Mac... I've just discovered an elegant and well designed solution! Check out BookReader for Mac here (lite version is free) and you've got an option to enjoy these MPVHub Expert Guides on you Mac, as well as on your iOS device (the recommended platform to read them on).
In my brief tests, BookReader supports video playback within our books. Test out the free version first and let us know in the comments below how you find it!
We hope you enjoy this MPVHub Music Studio Essentials iBook and have great success creating music in your studio!
Rounik Sethi
Executive Editor, MPVHub