O primeiro MPVHub iBook ( Remix Essentials ) tem sido um grande sucesso, graças a você! E nós temos notícias mais excelente para você hoje. Nós publicamos nosso iBook segundo!
Você pode baixar este Guia do perito do MPVHub: Essentials Mashup por GW Childs direto para o seu iPad, iPhone ou iPodTouch de Maçãs iBookstore por apenas R $ 4.99/2.49 .
MPVHub Especialista Guias
Im emocionado ao introduzir a segunda mídia rica iBook, o reforço da série The MPVHub guias especializados!
Mashup Essentials pela GW Childs IV , leva você passo-a-passo através do processo de mashup inteiro. Utilizando Ableton Live (ou o DAW de sua escolha) você vai aprender tudo sobre como importar músicas, estabelecendo tempo, harmonização da batida, misturando, arranjo, automação, gaguejar edições e mais sobre a produção de música em Ableton Live!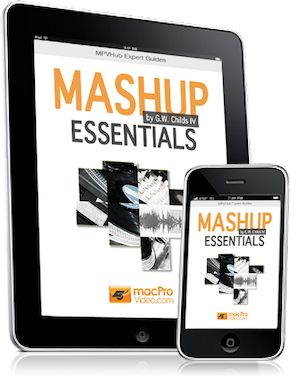 Guias MPVHub especialistas: Essentials Mashup para iPad
E Heres Por que estavam tão animados ...
No macProVideo.com estamos sempre procurando novas maneiras de ajudá-lo a aprender. Gostamos de lhe trazer conteúdo de qualidade, e criamos esta série mashup Hub em um iBook muito bem trabalhada. Este iPad
Detailed, zoomable images and illustrative audio examples
Easy Navigation & full search functionality
Bookmarking, highlighting and note-making tools

Built-in Dictionary

Mas não basta ter a minha palavra para ela. Baixar MPVHub Especialista Guide: Essentials Mashup por GW Childs da iBookstore para a experiência completa!
__________
Rounik Sethi
Editor Executivo, MPVHub