Il primo MPVHub iBook ( Remix Essentials ) è stato un grande successo, grazie a voi! E abbiamo notizie più eccellente per voi oggi. Abbiamo pubblicato il nostro iBook secondo!
È possibile scaricare questa guida Expert MPVHub: Essentials Mashup da GW direttamente sul tuo iPad, iPhone o iPodTouch da iBookstore Mele per solo $ 4.99/2.49 Childs .
MPVHub esperte guide
Im entusiasti di introdurre la seconda media-ricchi, iBook avanzata dall'esperto MPVHub serie di guide!
Essentials Mashup da GW Childs IV , spiega passo-passo attraverso il processo di mashup intero. Uso di Ableton Live (o la DAW di vostra scelta) imparerete tutto sull'importazione di canzoni, impostando tempo, beat matching, mescolando, disposizione, automazione, balbettano le modifiche e più di produrre musica in Ableton Live!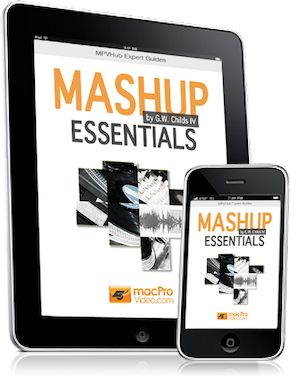 MPVHub Guide esperti: Essentials Mashup per iPad
E Heres Perché erano così eccitati ...
A macProVideo.com siamo sempre alla ricerca di nuovi modi per aiutare ad imparare. Ci piace portarvi contenuti di qualità , e abbiamo creato questa serie mashup Hub in un iBook messo in modo bello. Questo iPad
Detailed, zoomable images and illustrative audio examples
Easy Navigation & full search functionality
Bookmarking, highlighting and note-making tools

Built-in Dictionary

Ma non basta prendere la mia parola. Scarica MPVHub Expert Guide: Essentials Mashup da GW Childs dal iBookstore per l'esperienza completa!
__________
Rounik Sethi
Executive Editor, MPVHub