Le premier MPVHub iBook ( Remix Essentials ) a été un grand succès, grâce à vous! Et nous avons de bonnes nouvelles de plus excellent pour vous aujourd'hui. Nous avons publié notre iBook seconde!
Vous pouvez télécharger ce guide d'experts MPVHub: Essentials Mashup par GW direct à votre iPad, iPhone ou iPodTouch de iBookstore pommes pour seulement $ 4.99/2.49 Childs .
MPVHub Guides d'experts
Im heureux de présenter la 2e riche en médias, iBook amélioré de la série Expert Guides MPVHub!
Essentials Mashup par GW Childs IV , vous accompagne étape par étape à travers le processus de mashup ensemble. Utiliser Ableton Live (ou le logiciel DAW de votre choix), vous apprendrez tout sur ​​l'importation de chansons, réglage de tempo, battre correspondant, le mélange, l'arrangement, l'automatisation, bégaiement édite et plus sur la production de musique dans Ableton Live!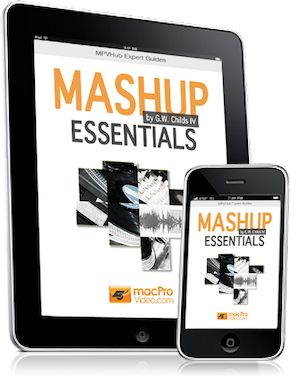 MPVHub Expert Guides: Essentiels pour le Mashup pour iPad
Et Heres Pourquoi étaient tellement excités ...
Au macProVideo.com nous cherchons toujours de nouvelles façons de vous aider à apprendre. Nous aimons vous apporter un contenu de qualité, et nous avons créé cette série mashup Hub dans un iBook magnifiquement ciselé. Ce iPad
Detailed, zoomable images and illustrative audio examples
Easy Navigation & full search functionality
Bookmarking, highlighting and note-making tools

Built-in Dictionary

Mais ne me prenez pas au mot pour lui. Télécharger MPVHub Guide expert: Essentials Mashup par GW Childs de l'iBookstore pour l'expérience complète!
__________
Rounik Sethi
Rédacteur en chef, MPVHub