El primer iBook MPVHub ( Remix Esenciales ) ha sido un gran éxito, gracias a ti! Y tenemos más noticias excelentes para el día de hoy. Hemos publicado nuestro iBook segundo!
Puede descargar la Guía de Expertos MPVHub: Fundamentos de Mashup por GW directo a su iPad, iPhone o iPod Touch a partir iBookstore Manzanas por sólo $ 4.99/2.49 Childs .
MPVHub expertos guías
Estoy encantado de presentar el segundo rico en medios, iBook mejorado de El Experto MPVHub Guías de serie!
Fundamentos de Mashup por GW Childs IV , te lleva paso a paso a través del proceso de mashup completa. Uso de Ableton Live (o la aplicación de audio de su elección) usted aprenderá todo sobre la importación de las canciones, ajuste de tempo, el golpe que emparejaba, mezcla, arreglos, automatización, tartamudean ediciones y más sobre la producción de la música en Ableton Live!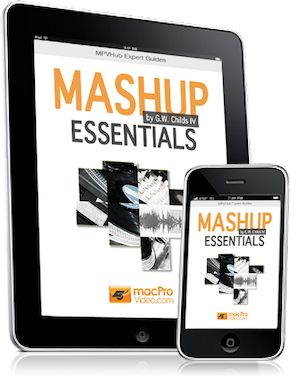 MPVHub expertos guías: Fundamentos de Mashup para iPad
Y Heres ¿Por qué estaban tan emocionados ...
En macProVideo.com siempre estamos buscando nuevas formas para ayudarle a aprender. Nos gusta ofrecerte contenidos de calidad, y hemos creado esta serie de concentradores en un mashup iBook maravillosamente hecho a mano. Este iPad
Detailed, zoomable images and illustrative audio examples
Easy Navigation & full search functionality
Bookmarking, highlighting and note-making tools

Built-in Dictionary

Pero apenas no tome mi palabra para ella. Descargar MPVHub guía experto: Fundamentos de Mashup por GW Niños de la iBookstore de la experiencia completa!
__________
Rounik Sethi
Editor Ejecutivo, MPVHub