The first MPVHub iBook (Remix Essentials) has been a great success, thanks to you! And we've got more excellent news for you today. We've published our second iBook!
You can download this MPVHub Expert Guide: Mashup Essentials by G. W. Childs direct to your iPad, iPhone or iPodTouch from Apple's iBookstore for only $4.99/£2.49.
MPVHub Expert Guides
I'm thrilled to introduce the 2nd media-rich, enhanced iBook from The MPVHub Expert Guides series!
Mashup Essentials by G. W. Childs IV, takes you step-by-step through the entire mashup process. Using Ableton Live (or the DAW of your choice) you will learn all about importing songs, setting tempo, beat matching, mixing, arrangement, automation, stutter edits and more about producing music in Ableton Live!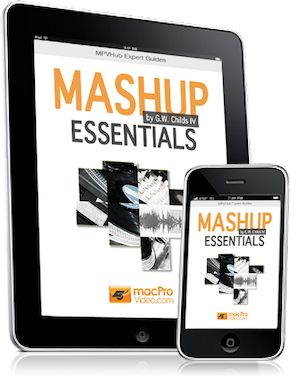 MPVHub Expert Guides: Mashup Essentials for iPad & iPhone (Now on the iBookstore).
And Here's Why We're So Excited...
At macProVideo.com we are always looking for new ways to help you learn. We love to bring you quality content, and we have created this Hub mashup series into a beautifully crafted iBook. This iPad & iPhone friendly, convenient and portable mashup guide delivers a host of features:
Detailed, zoomable images and illustrative audio examples
Easy Navigation & full search functionality
Bookmarking, highlighting and note-making tools

Built-in Dictionary

But don't just take my word for it. Download MPVHub Expert Guide: Mashup Essentials by G. W. Childs from the iBookstore for the full experience!
__________
Rounik Sethi
Executive Editor, MPVHub