Hyperion Strings Micro is Soundiron's introductory orchestral string library for Native Instruments' free Kontakt Player, Komplete Kontrol and S-Series Keyboards. This library is designed to be the perfect starter pack for songwriters and musicians just getting into orchestral writing, as well as seasoned composers wanting new colors in their orchestral palette.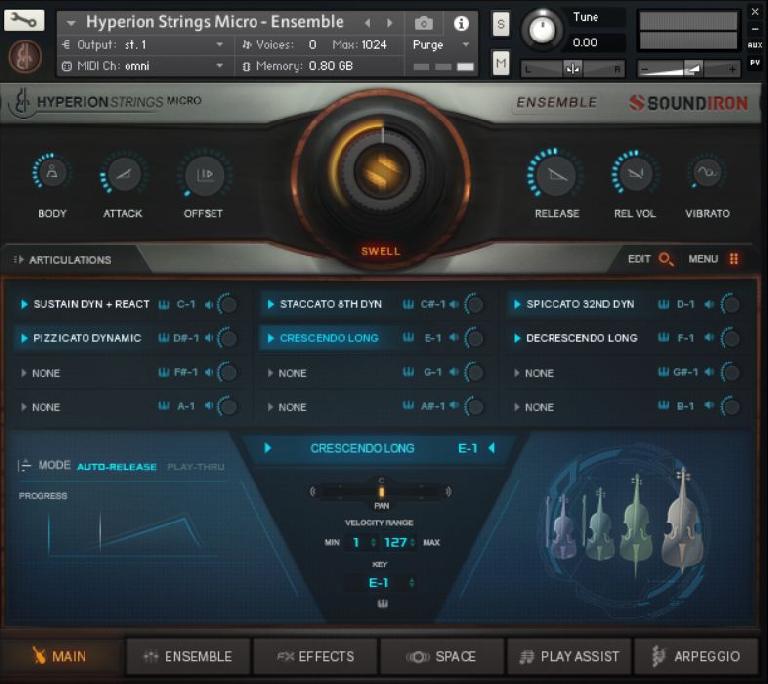 Hyperion Strings Micro includes a combined full ensemble preset, as well as 4 main section presets for our 8 Violins, 6 Violas, 5 Cellos and 4 Double Basses. For this Micro Edition, we've included the most essential core articulations for each section: multi-dynamic sustains both with and without natural vibrato, staccatos, spiccatos and pizzicatos, as well as two basic dynamic expressions: long crescendos and decrescendos.
Specifications
5 nki Kontakt instrument Banks
2,950 Samples
2.5 GB installed
24-bit, 48 kHz Stereo Lossless NCW Format.
5 master section presets: Ensemble, Violins, Violas, Cellos, Basses.
Multi-dynamic sustains, with smooth real-time control over natural vibrato and dynamic transitions.
Multi-dynamic staccatos, spiccatos and pizzicatos with 2x round-robin.
Dynamic auto-release and tempo-synching for Crescendo and Decrescendo expressions.
Flexible and intuitive user interface with pro features, deep customizability and simple workflow.
Free sound-stage positioning for each section within dozens of custom rooms, halls, chambers and FX environments.
Adaptive Play Assist and Arpeggio systems for instant inspiration.
You can apply your full purchase amount toward your upgrade to Hyperion Strings Elements or the full Hyperion Symphonic Strings when they're released.
Made for the free Kontakt Player (version 5.7.3+), Komplete Kontrol, all S-Series Keyboards and NKS software and hardware by Native Instruments
Works with the Kontakt "Libraries" browser and Native Access.