In alcuni dei recenti Hip-Hop tracce che ho sentito, in particolare Fiamma Waka Flocka, sono stato seriamente impressionato con l'hi-hat di programmazione che ha avuto luogo. Invece di regolare 8 battute, e 16 batte all'interno del charleston, con lo shuffle occasionali nota 32, hanno aggiunto inclusioni davvero cool di scoppi nota 64 rotolare attraverso un ritmo molto serrato.
I've decided to give a little instruction within this tutorial on how you might, if you're interested, add some of the intricate hi-hat bursts with very little effort. I'll be using Reason, but the same principals apply to all other DAWs. Let's check it out!

Fase 1
Turn the tempo down to about 66 BPM, or simply double the tempo to 132. I'm going to go with 66, just to give myself some extra wiggle room.


Fase 2
In ReDrum, caricare Hip-Hop Numero Kit 3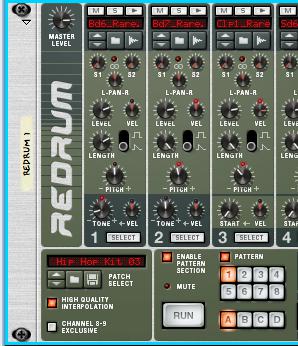 Fase 3
Disegnare in questo ritmo per il vostro calcio, sub-basso e rullante.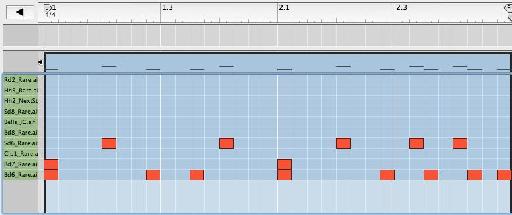 Fase 4
Zoom in avanti e disegnare 8 charleston successi, come illustrato di seguito, da 1 a 1.3. Quindi trascinare selezionare tutti gli hi-hat colpi.

Fase 5
Cambia il tuo impostazioni di scatto a 1 / 64

Fase 6
Con tutti i charleston batte selezionato, trascinare le miniature in modo che tutti gli hi-hat battiti sono note 64 di lunghezza.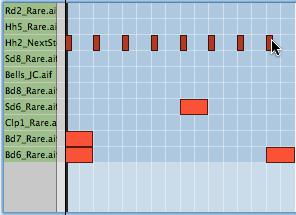 Fase 7
Tenere premuto il tasto Opzione e trascinare le ultime due battute più di 4 volte, la creazione di quattro ripetizioni di ogni battito, e 8 note aggiuntive.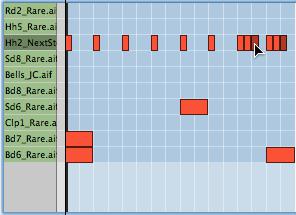 Passo 8
Ora selezionare tutti i charleston colpisce ancora!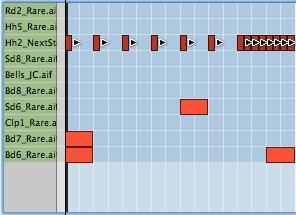 Passo 9
Nell'area di velocità, disegnare una linea retta nelle regioni inferiori della velocità come questo per i primi 7 risultati. Per fare questo senza influire colpi di batteria altro, tenere premuto il tasto Opzione Command Shift e disegnare. Dovrebbe apparire come l'immagine qui sotto.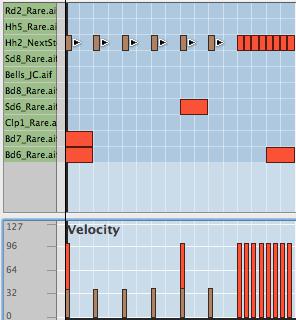 Passo 10
Ora, per la nostra scoppio nota 64, tracciare una linea diagonale che va dal basso verso l'alto, in modo che l'esplosione va dal morbido al forte.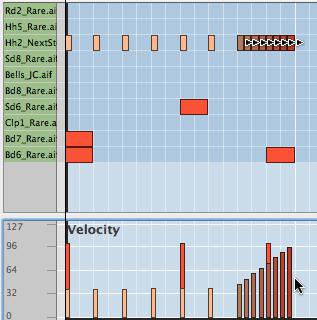 Ed ecco fatto, una nota molto facilmente creato 64 scoppio che scivola dentro e aggiunge una certa profondità e freschezza al vostro beat hip-hop. Dovrebbe Sembra che questo alla fine:
[Audio id = "1304"]
E, se giochi in giro, e copiare frammenti qua e là, può suonare come questo ...
[Audio id = "1305"]
Oh, e per i migliori effetti, e per ricreare il precedente suono hi-hat. Sostituire il suono hi-hat con: Hh2_Nextstep.wav.
Buon divertimento!
Diventa un produttore migliore Ragione .