In einigen der jüngsten Hip-Hop Tracks, die ich gehört habe, habe speziell Waka Flocka Flame, habe ich ernsthaft mit dem Hallo-Hat-Programmierung, die stattgefunden hat beeindruckt. Statt regulär 8 Beats und 16 Schlägen in der hallo-Hüte, mit dem gelegentlichen 32tel-Note shuffle, haben sie wirklich cool Einschlüsse von 64. beachten platzt Rollen durch einen sehr engen Takt aufgenommen.
I've decided to give a little instruction within this tutorial on how you might, if you're interested, add some of the intricate hi-hat bursts with very little effort. I'll be using Reason, but the same principals apply to all other DAWs. Let's check it out!

Schritt 1
Turn the tempo down to about 66 BPM, or simply double the tempo to 132. I'm going to go with 66, just to give myself some extra wiggle room.


Schritt 2
In ReDrum, Belastung bis Hip-Hop Kit Number 3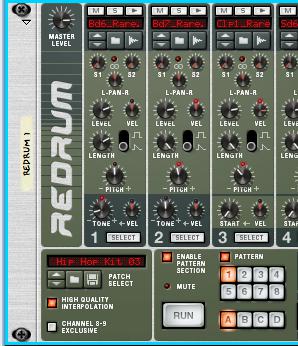 Schritt 3
Zeichnen Sie in diesem Beat für Ihr Kick, Sub-Bass-und Snare.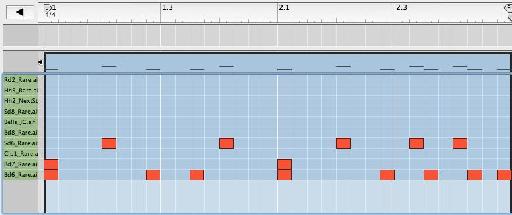 Schritt 4
Zoom in der Nähe und 8 unentschieden hallo-Hut hits, wie unten dargestellt, 1 bis 1,3. Ziehen Sie dann wählen Sie alle hallo-Hut Treffer.

Schritt 5
Ändern Sie Ihre Snap-Einstellungen, um 1 / 64

Schritt 6
Mit all den hallo-Hut Beats ausgewählt, ziehen Sie die Thumbnails um, so dass alle hallo-Hut Beats 64. Notizen lang sind.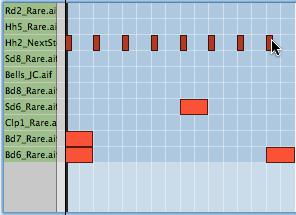 Step 7
Halten Sie die Wahltaste gedrückt und ziehen Sie die letzten zwei Schläge über 4-mal, die Schaffung von vier Wiederholungen von jedem Schlag, und 8 weitere Hinweise.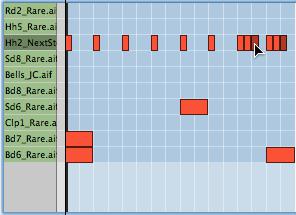 Schritt 8
Wählen Sie nun alle hallo-Hut trifft wieder!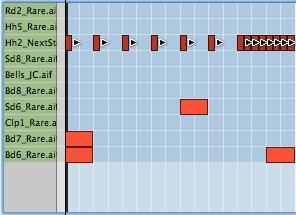 Schritt 9
In der Geschwindigkeit Bereich, eine gerade Linie in den unteren Regionen der Geschwindigkeit, wie dies für die ersten 7 Treffer. Um dies zu tun, ohne die anderen Drum-Hits, halten Sie die Umschalttaste gedrückt Option Command and ziehen. Es sollte, wie das Bild unten aussehen.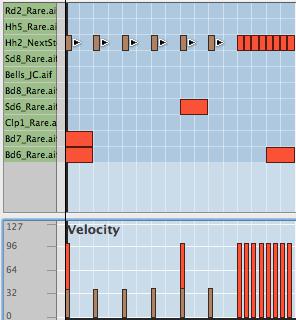 Schritt 10
Nun, für unser 64. beachten Sie platzen, ziehen Sie eine diagonale Linie, die von unten nach oben, so dass der Burst von leise zu laut geht.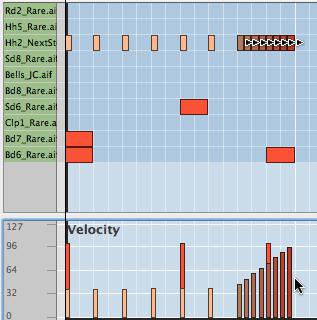 Und dort haben Sie es, ein sehr einfach erstellt 64. beachten Sie, dass Burst gleitet in und fügt einige Tiefe und Coolness, um Ihren Hip-Hop-Beat. Es sollte so klingt am Ende:
[Audio-id = "1304"]
Und wenn Sie sich um, abzuspielen und zu kopieren kleine Schnipsel hier und da kann es so klingen ...
[Audio-id = "1305"]
Oh, und für die beste Wirkung, und neu zu erstellen vorherigen hallo-Hat Sound. Ersetzen Sie die Hallo-Hat-Sound mit: Hh2_Nextstep.wav.
Viel Spaß!
Werden Sie ein besserer Produzent in Reason .