音楽制作には旅のように、情報過多が標準になります。あなたが作る友人から、およびその他のさまざまなソースから、macProVideo.comでここにオンラインビデオで有用なTidBITSを見つけることができます。あなたがノートを取るための方法に沿って、実際に支払うことがわかります。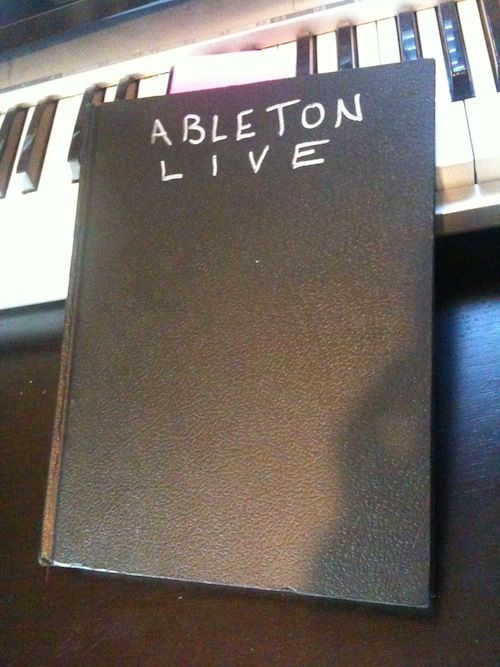 Ableton LiveのためのWolfieの学習帳。
あなたの学習曲線に革命を
Here're the advantages of a hard-backed notebook:
The hard cover means you can write in it while sitting in a chair with or without a desk. It also means that when you go to read it later, the notes inside are protected. Loose leaf notes and soft cover notebooks tend to fall apart.

Blank pages mean you can easily draw diagrams. These are immensely helpful when learning what knobs on a DAW do what. I avoid lined paper for this reason.

When you come across useful tips in magazine articles, cut them out and glue them in the book. Forget digging through old magazines trying to find that one article.

Leave a few pages blank at the beginning. Use these blank pages only for writing down useful keyboard commands. You will use this portion of the book constantly as a reference.

When you watch an online video tutorial at macProVideo.com, or take a class from an expert, make notes in the book. Write the date, and the source of the notes at the top of each note session. This way you can flip through and find specific class notes. "Oh, here's Olav Basoski's notes on how to create drum beats from scratch".

使用中の

私は、Ableton Liveと音楽理論のために約4ヶ月前にハードカバーの本を使い始めた。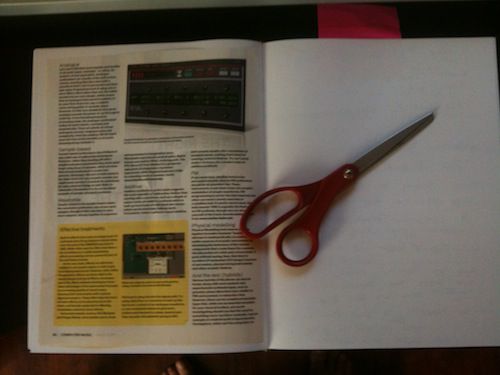 DJ Wolfieのソリッドノートブック。
Now that I have this solid book, with bright white paper, I use it all the time. I glued the notes of major scales and minor scales in the back. As someone brand new to music theory, I found it a wonderful reference to composing in key. "What are the notes of the D minor scale? Oh, yeah...there it is". I even have the natural minor scales and the harmonic minor scales.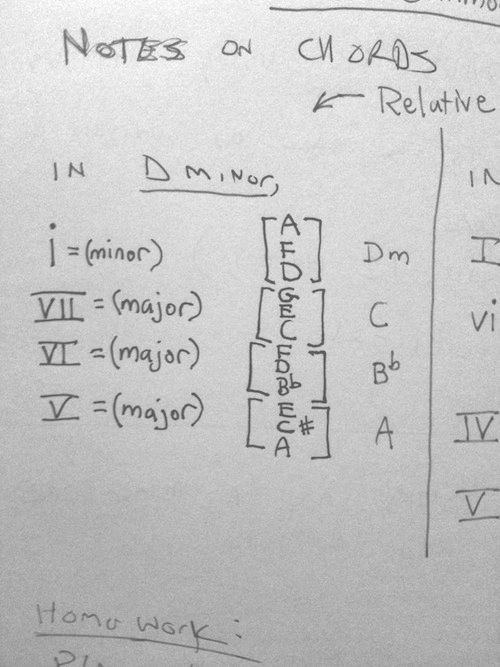 Wolfieの本の本の中でスケール上の注意。
I found computer magazines occasionally have one really good page describing something. Instead of hunting though magazines again to find that page, I just rip it out and glue it in the book. If it's worth looking at again, it's worth putting it in the book.
I cut out articles on FM synths, great articles on compression techniques, and tons of other tidbits.
I keep my book in my backpack. When I sit down to have lunch, I pull it out, and re-read class notes, music theory notes, and tips and tricks.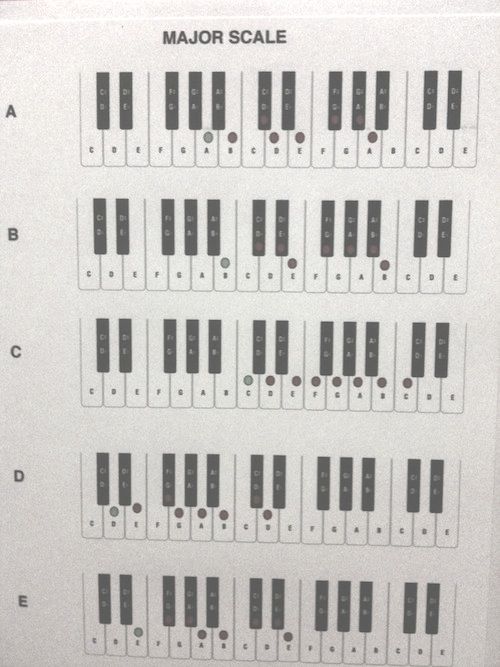 記事は、書籍に貼り付けることができます。
It's a great way to capture data from all the different sources, and organize it in one place that becomes your Go To music bible.
I used to try and take notes on the computer. Although there are some good programs out there to do this, I found it too difficult to cycle through the actual program I was learning, and the notes program. I also found it hard to draw diagrams.
Good luck on your educational journey, and here's to the day when you've got every keyboard shortcut committed to memory.
また、使用することができますMPVのハブを