As you journey into music production, information overload will be the norm. You'll find useful tidbits in online videos here at macProVideo.com, from friends who produce, and from various other sources. You will find that along the way it really pays to take notes.

Having studied many programs, learned and then forgotten immediately hundreds of time-saving shortcuts, I am here to tell you the single most useful technique I have learned.

Get a big, hard cover, blank page notebook. Put everything you learn into this one book. These are the kinds of books that artists use to do sketches. They have bright white paper, they're thick enough to take notes on the front and back and not have ink bleed through to the other side. The pages are bound tight, and won't fall out.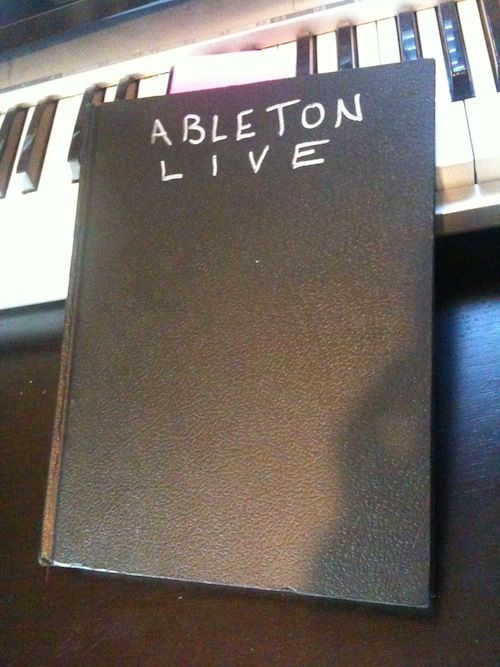 Wolfie's Study Book for Ableton Live.
Revolutionizing Your Learning Curve
Here're the advantages of a hard-backed notebook:
The hard cover means you can write in it while sitting in a chair with or without a desk. It also means that when you go to read it later, the notes inside are protected. Loose leaf notes and soft cover notebooks tend to fall apart.

Blank pages mean you can easily draw diagrams. These are immensely helpful when learning what knobs on a DAW do what. I avoid lined paper for this reason.

When you come across useful tips in magazine articles, cut them out and glue them in the book. Forget digging through old magazines trying to find that one article.

Leave a few pages blank at the beginning. Use these blank pages only for writing down useful keyboard commands. You will use this portion of the book constantly as a reference.

When you watch an online video tutorial at macProVideo.com, or take a class from an expert, make notes in the book. Write the date, and the source of the notes at the top of each note session. This way you can flip through and find specific class notes. "Oh, here's Olav Basoski's notes on how to create drum beats from scratch".

In Use

I started using a hard cover book about 4 months ago for Ableton Live and music theory.

It's completely transformed my knowledge base. I used to use loose leaf notes on graph paper to take notes. They were hard to read, always got mixed up, pages deteriorated quickly, and I just never referred back to them.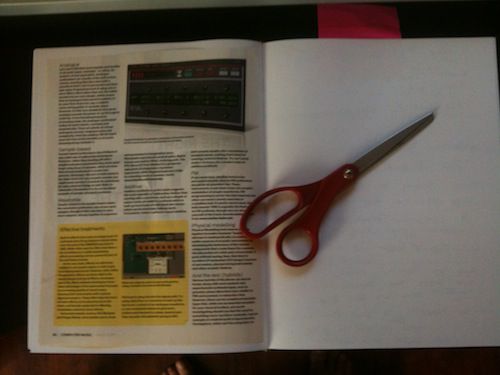 DJ Wolfie's Solid Notebook.
Now that I have this solid book, with bright white paper, I use it all the time. I glued the notes of major scales and minor scales in the back. As someone brand new to music theory, I found it a wonderful reference to composing in key. "What are the notes of the D minor scale? Oh, yeah...there it is". I even have the natural minor scales and the harmonic minor scales.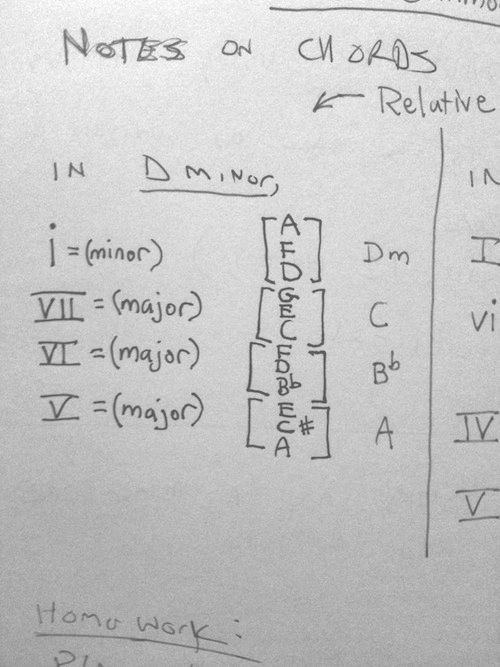 Notes on scales in the book of Wolfie's book.
I found computer magazines occasionally have one really good page describing something. Instead of hunting though magazines again to find that page, I just rip it out and glue it in the book. If it's worth looking at again, it's worth putting it in the book.
I cut out articles on FM synths, great articles on compression techniques, and tons of other tidbits.
I keep my book in my backpack. When I sit down to have lunch, I pull it out, and re-read class notes, music theory notes, and tips and tricks.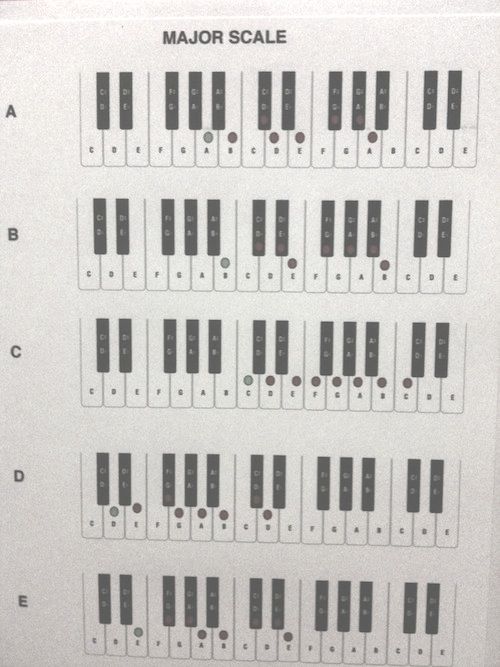 Articles can be pasted into the book.
It's a great way to capture data from all the different sources, and organize it in one place that becomes your Go To music bible.
I used to try and take notes on the computer. Although there are some good programs out there to do this, I found it too difficult to cycle through the actual program I was learning, and the notes program. I also found it hard to draw diagrams.
Good luck on your educational journey, and here's to the day when you've got every keyboard shortcut committed to memory.
You can also use The MPV Hub & MPV Tutorial-Videos as your reference tool. Use the 'Search The Hub' search area and 'Search Tutorials' search bars respectively to find what you want to learn about in a matter of seconds.