É típico de vocalistas para executar cada frase e as palavras e sílabas individuais dentro deles em uma ampla gama de volumes. Eles se movem e expressam o que eles realizam é ​​só humano! Quando a mistura que apresenta um desafio, e uma resposta é reduzir o alcance dinâmico usando compressão. No entanto, um melhor resultado pode ser obtido fazendo ajustes para a automação de volume em uma base palavra por palavra. Esta dica rápida irá mostrar-lhe como fazer isso no Logic Pro e Pro Tools .

01 - Em Logic Pro
Se você já fez edições (talvez com base na detecção transitória ver a minha dica rápida sobre Tab para Transient em Logic Pro ), você pode selecionar uma região marquee pelo Comando Opção clicando em sua barra de título (assumindo que a faixa de automação é visível ea ferramenta Marquee é definido como sua ferramenta Command). Depois, basta arrastar a linha de automação para cima ou para baixo; quatro nós será criado nos limites região, dando uma alça de automação que se move independentemente de todos os outros automação. Você pode realizar isso com tanto o ponteiro da ferramenta ou a ferramenta de automação Select.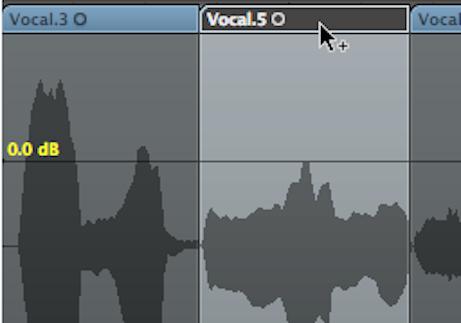 Comando opção clicando em uma região para criar 4 nós de automação
Se você ainda havent feito edições, basta fazer uma marca de seleção, pegar a linha de automação com a ferramenta Ponteiro e quatro nós será criado nos limites de seleção, sem novas regiões sendo criado.
Como uma alternativa ao método ferramenta Marquee você também pode pressionar Shift-Option-Control e faça uma seleção rubberband com a ferramenta Ponteiro. Neste caso, quatro nós são criados imediatamente, e movendo a linha de automação verá a mover duas internas e duas externas permanecem estáticos.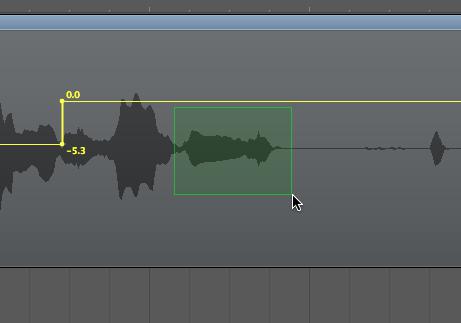 Rubberband seleção com Option, Shift pressionada e Controle
02 - Em Tools Pro

Em Pro Tools, faça uma seleção editar, mude a visão faixa de onda de Volume usando o seletor de Track View, em seguida, use a ferramenta Trimmer para ajustar a automação. Mais uma vez, quatro pontos de interrupção de automação (isto é o que nós somos chamados em ProTools) será criado nos limites de seleção. Para selecionar a totalidade de uma região anteriormente editadas, clique duas vezes com a ferramenta Selector, ou um único clique com a ferramenta Grabber.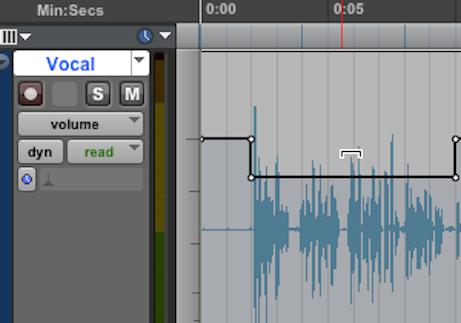 Ajustando com a ferramenta de automação Trimmer
Maestria atalho de teclado é a chave para a velocidade e eficiência, por isso aqui é um resumo dos atalhos para a mudança de pontos de vista faixa e selecionando ferramentas de edição:
To select the next/previous track view: Control+Command+right/left arrow keys

To toggle the Waveform/Volume track views on tracks containing an edit selection: Control+ - (minus on the alphanumeric keyboard)

To perform the previous shortcut with Command Keyboard focus enabled: - (minus on the alphanumeric keyboard)

Adicionando a tecla Option em cada caso, executa a mesma ação para todas as faixas
To select the Trimmer tool: Command+2

To select the Selector tool: Command+3

To select the Grabber tool: Command+4

Observe que mesmo que temos vindo a discutir a automação de volume, o trabalho estas dicas para toda a automação faixa em ambos os Pro Logic e Pro Tools .