Il est typique pour les chanteurs d'effectuer chaque phrase et chaque mot et de syllabes en leur sein à un large éventail de volumes. Ils se déplacer et ils expriment ce qu'ils accomplissent c'est humain! Lors du mélange qui présente un défi et une réponse est de réduire la plage dynamique en utilisant la compression. Cependant, un meilleur résultat pourrait être obtenu en faisant des ajustements à l'automation de volume sur une base mot par mot. Cette astuce va vous montrer comment faire cela dans Logic Pro et Pro Tools .

01 - Dans Logic Pro
Si vous avez déjà fait des modifications (peut-être basé sur la détection de passage voir mon conseil sur Tab pour Transient dans Logic Pro ), vous pouvez sélectionner une région chapiteau par le commandement Option cliquant sa barre de titre (en supposant que l'automatisation piste est visible et l'outil Rectangle de sélection est réglée en tant que votre commande cliquez sur l'outil). Il suffit ensuite de glisser la ligne automatisation haut ou le bas; quatre noeuds seront créés à la limites de la région, donnant une poignée d'automatisation qui se déplace indépendamment de tous les automatismes. Vous pouvez effectuer cette soit avec l'outil Pointeur ou l'outil d'automatisation Select.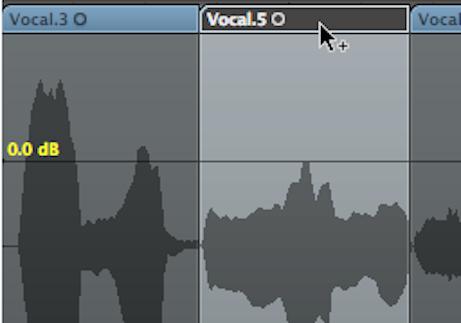 Commande Option cliquant une région à créer quatre nœuds d'automatisation
Si vous havent encore fait des modifications, simplement faire un rectangle de sélection, prenez la ligne d'automatisation avec l'outil Pointeur et quatre noeuds seront créés à la limite de sélection, sans création de nouvelles régions.
Comme une alternative à la méthode outil Rectangle de sélection, vous pouvez aussi maintenir la touche Maj-Option-Control et faire une sélection étirable avec l'outil Pointeur. Dans ce cas, quatre nœuds sont créés immédiatement, et le déplacement de la ligne automatisation verrez le mouvement interne deux et les deux extérieures restent statiques.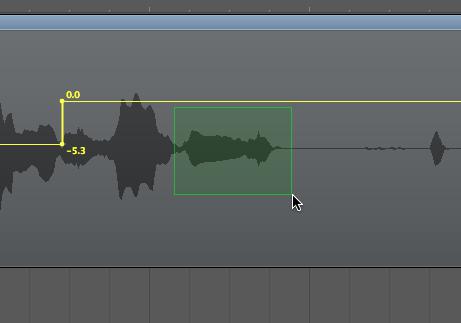 Sélection Rubberband avec Maj, Option et Contrôle enfoncée
02 - Dans Pro Tools

Dans Pro Tools, faire une sélection d'édition, passer de la vue piste de forme d'onde au Volume à l'aide du sélecteur de vue de la piste, puis utilisez l'outil pour ajuster l'automatisation. Encore une fois, quatre points d'arrêt d'automatisation (c'est ce que les noeuds sont appelés dans ProTools) sera créé à la limite de sélection. Pour sélectionner l'ensemble d'une région précédemment édité, double-cliquez avec l'outil Sélecteur, ou un seul clic avec l'outil Grabber.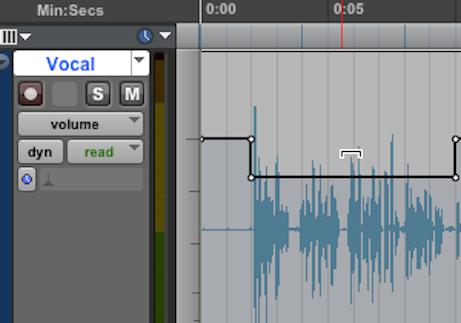 Réglage de l'automatisation avec l'outil de trimming
Maîtrise de raccourci clavier est la clé de la rapidité et l'efficacité, voici donc un résumé des raccourcis pour la commutation de vues piste et la sélection des outils d'édition:
To select the next/previous track view: Control+Command+right/left arrow keys

To toggle the Waveform/Volume track views on tracks containing an edit selection: Control+ - (minus on the alphanumeric keyboard)

To perform the previous shortcut with Command Keyboard focus enabled: - (minus on the alphanumeric keyboard)

Ajout de la touche Option enfoncée dans chaque cas, effectue la même action à toutes les pistes
To select the Trimmer tool: Command+2

To select the Selector tool: Command+3

To select the Grabber tool: Command+4

Notez que même si nous avons discuté d'automation de volume, ces conseils de travail pour tous automatisation de piste à la fois dans Logic Pro et Pro Tools .