Es ist typisch für Sänger jeder Phrase und die einzelnen Wörter und Silben in ihnen auf eine breite Palette von Datenträgern ausgeführt werden soll. Sie bewegen und sie auszudrücken, was sie führen es auch nur ein Mensch! Beim Mischen, dass ist eine Herausforderung und eine Antwort ist es, die Dynamik zu reduzieren mit Kompression. Allerdings könnte ein besseres Ergebnis durch Anpassung der Lautstärke-Automation auf einem Wort-für-Wort-Basis erzielt werden. Diese schnelle Spitze zeigen Ihnen, wie Sie diese in do Logic Pro und Pro Tools .

01 - In Logic Pro
Wenn Sie bereits gemacht haben Bearbeitungen (vielleicht auf Transientenerkennung basiert meine Quick Tip auf Tab zu Transient in Logic Pro ), können Sie Festzelt wählen Sie eine Region von Option Befehl auf die Titelleiste (vorausgesetzt, Spur-Automation sichtbar ist und der Marquee-Tool ist gesetzt als Command-Klick-Tool). Dann ziehen Sie einfach die Automatisierung Linie nach oben oder unten, vier Knoten an den Bereichsgrenzen erstellt werden, so dass eine Automatisierung Griff, die unabhängig voneinander bewegt alle anderen Automatisierungskomponenten. Sie können diese entweder mit dem Werkzeug Zeiger oder die Automation-Auswahl-Werkzeug durchführen.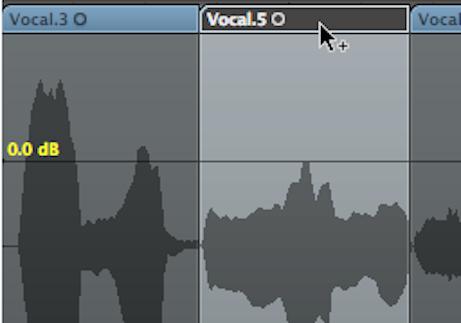 Option Befehl Anklicken einer Region zu 4 Automationsknoten erstellen
Wenn Sie noch havent gemacht Bearbeitungen, machen Sie einfach einen Auswahlrahmen, greifen die Automatisierung mit dem Werkzeug Zeiger und vier Knoten wird bei der Auswahl Grenzen geschaffen werden, ohne neue Regionen geschaffen.
Als Alternative zu dem Marquee-Werkzeug-Methode können Sie auch bei gedrückter Shift-Option-Control und machen ein Gummiband Auswahl mit dem Werkzeug Zeiger. In diesem Fall vier Knoten werden sofort erstellt und Bewegen der Automatisierung Linie die beiden inneren Bewegung sehen und die beiden äußeren statisch bleiben.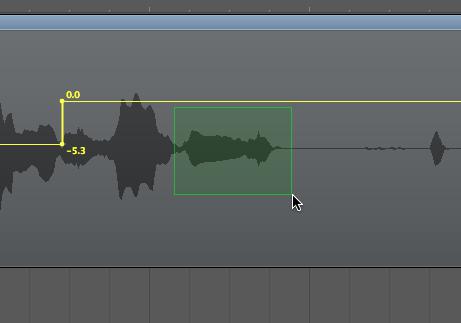 Rubberband Auswahl mit Shift, Option und Control gedrückt
02 - In Pro Tools

In Pro Tools, um eine Edit-Selektion, schalten Sie die Track-Ansicht von Waveform zu Band mit dem Track View Selector, dann mit dem Trimmer-Tool zur Automatisierung anzupassen. Wieder werden vier Automation Breakpoints (das ist, was Knoten in ProTools genannt werden) bei der Auswahl Grenzen geschaffen werden. Um die Gesamtheit einer zuvor bearbeiteten Region, mit dem Selector Tool doppelklicken Sie, oder mit dem Grabber-Tool mit einem Klick.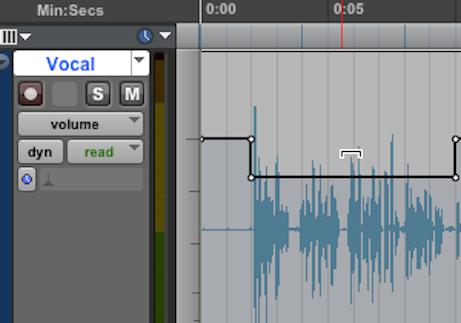 Einstellen Automatisierung mit dem Trimmer-Tool
Tastaturkürzel Meisterschaft ist der Schlüssel zur Geschwindigkeit und Effizienz, so ist hier eine Zusammenfassung der Tastenkombinationen zum Umschalten Blick auf die Rennstrecke und die Auswahl Bearbeitungswerkzeuge:
To select the next/previous track view: Control+Command+right/left arrow keys

To toggle the Waveform/Volume track views on tracks containing an edit selection: Control+ - (minus on the alphanumeric keyboard)

To perform the previous shortcut with Command Keyboard focus enabled: - (minus on the alphanumeric keyboard)

Hinzufügen der Option-Taste in jedem Fall führt die gleiche Aktion auf alle Spuren
To select the Trimmer tool: Command+2

To select the Selector tool: Command+3

To select the Grabber tool: Command+4

Beachten Sie, dass obwohl wir diskutiert haben Lautstärke-Automation, arbeiten diese Tipps für alle Spur-Automation in beiden Logic Pro und Pro Tools .