Bei so vielen verschiedenen Distortion-Prozessoren draußen bietet viele verschiedene Arten von Wirkung ist es nicht verwunderlich, dass einige Anfänger über den Jargon gewöhnen verwirrt. Hier werden wir auf die Herstellung von Sättigung, nur eine der vielen Geschmacksrichtungen von Verzerrungen in der modernen Produktion eingesetzt zu konzentrieren. Wir werden mit Reason Scream 4-Prozessor für die Aufgabe.
Saturation is the effect produced when tape or valves are overdriven. The result is a 'soft clipping' and induces not only a perceived volume increase but a gentle, fuzzy overdrive that is often described as 'fat' or 'warm'.

Schritt 1 - Laden Sie die Scream 4
Sobald Sie den gewünschten Sound zu verarbeiten (in diesem Fall eine schöne akustische Drum-Loop von Dr. OctoRex) identifiziert wird, müssen Sie die Scream 4 Distortion-Prozessor einzusetzen. Das Verfahren ist das gleiche wie das Einfügen einer anderen Effektgerät und du wirst der Scream ordentlich zwischen den RV7000 Hall und der BV512 Vocoder in dem Dropdown-Menü versteckt zu finden.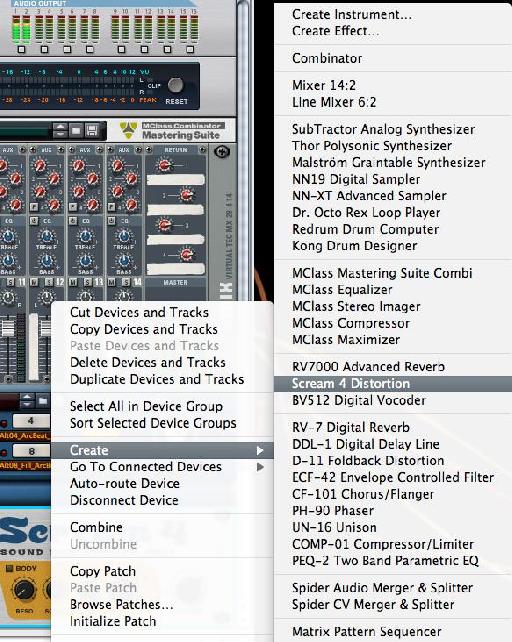 Lädt die Scream 4
Falls Sie die Schrei direkt unter dem Gerät, das Sie bearbeiten wollen, Reason routen sollten alles automatisch für Sie. Sie können dieses Auto-Routing in Verfahren unten.
Der Drum-Loop-Prozess werden wir, wie wir zu gehen:
[Audio-id = "5960"]
Schritt 2 - Auswahl des Distortion-Modus
Nun spielen Sie Ihre Schleife zurück, aber hier vorsichtig sein, wie auch der Schrei der Default-Modus fügt eine enorme Menge an Volumen, um das Signal. Viele der Modus ist, dass Schrei bietet wirklich extrem sind, aber wir sind nur daran interessiert, die Modi in der Lage, Sättigungseffekte.
Die beiden Modi, die Sie verwenden möchten, dann sind 'Tape' und 'Tube'. Diese werden mit dem Modus-Knopf oder mehr direkt über die tatsächlichen LEDs neben jeder Modus Namen. Mit Band-Modus gewählt, sollten Sie beginnen, einige angenehme Sättigung aufgetragen, um Ihren Sound zu hören.
An diesem Punkt habe ich aus dem EQ und Teile des Aufbaus der Scream 4 eingeschaltet. Ich finde das hören Sie die Verzerrung Schaltung ohne jegliche Einmischung. Diese Effekte lassen sich immer wieder eingeschaltet werden zu einem späteren Zeitpunkt, wenn nötig.
The Damage Drehknopf steuert direkt die Menge der Festplatte des Geräts erzeugt und somit die Stärke des Effekts Ihnen zu hören. Schalten Sie diese in Tape-Modus und Sie sollten die Sättigungseffekt erhöhen hören.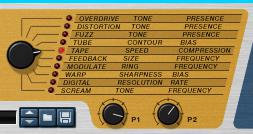 The Scream 4 Modi Abschnitt hat viele Möglichkeiten
Schritt 3 - Fine Tuning der Einstellungen
Um wirklich das Beste aus den Wirkungen, die Schrei muss man tiefer in die Einstellungen. Es gibt nur zwei dieser pro-Modus, so dass keine große Lernkurve über hier zu kümmern.
In Band-Modus zum Beispiel haben wir "Speed" und "Compression"-Optionen. Die Speed-Funktion wird letztlich verändern die Helligkeit des Klangs, während der Compression-Funktion fügt eine sehr authentische Bandkompression, um den Klang, das ist perfekt für Schlagzeug und Sie können ihn in Aktion unten zu hören.
Die Scream 4 Band saß, um die Drum-Loop angewendet:
[Audio-id = "5961"]
...And with an alternative Tube setting:

Thirsty für mehr saftig Reason Tipps n 'Techniken? Schauen Sie sich unsere Vernunft Tutorials .