They're called MIDI mockups, virtual orchestrations, and my favorite, "orchestral realizations". But whatever you call them, one thing is for sure: the game of creating realistic-sounding orchestral music using samples isn't always an easy one to play.
Playing the Players?
To the layman, the idea of creating realistic-sounding orchestral music by knitting together pre-recorded snippets of musical performances'"which you had no hand in producing or conducting yourself'"might seem kinda nuts. Or, their assessment might be more along the lines of, "wow, computers can do everything these days!" In fact, many people new to creating mockups have one foot planted in a fertile field of exactly that sentiment, while the other is stuck fast in the muddy swamp of disappointment. That's right, today's turning out to be a good day for penning metaphors, but just in case I've lost you (I get that a lot), here's what I mean: your orchestrations may not end up sounding quite as authentic as you had hoped because you didn't realize until now (uh oh) that playing recordings of real instruments doesn't guarantee realism.
Oh, and neither is having the most current or expensive libraries. But that's another story.
It's All In Your Mind
Believe it or not, bridging the gap between fake-sounding and realistic might start by abandoning certain misconceptions you may hold about what samples can actually do for you'"as opposed to what they could, should, would, or ought to do. That's not to say that you can simply philosophize your way to better sounding mockups. But if your goal is to achieve a greater sense of realism, you will go far by first recognizing the unavoidable limitations of sample libraries, and then learning how to overcome them'"all of which I cover in great detail in my new video course, The MIDI Orchestra: Enhancing Realism.
Easy Realism
It's pretty easy to write realistic-sounding orchestral music composed mostly of short articulations such as staccato strings, brass, and percussion instruments. Chances are you've heard 'easy realism' in movie trailer music and action cues featuring, typically, low strings playing an insistent rhythmic pattern of 8th or 16th notes (an ostinato, or 'motor') punctuated with staccato brass and percussion. Here's why it's easy to achieve a realistic sound with short articulations:
First, the dynamics of short sounds can be easily controlled using normal keyboard touch (velocity). Second, we don't have to really pay too much attention to how the notes actually conclude; samples of short articulations embody the natural (and usually quick) decay of the sound, so they tend to 'play themselves out' sounding natural and authentic. However'¦

Beyond The Easy Part
When releasing notes playing using sustaining sounds, chances are that the sound you hear as the note concludes won't be very realistic-sounding, or, the sound will conclude in a way that may or may not be intentional. For example, listen closely to how each of the violin chords conclude in this audio example:

In that example, the "bumps" at the end of each chord were generated by the plug-in itself. While these bumps are somewhat reminiscent of violinists accenting the ends of the notes, it doesn't sound very deliberate, does it? The truth is, I couldn't imagine real violinists intentionally concluding notes with such weak accents. And in fact, the natural tendency of string players concluding notes at this dynamic level would be to decrescendo slightly at the end of each note, as heard in this example:
Here's how I achieved a more natural and realistic-sounding diminuendo at the end of each chord:
First, the sound I played for the examples (Cinematic Strings 2 violins) uses the modwheel to shape dynamics. So after riding the modwheel up a bit to create the slight crescendo at the start of the notes, I rode the modwheel down slightly at the conclusion of the notes. Voila!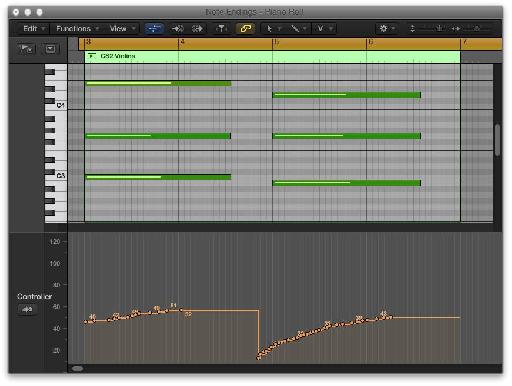 CC#1 rides create a slight crescendo at the start of each chord. Bumps are heard at each chord's conclusion, however.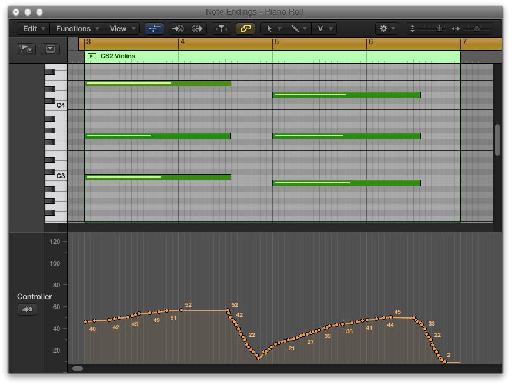 CC#1 rides added to create slight decrescendos at ends of chords, masking the bumps and providing a more realistic and musical conclusion to the notes.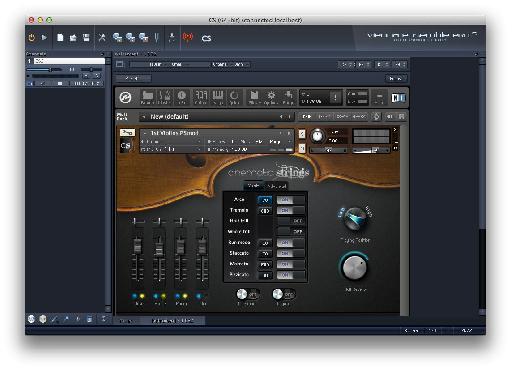 Cinematic Strings 2 Violins (as hosted in Vienna Ensemble Pro)
Towards a Musical Conclusion
When it comes to simulating the sound of real players, paying attention to the way notes conclude is equally as important as selecting the right articulation for the start of those notes! Unfortunately, many composers focus their attention solely on selecting the right articulation for the beginnings of notes and little to no attention to the way they conclude. One of the hallmarks of a fake-sounding mockup is when the ends of sustained notes don't sound musical and nondescriptly stop or bump, as in the first audio example. Truly, leaving it up to the sampler plug-in to decide how your notes end just doesn't quite cut it.
Without question, it takes a lot more work to craft musical endings at the conclusion of sustaining notes, but it can make all the difference between maintaining the impression of an orchestra, and not.

By the way, it's also possible to give the ends of notes due attention when using sounds that don't feature modwheel or other CC control of dynamics by creating diminuendos with MIDI volume (CC#7) or, in some cases, CC#11.

You'll find many more tips and perspectives for enhancing the realistic qualities of how notes start, end, and everything in-between in The MIDI Orchestra: Enhancing Realism:

Watch the entire course by Peter Schwartz at AskVideo here:
The MIDI Orchestra'"Enhancing Realism
Here's a preview video from Peter's course: