로직 프로 었소는 전용 multiband 튜브 압축기 플러그인을 가지고. 동일한 압축기 회로 유형 옵션 Logics에서 찾은 몇 가지 추측이 있었는데 표준 압축기 플러그인이 버전 9 MultiPressor에 추가하지만, 그렇게되지 않을습니다 것입니다. 아마 로직 프로 X에서? 그 동안에, 당신은 보조 채널을 사용하여 자신을 만들 수 있습니다. 어쩌면 그것이 아닌 신호 프로세서를 만들 수 있지만, 당신이 실제로하는 일을 이해하기 위해 더 많은 가능성이있을 수있는 가장 빠른 방법!
multiband의 압축기 뒤에 아이디어는 서로 다른 주파수 대역 다른 압축 설정을 적용할 수 있으며, 진공 튜브 또는 밸브로 만들어 하나의 경우, 각 주파수 대역은 이러한 구성 요소가 소리를 빌려 줄 수있는 독특한 음파 특성을 활용할 수 있습니다 , 특히 하드 구동.
세 주파수 대역과 Multiband 튜브 압축기를 만들기 :
Add three stereo auxiliary channels by clicking the '+' button on the far left of the mixer (choose the first available bus as the input, and tick the 'Ascending' box)

Set up a send to each auxiliary channel from the channel that contains the file you are mastering

Set send levels to 0dB by Option-Clicking on the send level

Add a low-pass filter to the first Aux channel (the low end signal), and a hi-pass filter to the third Aux channel (the top end signal) and set the cutoff points to taste

Add a High Cut and a Low Cut filter to the second Aux channel (the mid-range); this is in place of a bandpass filter which Logic does not provide. Set the cutoff points to coincide with those in the lo and hi-pass filters

Add Logic's Compressor plug-in to each auxiliary channel (after the filter)

Set each compressor to the circuit type of your choice (see below)

이제 각각의 압축기에 대해 적절한 설정을 할 수 있습니다 : 병렬 압축 방법은 임계값 낮은을 설정하고 바람직한 왜곡 유물을 만들어 높은 비율은 다음 보조 채널 출력 faders를 사용하여 압축 신호로 이것을 섞는다.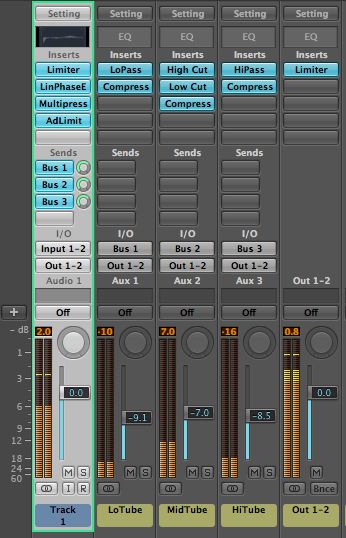 세 밴드 Multiband 튜브 압축.
주파수 대역을 제어하는​​ 필터의 사용에 대한 대안으로, 당신은 플러그인의 각 인스턴스에서 해당 밴드 soloing하고 MultiPressor의 압축 비율을 설정하여, 필터 (각 AUX 채널 중 하나)로 MultiPressors을 사용할 수 1시 1분에 있도록 압축하는 대신 플러그인을 압축기에 의해 처리됩니다.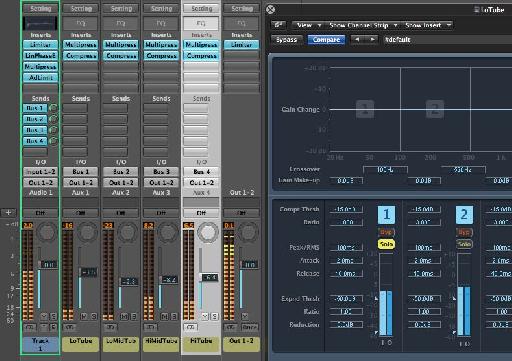 Multiband 튜브 압축 필터로 Multipressors를 사용하여.
Logics 설명서에 제공된 어떠한 정보가 없지만, Logics 압축기의 회로 유형은 다음과 같은 고전적인 압축기를 에뮬레이트하기위한되는 일반적인 합의가있을 나타납니다 :
Platinum: Emagic's own compression algorithm

Class A_R: Neve 2264/33609; the R is for Rupert. This would be vacuum tube style compression

Class A_U: Vari-Mu e.g. Fairchild 670/Manley. Again a vacuum tube emulation, but designed to be more transparent than the R.

VCA: DBX 160/SSL G-Master buss compressor

FET: Urei 1176 or similar

Opto: Teletronix LA2A or similar

에서 논리의 컴프레서와 MultiPressor에 대해 자세히 알아보세요 로직의 마스터링 도구 모음 및 Olav의 일렉트로 니카 작업 흐름 자습서 .