It might be a strange way to start out here, but I've never really been won over by the idea of room correction technology. The idea of using an equalizer permanently strapped across my monitor channel has always been a strange one to me.
All this said, I'm no stranger to what's available and I even tried using some of the products on the market in the past. With IK Multimedia's ARC software now at version 2, I thought it was only fair to give it a run for its money and see if this really is a viable way of correcting problem areas in the studio.
Why Use Correction?
Before we get going, it's worth having a think about whether you actually need room correction or not. The likelihood is that if your room is purpose built and has been designed with acoustics in mind, this sort of product currently isn't aimed at you. These sort of environments rarely display serious mix translation issues.
In the real world, most of us mix in spaces that were never designed to be recording studios or production rooms. These days, even pros tend to work in a variety of locations such as hotel rooms, bedrooms, garages and even living rooms. This is where room correction really comes into its own.
Although room correction can work in completely untreated spaces, it's generally a good idea to add some sort of treatment. The idea here is that the correction is as subtle as possible. The addition of some basic panels, diffusion and bass traps will go a long way to sorting out any issues in your room.
So the long and short of it... if you are working in a semi-treated space, with decent monitoring and minor issues, then room correction can be perfect for ironing out the creases. Just don't expect this sort of tech to transform rooms with really serious problems!
The ARC Concept
There are a few types of correction product out there at the minute, you'll find either hardware or software solutions. ARC is firmly in the software camp, and the product you'll get consists of a simple installer and calibrated condenser microphone for the purpose of taking room measurements.
The mic comes in a pretty sturdy case with a foam wind shield and mount. It's worth pointing out that this is actually a pretty decent mic, we're not talking luxury here, but it could certainly be put to work once you have completed your measurements.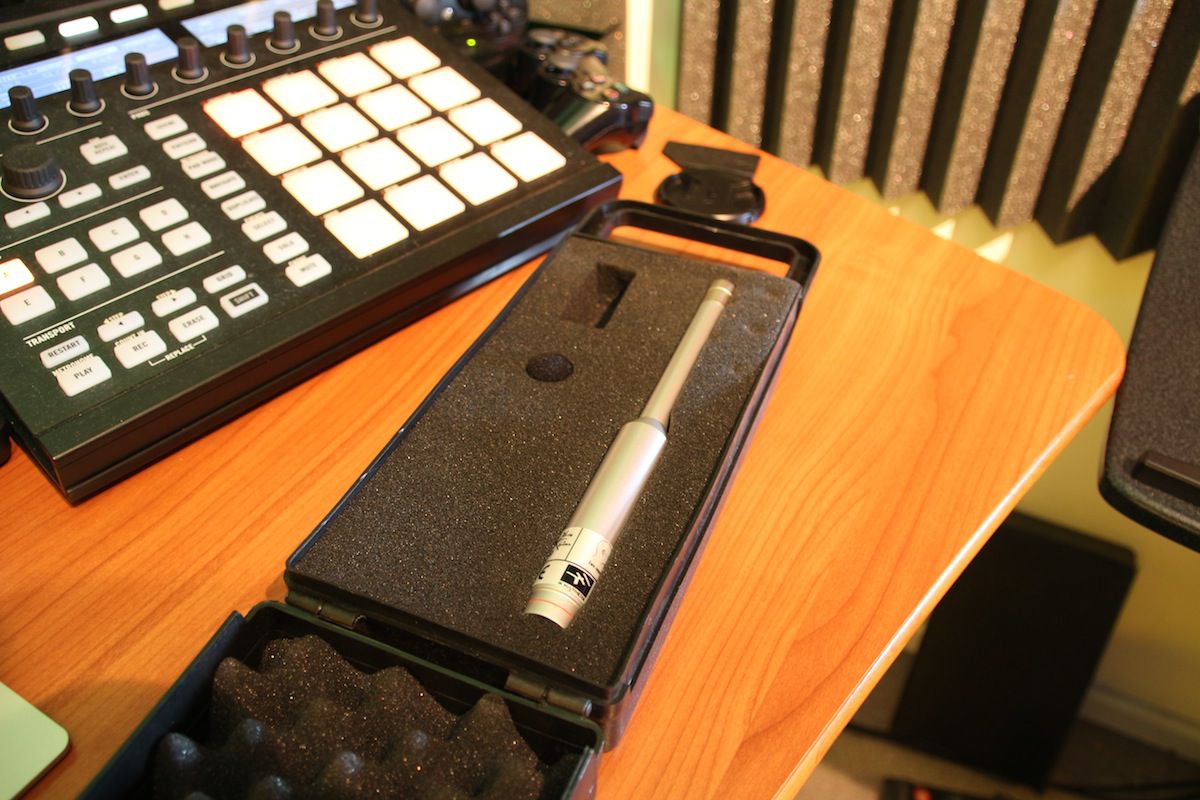 The measurement mic is well built and packaged.
After installation, you will end up with a measurement app and a new plug-in available in your DAW. First up, you'll need to take measurements of your room, the results will then be made available as correction settings in the ARC plug-in.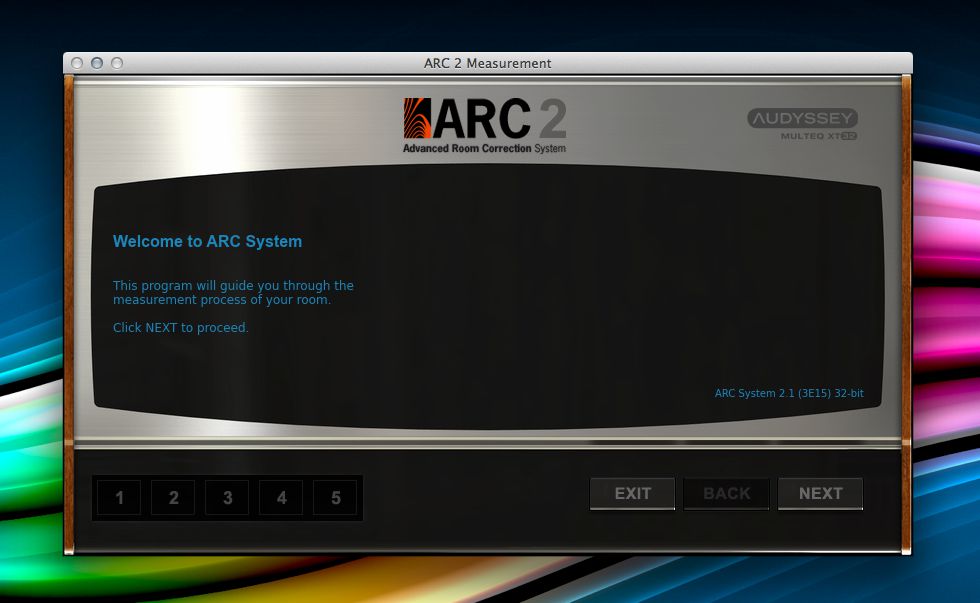 The ARC2 measurement app.
Essentially, any faults or issues found in your room will be converted into an EQ curve that will counteract these anomalies. It's a pretty simple concept but also effective. First, let's take a look at the measurement process.

Taking The Measurements

To allow the ARC app to record an accurate representation of your room, you'll need to take as many measurements as possible. A minimum of 7 measurements of your listening area is required, although the maximum of 16 steps is recommended for the highest level of accuracy.
The mic needs to be plugged directly into your audio interface (which should be set at 48 kHz) and then positioned pointing directly at the ceiling, at listening height. You can see my initial measurement portion in the picture below.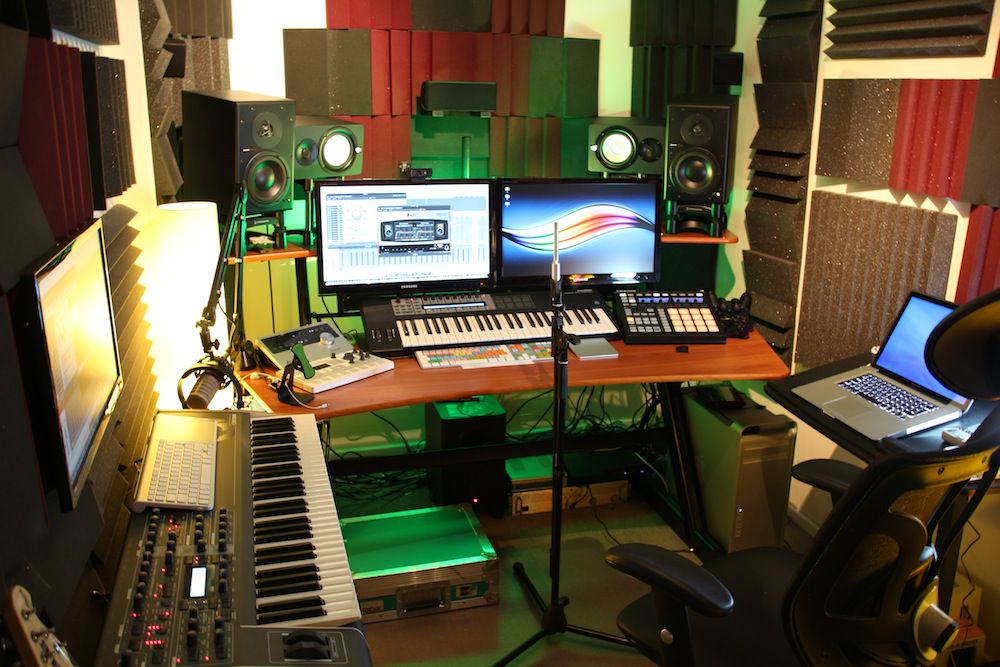 The mic positioned in my workspace ready for measurements.
It's then suggested that you take all of the measurements at incremental positions within any areas you intend to listen from. Basically speaking, if you simply intend to monitor from a single position in front of your monitors, then all 16 points of measurement need to happen from within this area.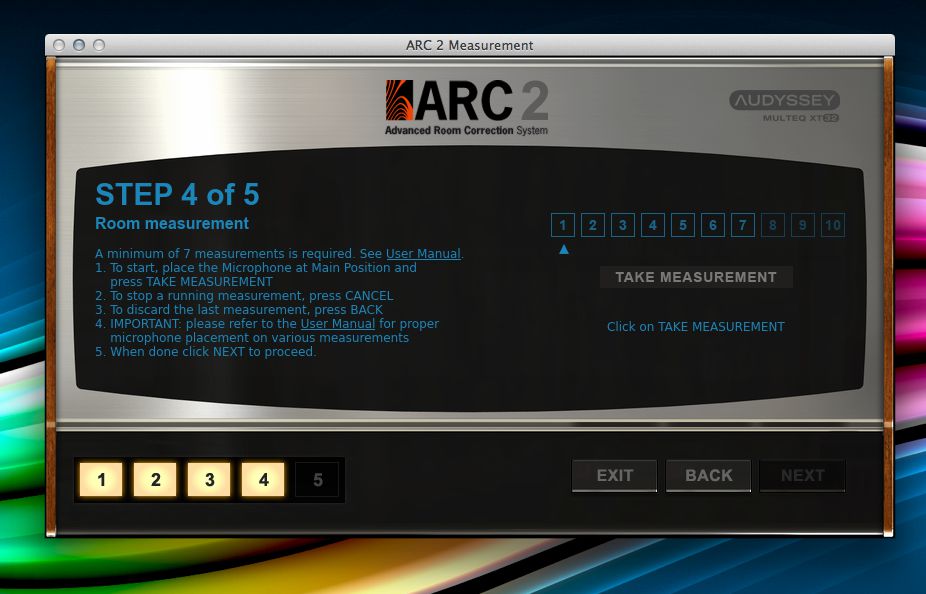 Taking the measurements one by one...
Things get a little more involved if you plan to listen from multiple locations as you have to divide up the 16 measurements between these spots. Most of us however probably don't need to worry about this.
With your measurements completed you will be prompted to name and save the profile and close the measurement app. We are now ready to head on over to our DAW and start inspecting the results using the ARC2 plug-in.
Applying The Results
With your measurements in place you'll now be ready to open them in the ARC2 plug-in. This should be inserted on your master output. I used it as the very first insert so that anything else I applied was influenced by the correction curve.
Every measurement you took should now be available as a profile in the plug-in. By loading the appropriate measurement, you will be able to see an overview of the anomalies in your room. This is pretty interesting and gives you a good idea where the faults (if any) lie.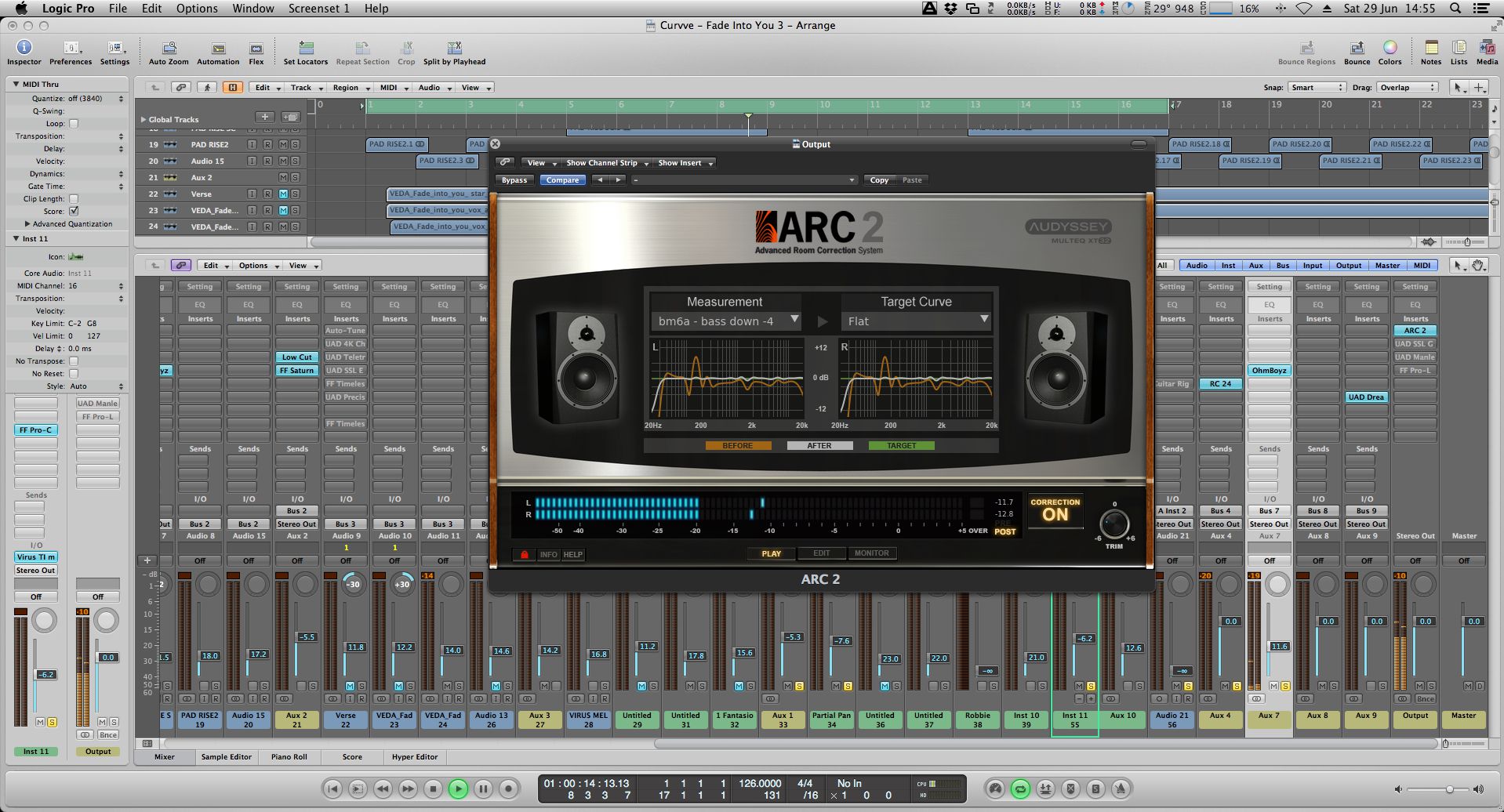 The main plug-in interface with measurement curves loaded.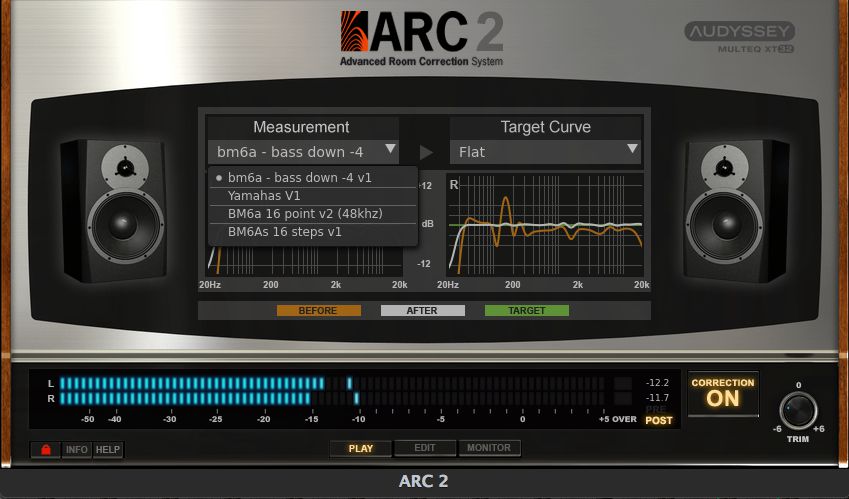 Some of the measurements I took for different monitors.
Your measurement profiles can be routed to any 'target curve'. By default, this is set to flat but you can choose a number of speaker emulations or custom curves. I wasn't hugely excited about the speaker settings but the custom settings did prove to be useful.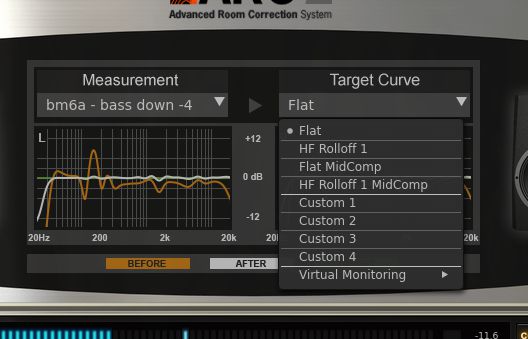 The target curves section.
In the edit page, you can add extra equalization to the corrected signal. Although this sounds like it might be counterproductive, IK point out in the manual that any adjustments made here will just act as subtle tonal shaping. This I like the sound of!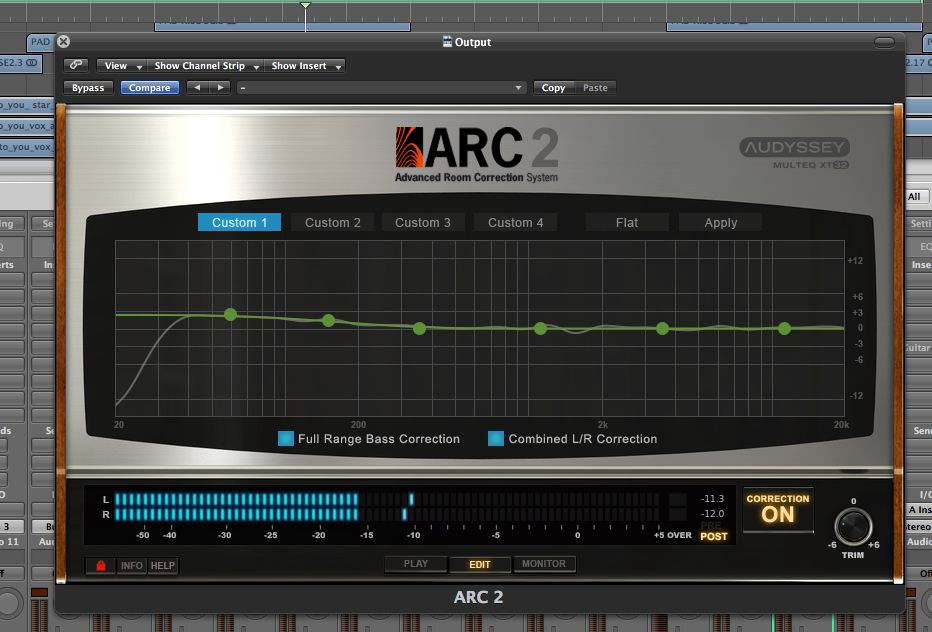 Adding some light adjustments using the custom targets.
The Real World Results
With the theory and method out of the way, the burning question has to be 'how does it sound?'... Or more importantly 'does it work?' To answer the first question, the results were very impressive. Even after a substantial amount of treatment my small working space has a pretty hefty issue around 120 Hz, and ARC2 did a great job of ironing it out.
Overall, the low end of my mix seemed to be hugely improved, with greater clarity and control. The downside of this was that there seemed to be a substantial loss in perceived volume. I guess this is to be expected as ARC seems to use subtractive equalization to get the job done.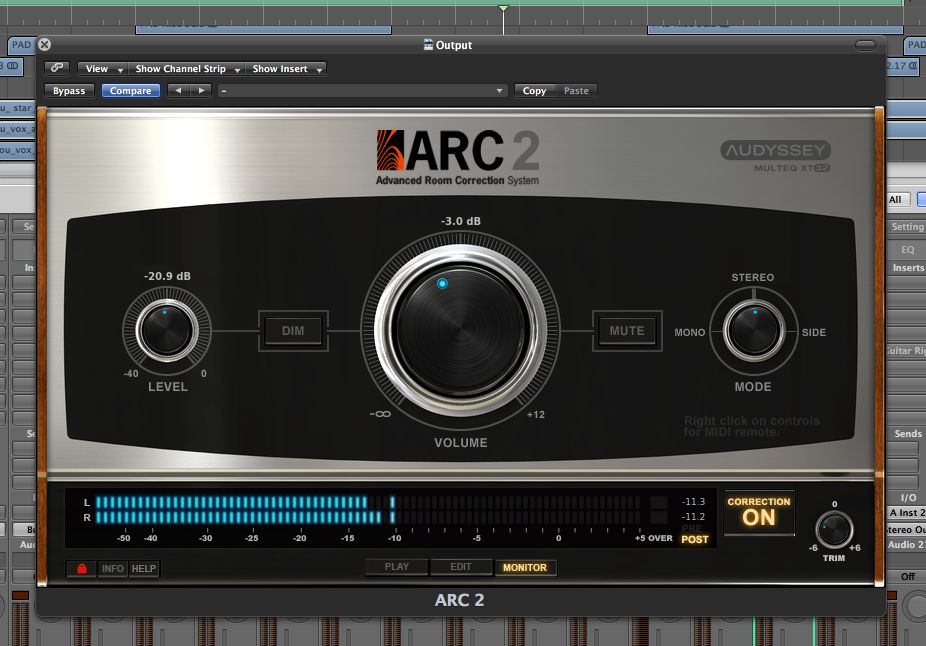 ARC2's master section gives you some extra control over your monitors.
The fact that you have to disable the plug-in when you export the mix, or use the plug-in in conjunction with Soundflower to monitor system audio is a bit of a hassle and hopefully these are things that IK can build into future releases. Ultimately if this means we get better translation in our mixes when working in less than perfect environments, then I'm all for it, and from my limited testing this certainly seems to be the case.