There exists a type of channel strip that's well known to veteran Logic users but perhaps not so much to relative newcomers. And this channel strip can't be created by any other means than going into the Environment and...Now, wait a second. Are you about to click away from this article because the word "Environment" fills you with fear? Well, I'll let you in on a secret: did you know that each and every single time you create a Logic project you're working with the Environment?
Yup, it's true. The channel strips you see in the Inspector and the Mixer page are all Environment "objects", as they're officially called. Instruments of all kinds (plugins and external MIDI) and auxes are Environment objects, too. And there's this one particular object, the Bus Channel, which is so extremely useful that it shouldn't be given short shrift just because you have to (brace yourselves) go into the Environment to create them. Really, it's quite easy to do. So please, stop digging your fingernails into your mouse at the thought of having to open the Environment window, take a deep, relaxing breath, and read on to find out how Bus Channels are created, as well as to get some insight into the types of control they offer.

Creating The Monster

Open the (not scary) Environment window and select the Mixer layer from the menu if it's not already selected. Then choose: New > Channel Strip > Bus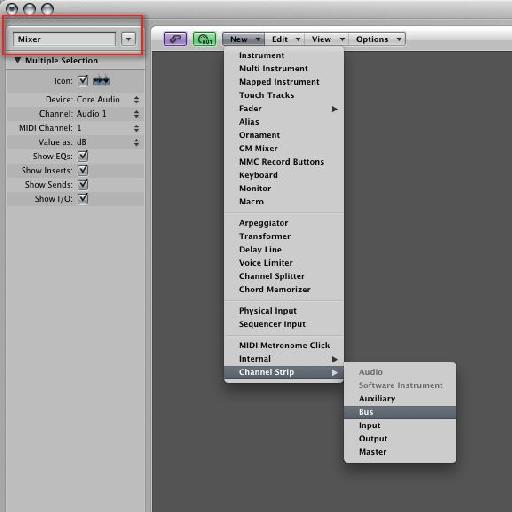 Figure 1: Creating a Bus Channel from the Environment's 'New' Menu.
Oh, and don't let the nomenclature of "Bus" '"as seen in the menu in Figure 1 above'"confuse you. When you perform this operation you're not creating a Bus. Working backwards through that menu, you're creating a Bus Channel (strip). And that begs the question...
Is a Bus Channel the Same as a Bus?

Nope. A Bus is like a virtual wire that's used to send audio signal from one channel strip (the source) to another (the destination). A Bus Channel is used to control the level and, if desired, add insert effects on the Bus itself, all to be described below. But first, let's continue with a closer look at Logic's Busses.
Logic has 64 permanent Busses; in other words, all 64 of them are available at all times. They don't need to be created individually like channel strips and auxes. And you can see the list of Busses whenever you click and hold on a send slot to create a new send. What comes up? A list of Busses! Digital or virtual "wires". Audio pathways.

Figure 2: The Bus Menu.
After choosing a Bus for your send, Logic automatically creates an aux, and the output of that Bus is automatically selected as the input to the aux. Add an effect plugin to the aux, turn up the send, and you're now tapping the signal from the originating channel via this virtual wire to the aux. Simplicity itself (see Figure 3).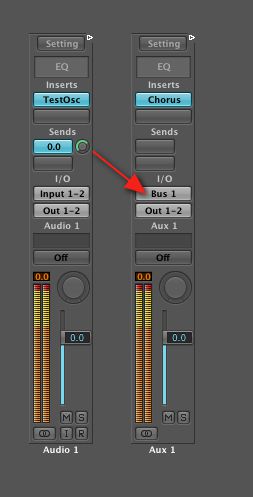 Figure 3: Bus Signal Flow from Send to Aux.
Notice how, in Figure 3, the level of signal from the send (set to 0 dB) is also reflected in the aux channel strip. We use the term "unity gain" to describe this situation, where the level of a signal at the destination equals the level of the signal from the source.
Conclusion: Busses carry signal from source to destination at unity gain, i.e., no change in level. If we were to turn down the level of the send to, say, -6 dB, the aux's level meter would reflect -6 dB as well. Again, unity gain. Or, to put it another way, "no difference in level from source to destination".
However, there are times when you might want to change the overall level of the signal on that Bus, or add a common effect to all signals flowing along the Bus. And when such situations arise, Bus Channels come to the rescue!
Taming the Monster

A Bus Channel is a volume control for the output of a bus, and it's also a way to insert effects directly on the Bus! In Figure 4 we see several interesting things, starting with the signal flow. The Bus Channel is positioned at the end, or output, of the Bus itself, and here we see it acting as a volume control for the Bus: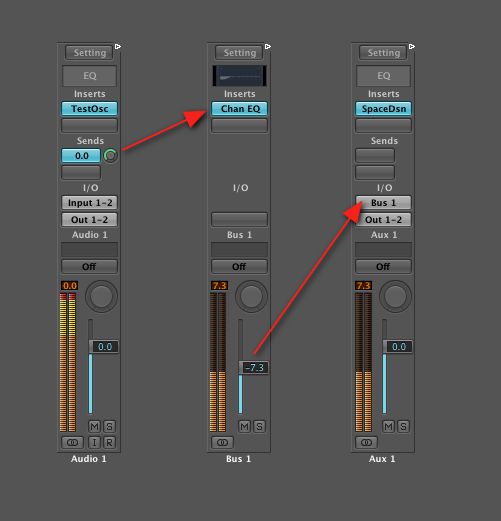 Figure 4: Bus Signal Flow with a Bus Channel Added.
The signal emanating from Send 1 on the channel strip is at a level of 0dB, but the fader on the Bus Channel reduces it to -7.3 dB. This level reduction is reflected in the level meter of the ultimate destination for Bus 1's signal: Aux 1. As you can also see, I've also inserted an EQ on the bus itself, thereby "conditioning" any signal being sent along Bus 1 to have a little bit of a low end roll-off before the signal is received by the Space Designer reverb, hosted in the Aux.
There are many highly useful applications for Bus Channels, including the little-appreciated concept that they can also be used as master group or trim controls for groups of audio and instrument channels. This application alone provides the long sought-after "Trim" function missing from Logic's palette of track automation functions. And like all channel strips, Bus Channels can be automated.
I hope this brief article has stimulated your interest in the possibilities for using Bus Channels. If you'd like to learn more, please post your questions in the mPV Logic Forum or here at the end of the article. Interested in more? Let me know and I will do a follow-up article showing additional, real-world applications for Bus Channels.
In the meantime there's a whole lot to learn about Logic, and you can find out more with these Logic Video Tutorials and do check out Peter's MIDI 101: MIDI Demystified tutorial for an entertaining and educational unveiling of MIDI, what it is and how to use it better.