As a result of my use of technology as a tool for education, I've had many joyful, productive experiences enabling my Special Learners as music makers. The potential for their empowerment, despite challenges, is limitless, and I enjoy sharing the positive results that my use of available technologies yields, as I know that others will successfully incorporate what I have implemented.
One of the most rewarding of these implementations has yet to be mentioned here in the articles I've written for AskAudio Mag; that of providing a means for non-verbal learners to express themselves vocally. This article will discuss some of the apps and methods used to encourage and enable all learners as vocalists.
It's Not Wizardry
SampleWiz, one of a growing line of successful, quality apps produced by Wizdom Music, founded by Jordan Rudess, immediately became a favorite with my students when it came out a little more than two years ago. By simply pressing the big red 'Start' button, students' voices can be recorded for immediate sample playback and processing. Although it's difficult for many of my students to get the hang of this at first, they really enjoy playing the just-recorded samples. Hearing those being played back motivates them to keep interacting with the SampleWiz interface, and eventually, many of my students learn to utter sounds, and even words or short phrases while navigating the interface. Setting the view mode to the 'waveform' setting is the most popular, as students love the visual feedback of seeing their vocalizations immediately turn into audio waveforms before their eyes!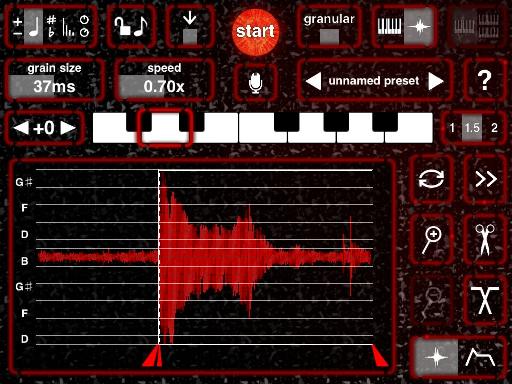 In the Key of Inspiration
Similarly, the iOS platform offers some very good vocoder apps that, because of their synthesized and robotic type vocal effects, also provide interest and motivation for the verbally challenged learner. Two very good ones that I like to use are iVoxel and Voice Synth. Both provide many options for modifying voice sounds that my students find very entertaining. This inspires them to experiment, and encourages them to try to use their own voices to vocode. One of the best features of both of these, but possibly a bit easier for my students on iVoxel, is the ability to have the vocal pitch glide up or down while saying a word or phrase, thereby making the vocoded sound more expressive. iVoxel makes this very intuitive by allowing the user to simply slide their finger up or down along the keyboard. This allows for quite a bit of expressive control. The best part about this feature is the fact that it prompts some learners to become more expressive in their own speech, as they enjoy imitating the expressive qualities that they hear from the vocoder when it is played in this manner.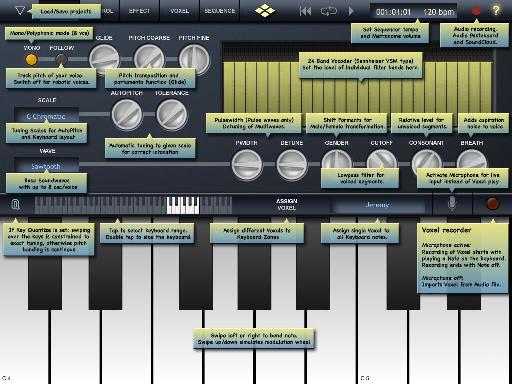 Very user friendly help tags are provided for every page of each of the apps mentioned herein.
Finally, learners who do not vocalize at all can be enabled vocally by simply triggering a recording that someone has made for them. I often allow my verbal learners to record parts for non-verbal learners to trigger during shows and concerts.