Con l'uccise di recente annunci hardware emozionanti da Apogee (Jam e Mike), si potrebbe essere perdonato per pensare che il Natale è arrivato in anticipo! Aggiungete a ciò, il loro annuncio ultimo prodotto, il Duetto 2 , e le mie aspettative per il mio prossimo interfaccia audio portatile sono state sollevate.
Sono l'orgoglioso proprietario di un Apogee Duet (versione 1), che è stata la mia preferita interfaccia audio sia in studio e sul campo per gli ultimi tre anni. Offre già eccellente qualità audio, due ingressi e uscite, un design elegante e sexy e super facile controllo da destra all'interno di Logic, Soundtrack Pro, Mainstage e GarageBand.
So how can Apogee possibly improve on one of my favorite pieces of studio kit? Let's take a closer look...

Più uscite
Il Duet 2 ha ora 4 uscite analogiche che dovrebbe renderlo più adatto per DJ per il monitoraggio mix separati o per inviare una traccia di click per un batterista o un sub-mix in primo piano della Casa durante la riproduzione dal vivo. In studio, ciò consentirebbe di utilizzare due coppie di monitor. Questa flessibilità sarà particolarmente gradita dalla maggior parte dei musicisti digitale!
Vale la pena notare che il Duet 2 viene fornito con uscite bilanciate e non la varietà sbilanciato del Duet 1.
Una migliore qualità audio
Apogee have redesigned the preamps and AD/DA converters from the ground up and this, along with using technology from their flagship Symphony I/O system, should result in better sound quality. For those who are interested in recording audio at sample rates above 96kHz, the Duet 2 supports sample rates up to a staggering 192kHz (at 24 bit).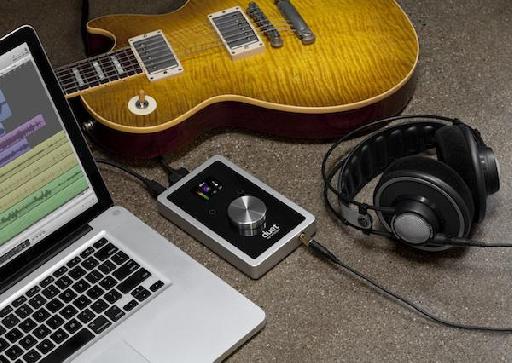 OLED display con touch pad
I 2 Duet non sarebbe fuori posto su un alto budget Fantascienza set cinematografico. Oltre ad essere grande piacere per gli occhi, il full color ad alta risoluzione display OLED si presenta come un'utile aggiunta nel fornire un feedback visivo per la misurazione, livelli di ingresso e di uscita, muting e persino di fase.
Sitting just below the futuristic display are two configurable touch pads. These can be setup to provide a number of functions such as to mute outputs, toggle headphone source, clear the meters and more.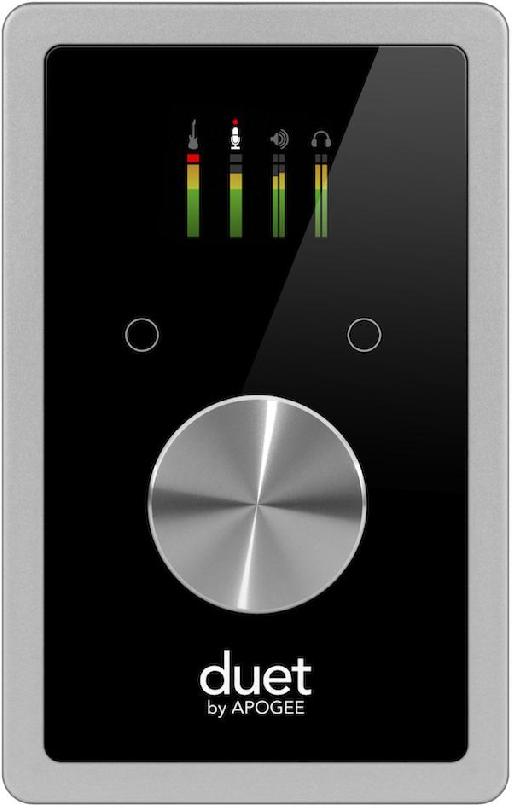 I love this idea as it means less time mousing around menus in software and more hands-on control without unwieldy buttons and hard to reach switches.
Breakout
It's no secret that the Breakout cable included with the Duet (v1) didn't win over everyone. Personally, I found it to be stable, secure and easy to use, but you can't please everybody! The Duet 2 has a newly designed breakout cable which looks more refined than the original.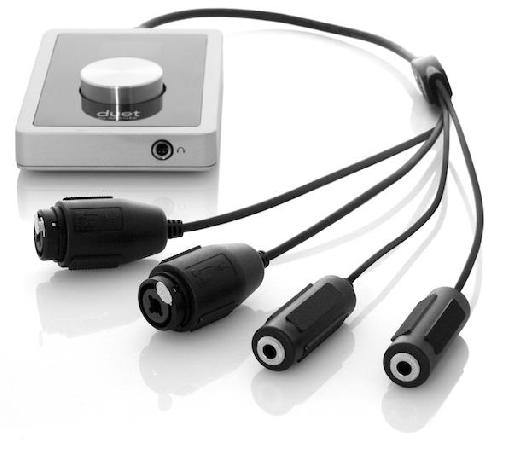 Additionally, in Apogee have responded to customer feedback and made a Breakout Box accessory available for those who need something even more robust!
Latenza, connettività e molto altro ...
Anche se il Duet 2 è un bus USB 2.0 alimentato, in qualche modo Apogee sono riusciti a migliorare le prestazioni (riduzione della latenza). Maggiori dettagli sulla Duet 2, compresa una tabella Duet Duet confronto vs 2, può essere trovato qui .
Io non vedo l'ora di mano con il Duetto 2, e con la spedizione ancorato per qualche tempo nel mese di aprile 2011, non potrebbe aver bisogno di aspettare molto a lungo. Il mio consiglio a chiunque voglia una nuova interfaccia audio dove si richiedono 2 ingressi microfonici simultanea pre / analogici e 4 uscite bilanciate? Attendere che il Duet 2 arriva.
Fino ad allora se qualcuno è interessato all'acquisto di un duetto fidato (versione 1) in ottime condizioni mi calo un commento qui sotto!?