Avec le tua récente d'annonces de matériel passionnants de Apogee (Jam et Mike) que vous pourriez être pardonné de penser que Noël est arrivé tôt! Ajoutez à cela, leur annonce tout dernier produit, le duo 2 , et mes attentes pour mon interface audio suivante portables ont été soulevées.
Je suis l'heureux propriétaire d'une Apogee Duet (version 1), qui a été mon interface audio préférée à la fois dans le studio et sur le terrain pour les trois dernières années. Il offre déjà une excellente qualité sonore, deux entrées et les sorties, un design élégant et très sexy et super contrôle facile de la droite dans Logic, Soundtrack Pro et GarageBand Mainstage.
So how can Apogee possibly improve on one of my favorite pieces of studio kit? Let's take a closer look...

Plusieurs sorties
Le duo a maintenant 2 4 sorties analogiques qui devrait le rendre plus adapté pour les DJ de contrôler des mixages séparés ou pour envoyer une piste cliquez pour un batteur ou un mélange sous-Front of House en live. Dans le studio ce serait vous permettre d'utiliser deux paires de moniteurs. Cette flexibilité supplémentaire sera très bien accueilli par la plupart des musiciens numérique!
Il est intéressant de noter que le duo 2 est livré avec sorties symétriques et non la variété déséquilibrée de la Duet 1.
Une meilleure qualité audio
Apogee have redesigned the preamps and AD/DA converters from the ground up and this, along with using technology from their flagship Symphony I/O system, should result in better sound quality. For those who are interested in recording audio at sample rates above 96kHz, the Duet 2 supports sample rates up to a staggering 192kHz (at 24 bit).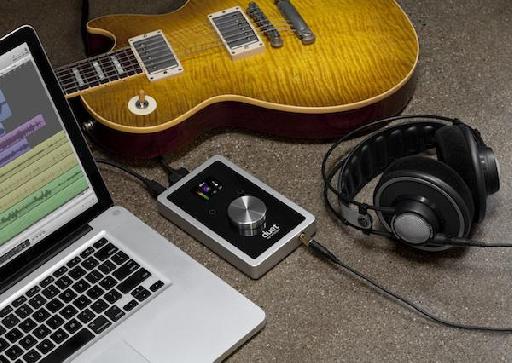 Écran OLED tactile avec des coussinets
Les 2 Duo ne regarde pas à sa place sur un ensemble de haut-budget du film de science-fiction. En plus d'être une grande sucrerie d'oeil, la couleur pleine salut-res écran OLED ressemble à un ajout utile pour fournir une rétroaction visuelle pour le mesurage, niveaux d'entrée et de sortie, mise en sourdine et même phase.
Sitting just below the futuristic display are two configurable touch pads. These can be setup to provide a number of functions such as to mute outputs, toggle headphone source, clear the meters and more.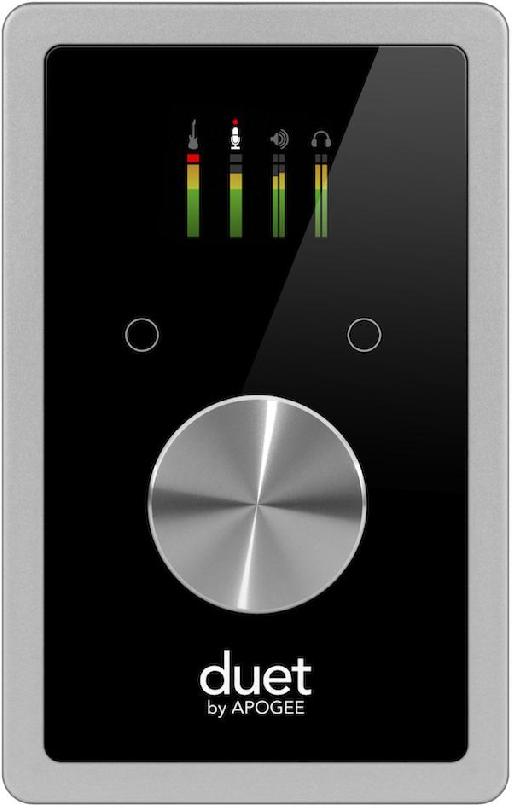 I love this idea as it means less time mousing around menus in software and more hands-on control without unwieldy buttons and hard to reach switches.
Breakout
It's no secret that the Breakout cable included with the Duet (v1) didn't win over everyone. Personally, I found it to be stable, secure and easy to use, but you can't please everybody! The Duet 2 has a newly designed breakout cable which looks more refined than the original.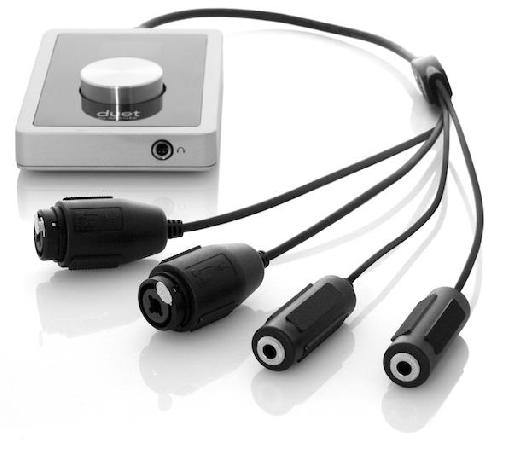 Additionally, in Apogee have responded to customer feedback and made a Breakout Box accessory available for those who need something even more robust!
La latence, de connectivité et de plus ...
Bien que le duo 2 est une interface USB 2.0 alimenté par le bus, en quelque sorte Apogee ont réussi à améliorer les performances (diminution de la latence). Plus de détails sur le duo 2, y compris un tableau de comparaison Duet Duet vs 2, peuvent être trouvés ici .
Je ne peux pas attendre pour obtenir la main sur le duo 2, et avec le port arrimé pendant un certain temps, en avril 2011, je ne pourrais pas besoin d'attendre très longtemps. Mon conseil à tous ceux qui envisagent une nouvelle interface audio où vous avez besoin de deux entrées micro simultanées pré / sorties analogiques et 4 sorties symétriques? Attendez que le duo 2 arrive.
Jusque-là, si quelqu'un est intéressé par l'achat d'un duo fidèle (version 1) en parfait état me laisser un commentaire ci-dessous!?