Con la gran cantidad de recientes anuncios de hardware emocionante de Apogeo (Jam y Mike) podría ser perdonado por pensar que la Navidad ha llegado temprano! A esto se añade, su más reciente anuncio de producto, el Dúo 2 , y mis expectativas para mi próxima interfaz de audio portátil se han planteado.
Yo soy el orgulloso propietario de un Dúo Apogeo (versión 1), que ha sido mi interfaz de audio preferido tanto en el estudio y en el campo durante los últimos tres años. Que ya ofrece excelente calidad de sonido, dos entradas y salidas, con un diseño elegante, sexy y súper fácil control de la derecha dentro de la lógica, Soundtrack Pro, Mainstage y GarageBand.
So how can Apogee possibly improve on one of my favorite pieces of studio kit? Let's take a closer look...

Más salidas
El Dúo 2, ahora tiene 4 salidas analógicas que deben hacerla más apta para DJ de mezclas de monitor independiente o para enviar una señal de ritmo de un tambor o una mezcla de sub-al frente de la casa al jugar en vivo. En el estudio que esto permitirá utilizar dos pares de monitores. Esta mayor flexibilidad va a ser muy bien recibida por la mayoría de los músicos digital!
Vale la pena señalar que el dúo viene con 2 salidas balanceadas y no la variedad desequilibrada del Dúo 1.
Mejor calidad de audio
Apogee have redesigned the preamps and AD/DA converters from the ground up and this, along with using technology from their flagship Symphony I/O system, should result in better sound quality. For those who are interested in recording audio at sample rates above 96kHz, the Duet 2 supports sample rates up to a staggering 192kHz (at 24 bit).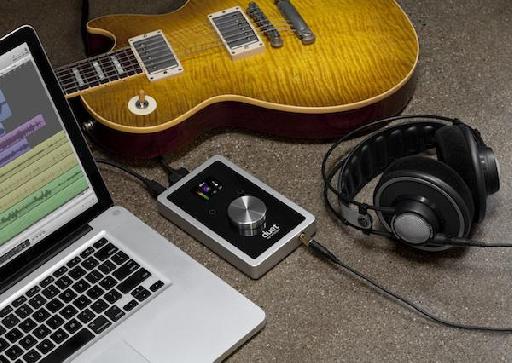 Pantalla OLED con controles táctiles
El 2 Duo no se vería fuera de lugar en un plató de cine de alto presupuesto de ciencia ficción. Además de ser dulces ojos grandes, el pleno del color de alta resolución de pantalla OLED parece una adición útil para proporcionar retroalimentación visual para la medición, niveles de entrada y de salida, silenciamiento e incluso de fase.
Sitting just below the futuristic display are two configurable touch pads. These can be setup to provide a number of functions such as to mute outputs, toggle headphone source, clear the meters and more.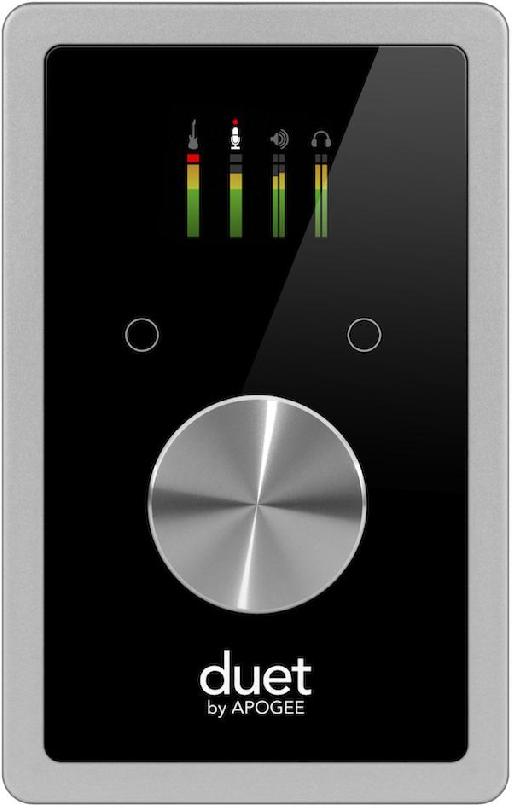 I love this idea as it means less time mousing around menus in software and more hands-on control without unwieldy buttons and hard to reach switches.
Breakout
It's no secret that the Breakout cable included with the Duet (v1) didn't win over everyone. Personally, I found it to be stable, secure and easy to use, but you can't please everybody! The Duet 2 has a newly designed breakout cable which looks more refined than the original.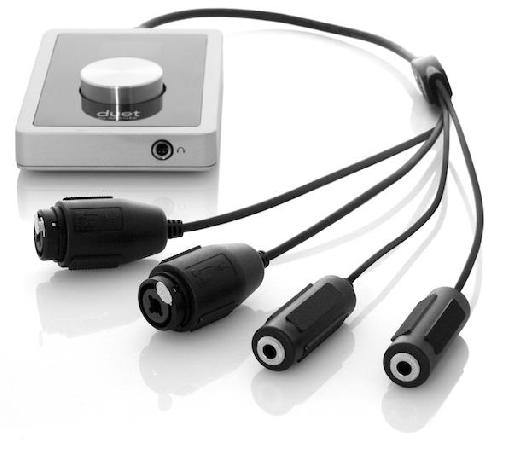 Additionally, in Apogee have responded to customer feedback and made a Breakout Box accessory available for those who need something even more robust!
Latencia, conectividad y mucho más ...
Aunque el dúo 2 es una interfaz de puerto USB 2.0, de alguna manera Apogeo han logrado mejorar el rendimiento (disminución de la latencia). Más detalles sobre el Dúo 2, incluyendo un gráfico Dúo Dúo comparación vs 2, se puede encontrar aquí .
No puedo esperar a llegar a mano con el Dúo 2, y con el envío vinculado por algún tiempo en abril de 2011, que no tenga que esperar mucho tiempo. Mi consejo a cualquiera que esté considerando una nueva interfaz de audio donde se requieren dos entradas de micrófono simultánea pre / analógicas y 4 salidas balanceadas? Espere hasta que el dúo llega a 2.
Hasta entonces, si alguien está interesado en la compra de un dúo de confianza (versión 1) en perfectas condiciones dejarme un comentario más abajo!?