Here's The First Videos Of The New Moog Drum Machine, DFAM, In Action
One highlight from Moogfest 2017 was Moog's new drum machine, DFAM. The Drummer From Another Mother was available only as build your own via DIY workshops. Here's some videos of it in action.
At Moogfest 2017, participants had the chance to build the first DFAM, Drummer From Another Mother, analog drum machines made by Moog Music.
Now, first isn't always best... but these four videos, while they might not feature direct-line in recording so you can hear exactly what these machines sound like, are the first videos of the DFAM in action we've found. So, without further ado...
Let's start with Nate Washere who gives us a good three and a half minutes of DFAM noodling and shows off the DFAM's built-in sequencer:
Before Moogfest, on April 26th, the Moog engineers gave the DFAM a test run on camera:
Michael Fields had some fun with the DFAM, though chose for his video not to be embedded on sites outside of Facebook. You can watch it here.
Michael also decided to have some fun with the 0-Scope and his DFAM. Also can't be embedded here, so head over to Facebook to watch it.
Paul Clement shared this pic of his newly made Moog DFAM below and this video of the DFAM "drumming circle". Unfortunately, permission for this video to be embedable has been disabled so you'll need to check it out on Facebook.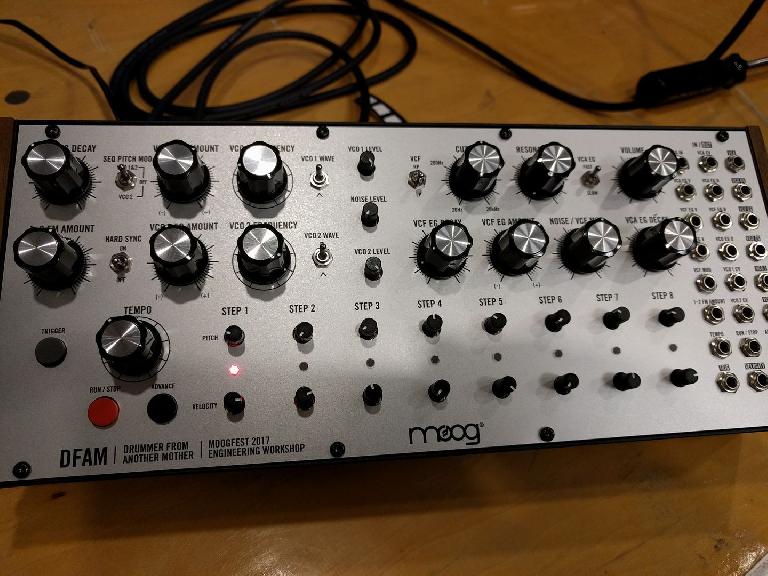 Moog Music DFAM Features