We've always been impressed by the instruments for Kontakt and Reaktor that Flintpope has created... and he's just updated his synth for Reaktor, FOUR.
As its name suggests, this synth is a four-oscillator synth capable of a wide array of sounds. Here's what he tells us about this one:
"A warm analog-sounding synth that uses four different types of oscillator to create rich sounds from warm basses and pads to metallic leads and LOFI soundscapes… all via eighties style synth keyboards.
"This synth has just received an update to V1.5 to include a step sequencer, a pitch sequencer/arpeggiator, a vinyl crackle effect, a noise gen and ten more presets using these new add-ons, bringing the snapshot total to 70.
Listen to the new demos below. The drums are from a new pack called MORE DIRT on sounds.com so you can get that if you live in the USA.
OSC 1 is in itself a 4-waveform oscillator that also includes a feedback loop distortion effect called "Wire" that simulates the crackling and erratic jumps in volume caused by a dodgy jack-plug in a guitar amp.
OSC 2 is a sine wave formant. This has its own simple LFO (tempo synced) that creates various warped vinyl simulations. It also features a "Mash" effect that creates various audio mess-ups between sample and hold simulation and distortion.
OSC 3 is a combo of one 8-step and two 4-step oscillators that create saw-wave/string sounds.
OSC 4 is a powerful bass (mainly) oscillator that morphs between a triangle and a sine wave.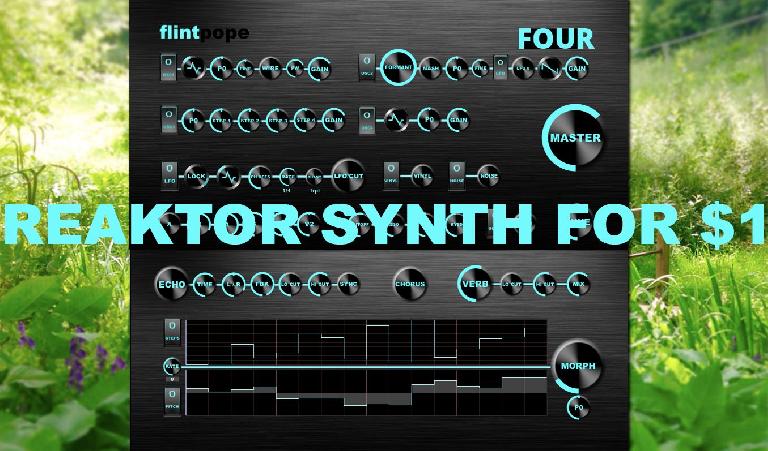 GLOBAL FX & Controls
An LFO with three different sync options and four waveforms, phase, quantise, rate and cut-off.
VCF with cutoff (also routed via midi CC1 to your keyboard controller strip/wheel) etc…
Envelope (inc. velocity sensitivity).
Echo (delay) with various parameters inc.tempo sync button.
Glide and Chorus
Vinyl Effect
Noise Generator
Step Sequencer and Pitch Arp activated by Clock On in Reaktor or Host DAW.
Master-tune
Reverb and Master Output Level.
MIDI CC 14-29 inclusive are routed to various useful controls.
There are 70 presets in 7 banks accessible from the drop-down menu at the top of the instrument or by double-clicking "Embedded" in the presets side-pane.