Here's Four Behringer Neutron Synths Performing (With No Additional Processing!)
The recent short video demos by Behringer for the upcoming Neutron semi-modular analog synth are impressive. This new live video performance is four times better!!
We've been playing with the Behringer Neutron semi-modular analog monophonic synthesizer for a few days now and (spoiler alert) we LOVE it.
The $299 2-oscillator semi-modular beast (we don't use that word lightly) looks great and sounds even better. While you'll have to wait until end of April/May 2018 to get hands on with one, Behringer have released a new video showing just powerful and flexible the Neutron is... especially when combined and synced with 3 more together.
Let's do the maths quickly. Four Behringer Neutron's gives you eight oscillators and enough patch points to make my brain hurt for less than $1200. While one or two Neutrons might be enough for your synth setup this video demonstrates how you could create the sounds and patterns for an entire track or performance using nothing else. Impressive.
For any naysayers out there... while we're not yet ready to release a full review of the Behringer Neutron, I will say that this synth is really well built, really well-designed, sounds very very good and is extremely playable. We can't avoid the fact that it's only $299. (That's half the price of a Moog Mother 32 and it has double the patch points).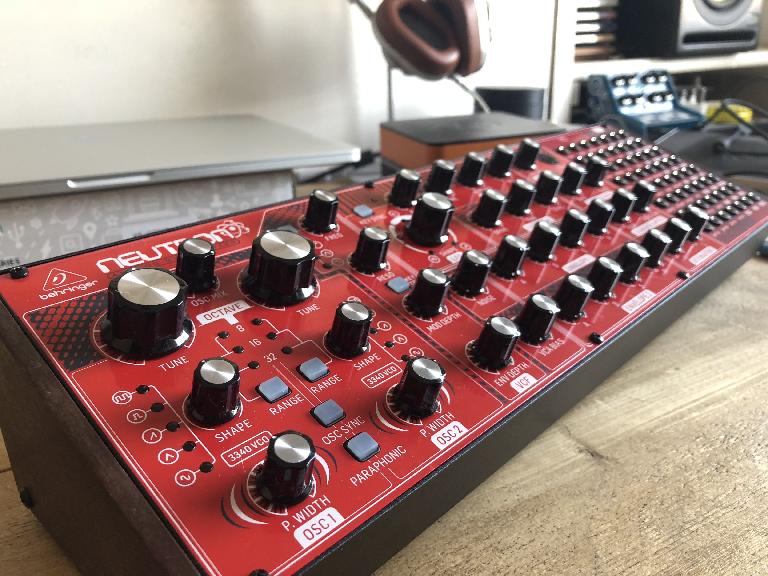 Expect a video demo or two from AskAudio coming soon...!
In the meantime here's the spec of the Behringer Neutron:
Behringer Neutron Features
Paraphonic synthesizer with authentic dual 3340 analog oscillators for insanely fat music creation
Pure analog signal path based on legendary VCO design to recreate classic sound performance
Semi-modular architecture with default routings requires no patching for immediate performance
Oscillator waveform control blends seamlessly between 5 shapes (tone mod, saw tooth, pulse, triangle, sine wave)
Individual pulse width / tone mod control provides ultimate sounds
Paraphonic mode allows both oscillators to be independently controlled
Flexible LFO with fi ve waveform shapes, MIDI clock sync, key sync and delay / fade in
Two analogue ADSR generators for modulation of VCF and VCA
Multiple stage analog delay based on legendary BBD (Bucket Brigade Delay) technology
Overdrive circuit adds rich analog warmth and edge to your sounds
Noise generator dramatically expands waveform generation
36 controls and 7 buttons give you direct and real time access to all parameters
Switchable, self-oscillating, multi-mode analog 12 dB/Oct VCF with dual output (e.g. LP+HP available on jacks) Utility functions including attenuators, multiples, slew rate limiter and summers for creative patching flexibility
32 in / 24 out jack matrix for an incredible amount of patching options
Patchable audio-rate sample and hold with glide for added creativity
Headphone output with dedicated level control
External audio input for processing external sound sources
Comprehensive USB/Midi implementation for connection to keyboard/sequencer
Designed and engineered in the U.K.