(San Francisco, CA – August 13, 2015) – Women's Audio Mission (WAM), a nonprofit dedicated to the advancement of women in music production and the recording arts will represent women and girls at the 139th Audio Engineering Society Convention in New York from October 29-November 1. The group is currently raising funds on Indiegogo to send WAM staff and interns to the convention.
Women are critically under-represented in the audio industry (less than 5%). Women's Audio Mission is the first and only organization to mobilize women at the Audio Engineering Society convention and has been providing a place for women in the industry to network and receive training and mentoring at the convention since 2005. WAM is now one of the most high profile booths and educational panel organizers at the convention. AES donates a booth to Women's Audio Mission each year so that WAM can increase gender diversity both at the convention and within the audio industry.
"The traffic that WAM's booth receives at AES every year is remarkable" says WAM Founder and Executive Director Terri Winston. "We are so grateful to AES and everyone who supports our Indiegogo campaign to get us to NY this year. Not only do we mobilize the largest number of women in audio but we also harness the support of an amazing array of audio manufacturers and our male allies. I want women to be able to experience that support firsthand. It's incredibly powerful."
2015 is the first year that WAM will attend AES after moving into their new recording studio in San Francisco, the historic SF Soundworks Studio, home to many high-profile recording projects with artists such as Alanis Morissette, R.E.M., Timbaland, and Radiohead. The new recording studio is triple the size of WAM's former facility and allows the nonprofit to train over 1,200 women and girls in audio technology and the recording arts, 300 more per year than they previously could. It is the only professional recording studio in the world built and run entirely by women and girls and was recently featured on NBC News and in Mix Magazine.
AES is also a vital opportunity for WAM to connect with industry supporters whose donations of equipment and software provide an invaluable opportunity for students to gain experience on the most state-of-the-art gear. Industry supporters over the years include Dolby Labs, Audient, Avid, Meyer Sound, Blue Microphones, Manley, Mackie, Great River, Pendulum, Heil, Avedis, AKG, AEA, iZotope, Sweetwater, Barefoot Sound, Universal Audio, Shure, Mojave, A Designs, BAE, Line 6, Lavry, Direct Sound, Belden, Sound Toys and Ableton.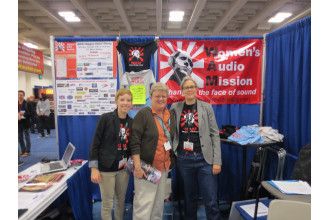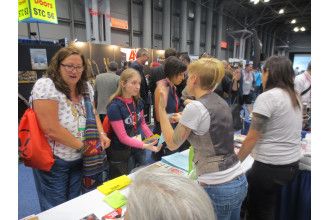 WAM has launched a crowd funding campaign to raise funds for travel and accommodations and raised over 30% of their goal in less than two days. People interested in helping "change the face of sound" can make a donation on their IndieGogo page at http://wam.rocks/1J2MQts