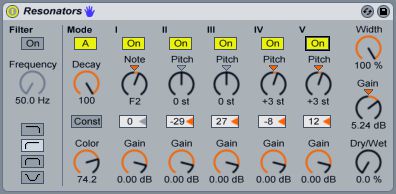 Place Resonators after a reverb or delay. Tune each resonator to be in the key of your song. With long reverb and delay times this makes excellent, thick ambiences and drones. Brilliant for ambient and atmospheric music.
Feed Resonators with very short bursts of white noise. Turn up the Decay parameter (which increases the feedback on the internal delays) and you will hear a lovely organic tonal, vocoder-like quality to the output. Great for creating tuned percussion out of almost nothing.
Automate the coarse pitch of Resonator I in order to create complex shifting melodic output.
You can use Resonators to help impart a tuned element to any drum. Feed a snare drum into it and use just a single resonator to tune that snare to your song's root key note. Use the mix control until you can barely hear the resonator working.
Use on Pads to create a constant root note tone within the pad sound. Try using resonators II and III tuned to the same coarse pitch but each slightly detuned for a thicker sound. Use mix control to taste.
Use high decay values and 100% wet on a drum loop for instant robotic/techno effect.