Session Automation is one of the most hotly-tipped new features in Live 9—something users have been clamouring for since clip envelope automation was first introduced. So what's the big deal? As you'll see, real-time capture of looping parameter changes opens up worlds of potential for both sound design in the studio and powerful improvisation on stage.
Configuration Control
The beauty of Session Automation is hands-on, real-time control. While you can still perform Session Automation with your mouse or trackpad, ideally you'll want to have a MIDI Controller or Control Surface such as Ableton's Push configured and ready to go. To do this, go to the MIDI tab of your preferences and ensure your controller is enabled for Remote input so that Live can receive control change data from the device knobs and sliders. In this case, I've got both my Push and Korg nanoKONTROL configured for tweaking (Pic 1).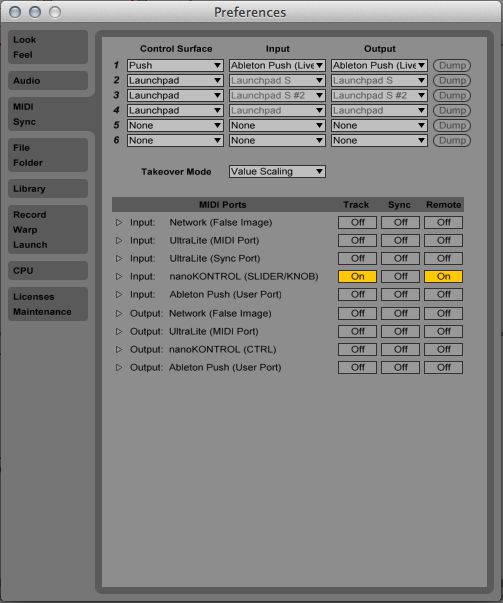 Pic 1
Next, in the Record/Warp/Launch tab of the Preferences pane, you can specify whether you want to record Session Automation to record-armed tracks only, or all tracks in the set (Pic 2). There's no right or wrong here, it's a matter of knowing your workflow – but for me, if I have global Session Automation enabled, I don't want to have to arm specific tracks to record a tweak; I'd rather just toggle the global Session Automation recording to determine whether I can record automation to any track in my set.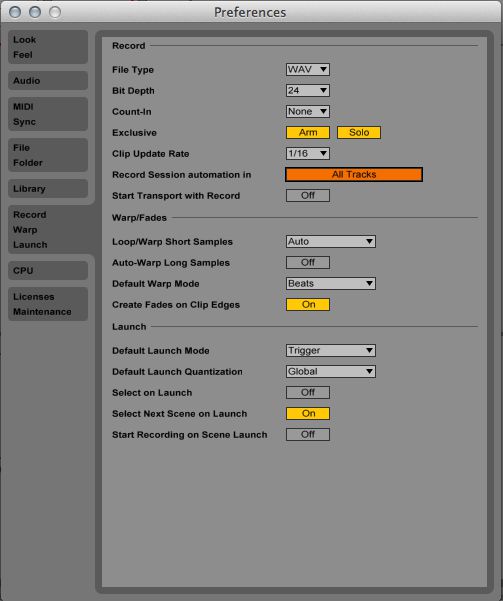 Pic 2
Now we need to make sure that Session Automation is enabled, via the Automation Arm button to the right of Live's transport—the one that has a diagonal line with small breakpoint circles at either end: this button should be lit up (Pic 3). Finally, to enable the actual input of automation data, you'll want to click the Session Record Button (the one with a big "O" in it) so it's lit up red. Since I've opted to record Session Automation to all tracks in my preferences, with this button enabled, all currently playing clip triangles light up red to symbolize being armed for automation input (Pic 4); if I had my Record Session Automation preferences set for armed tracks only, just the currently-armed stabs track would have a red clip triangle.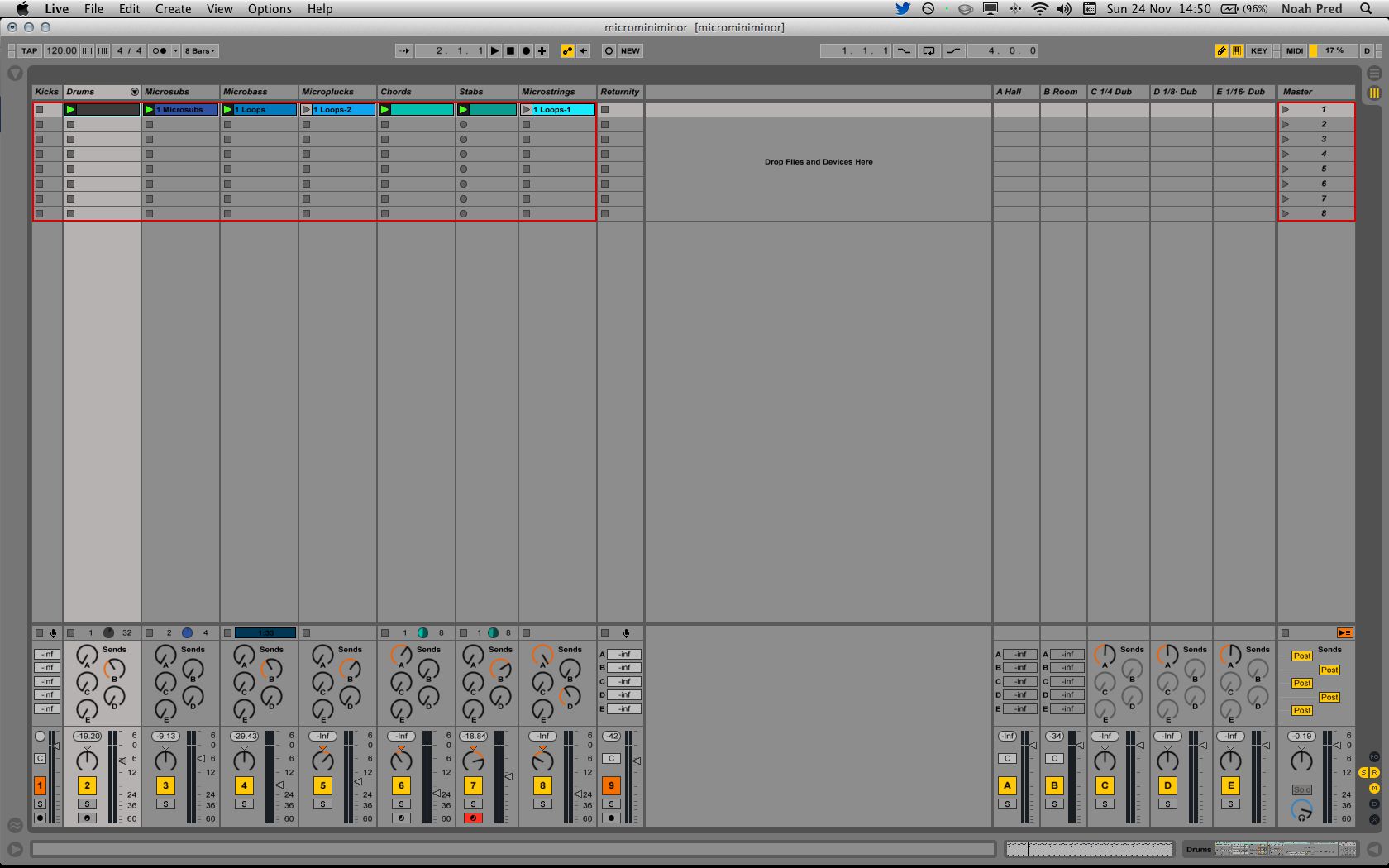 Pic 3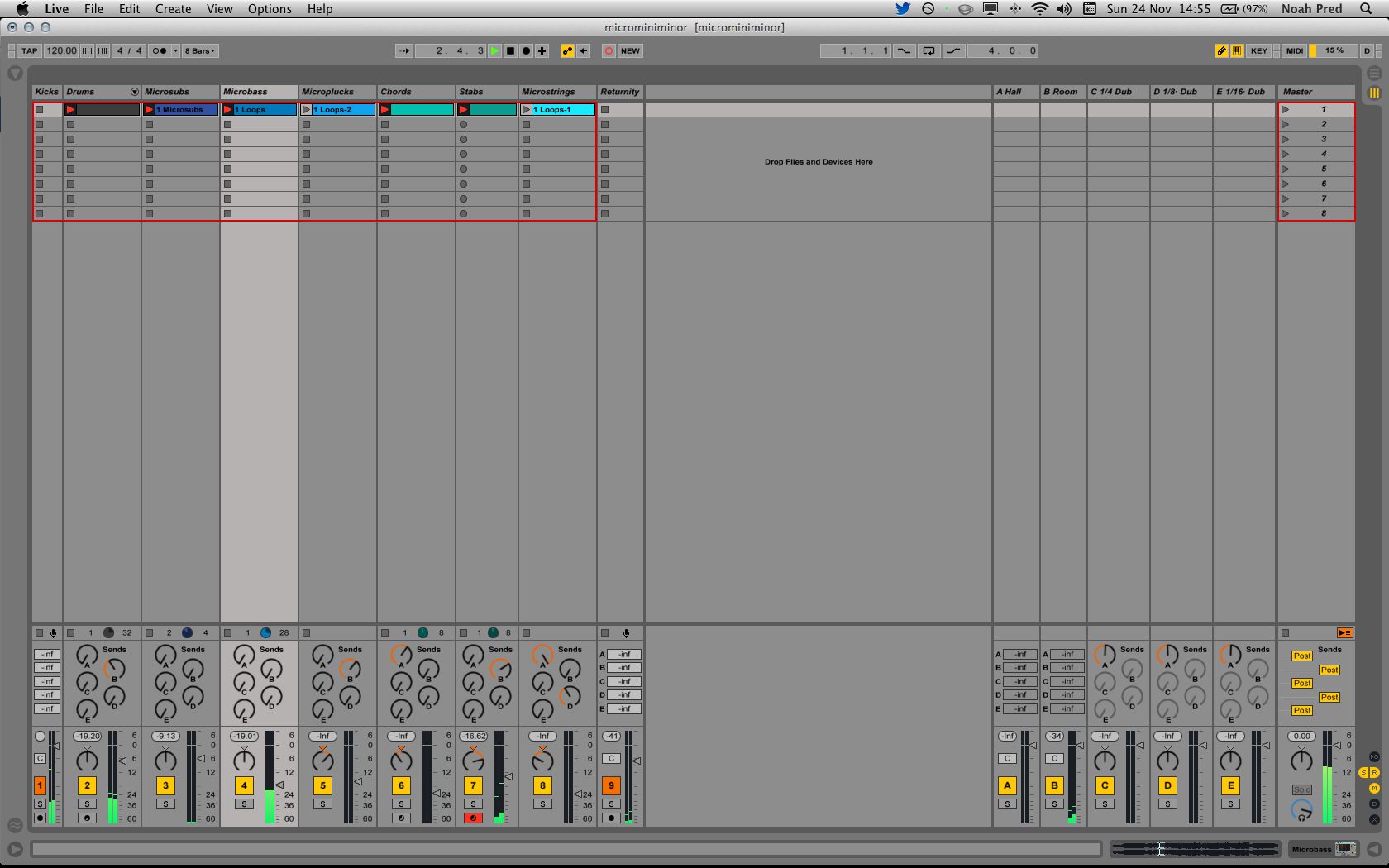 Pic 4
PRO-TIP: Push has Session Automation enabling and record buttons hardwired, but if you're not working with a Push or similar control surface, you can assign both these toggles to buttons on a MIDI controller or keys on your computer keyboard, via MIDI- or Key-mapping modes, respectively.
Automation Station
Listen: Main Loop No Automation
Right now I have a two-bar chord stab programmed to an instance of Analog (Pic 5), but I'd like to make it more dynamic.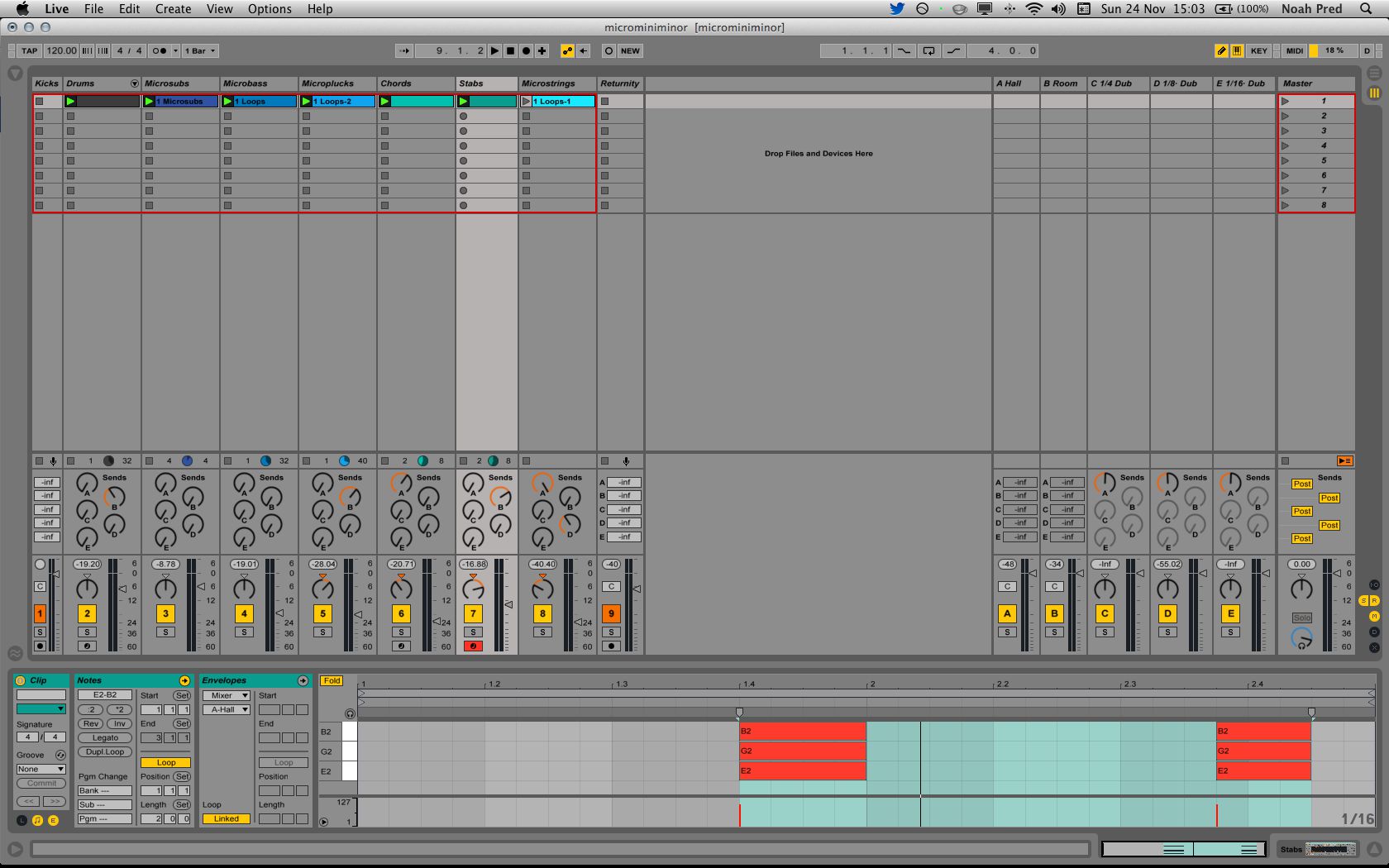 Pic 5
First I'll double the loop-length by selecting the loop brace and hitting Command-D, or simply pushing the Double button on Push; I'll then repeat this step once more to get it to an eight-bar loop (Pic 6).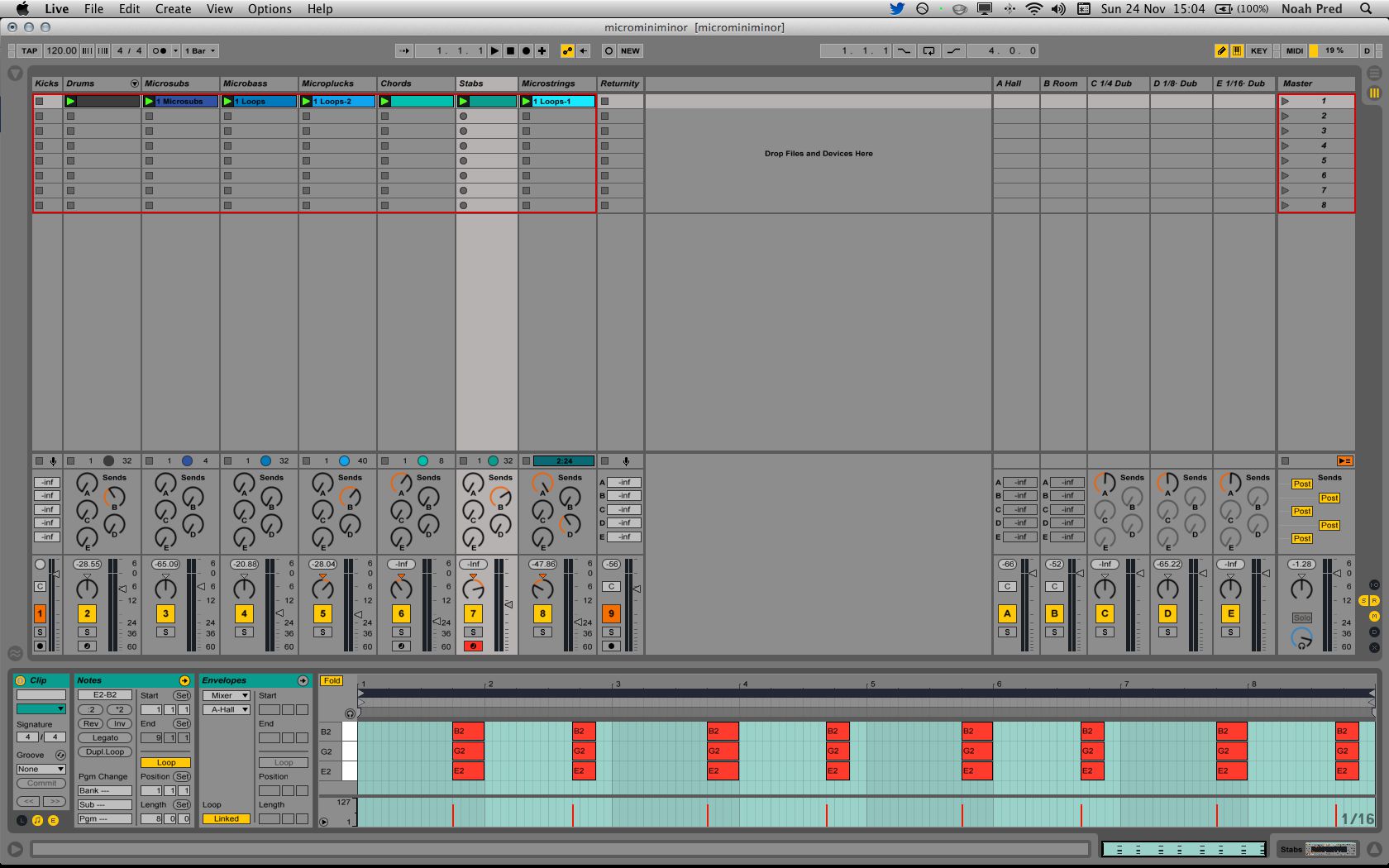 Pic 6
Before I record any automation or even enable Live to be able to do so, I'm going to play around a bit with the devices on this track to determine which parameters I want to automate; in this case, I'll use the filter envelope amount, filter envelope decay, detuning, and some effect sends. It's important to point out that everything I've done so far, including the loop-length extension, can be done in real time with any and all clips playing.

 Since I've figured out the parameters I want to tweak, I can now enable Session Recording by clicking the Session Record button in the transport with a big "O" on it, and start tweaking away. As soon as these parameters have been tweaked, you'll see the Automation-signifying red dot appear next to these parameters' controls (Pic 7).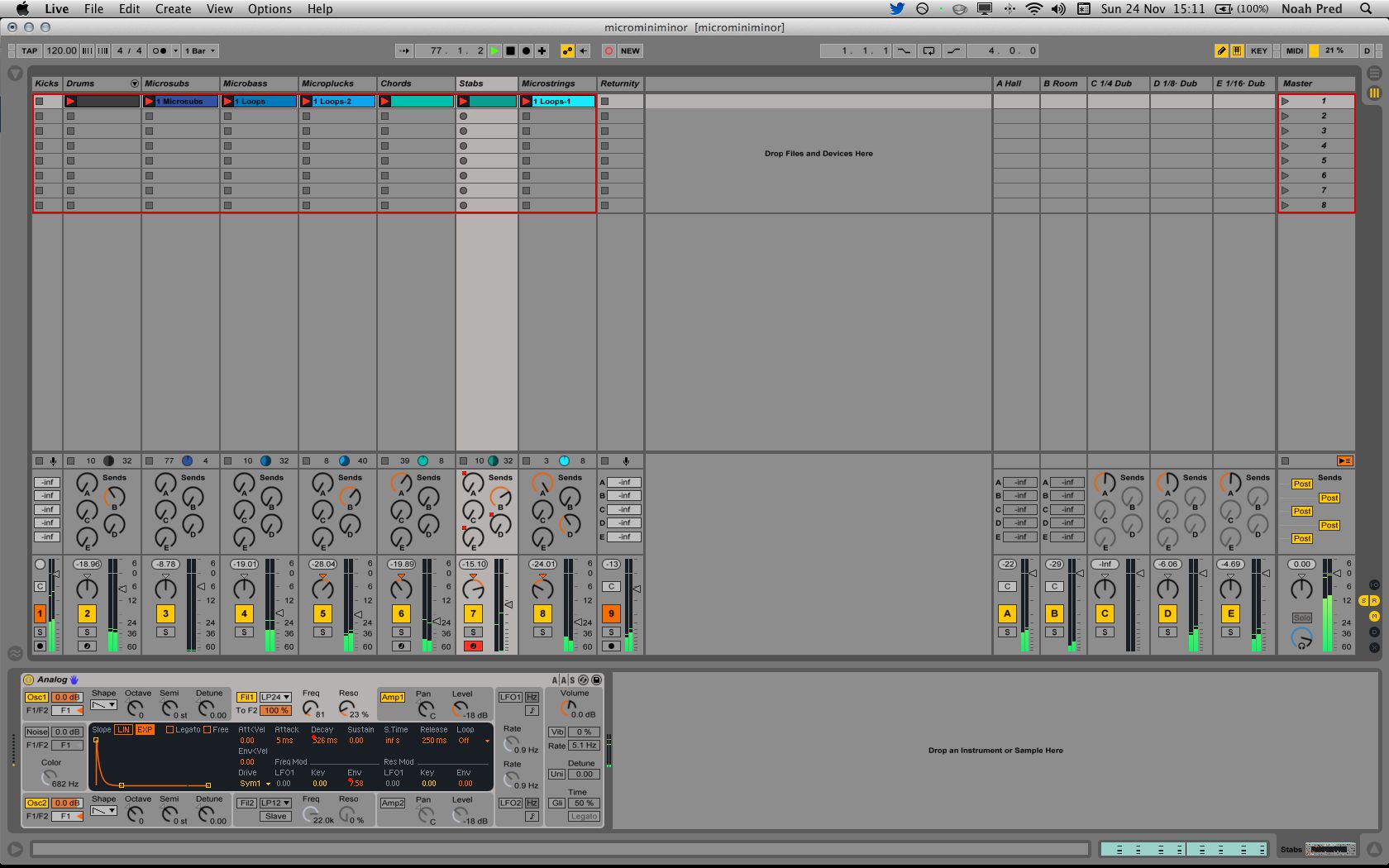 Pic 7
By right- or Control-clicking an automated parameter, we gain access to a few important commands: we can delete the automation, and select to show it in the clip view as either automation, or as modulation—which is what I wish to do for the filter envelope amount, since it dipped too low at a few key points (Pic 8).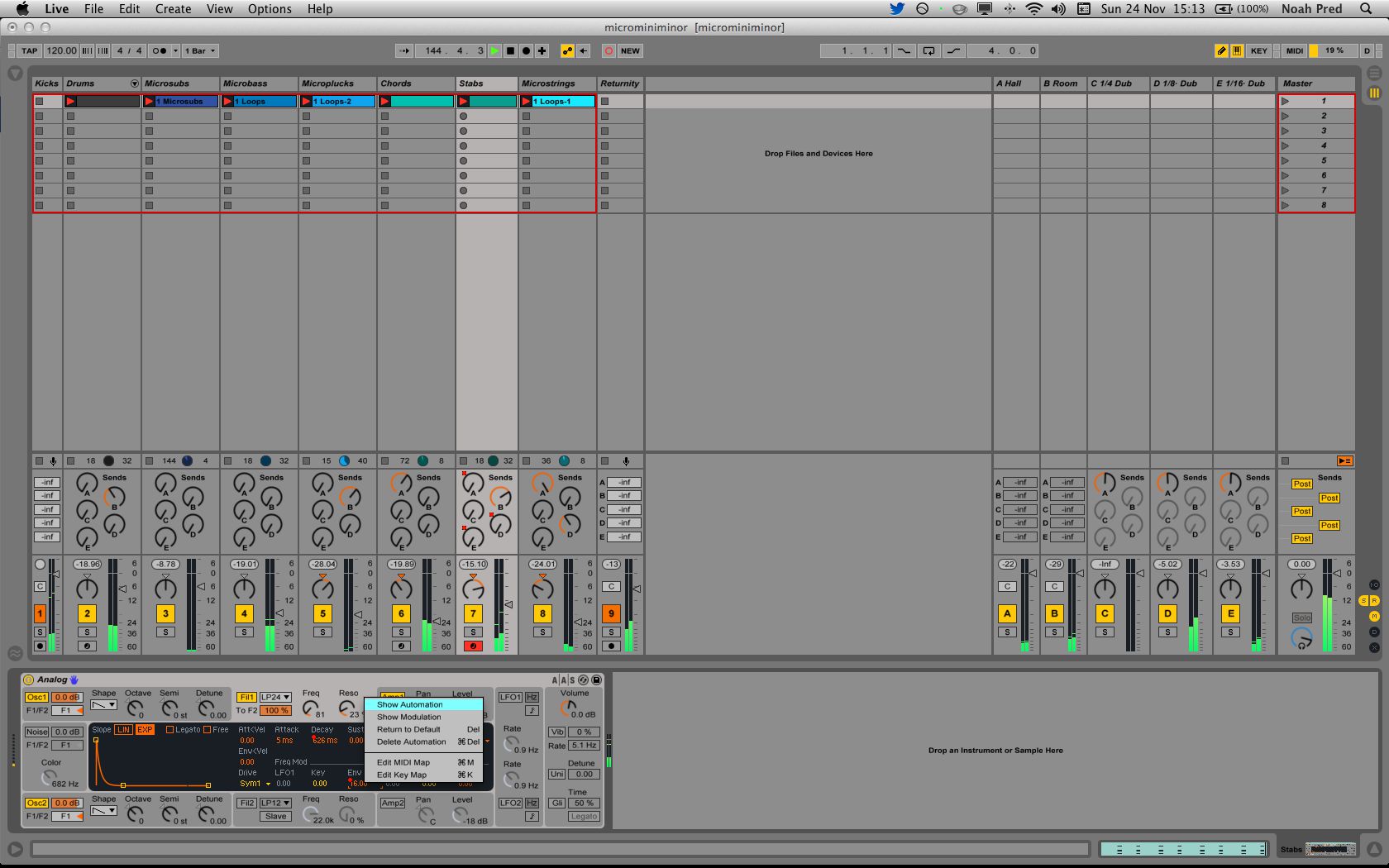 Pic 8
PRO-TIP: Automation will continue being recorded over previous automation changes as long as the loop continues during recording; as soon as you stop tweaking a parameter, its automation remains as last recorded up to that point.

Listen: Main Loop Rough Automation
Editing Envelopes
Clicking the "Show Automation" option has brought us to the Clip Envelope editing area (Pic 9)—also accessible in Clip Detail view by clicking the "E" button in the lower left corner, and then making sure the arrow to the right of the Envelopes title is enabled by clicking it.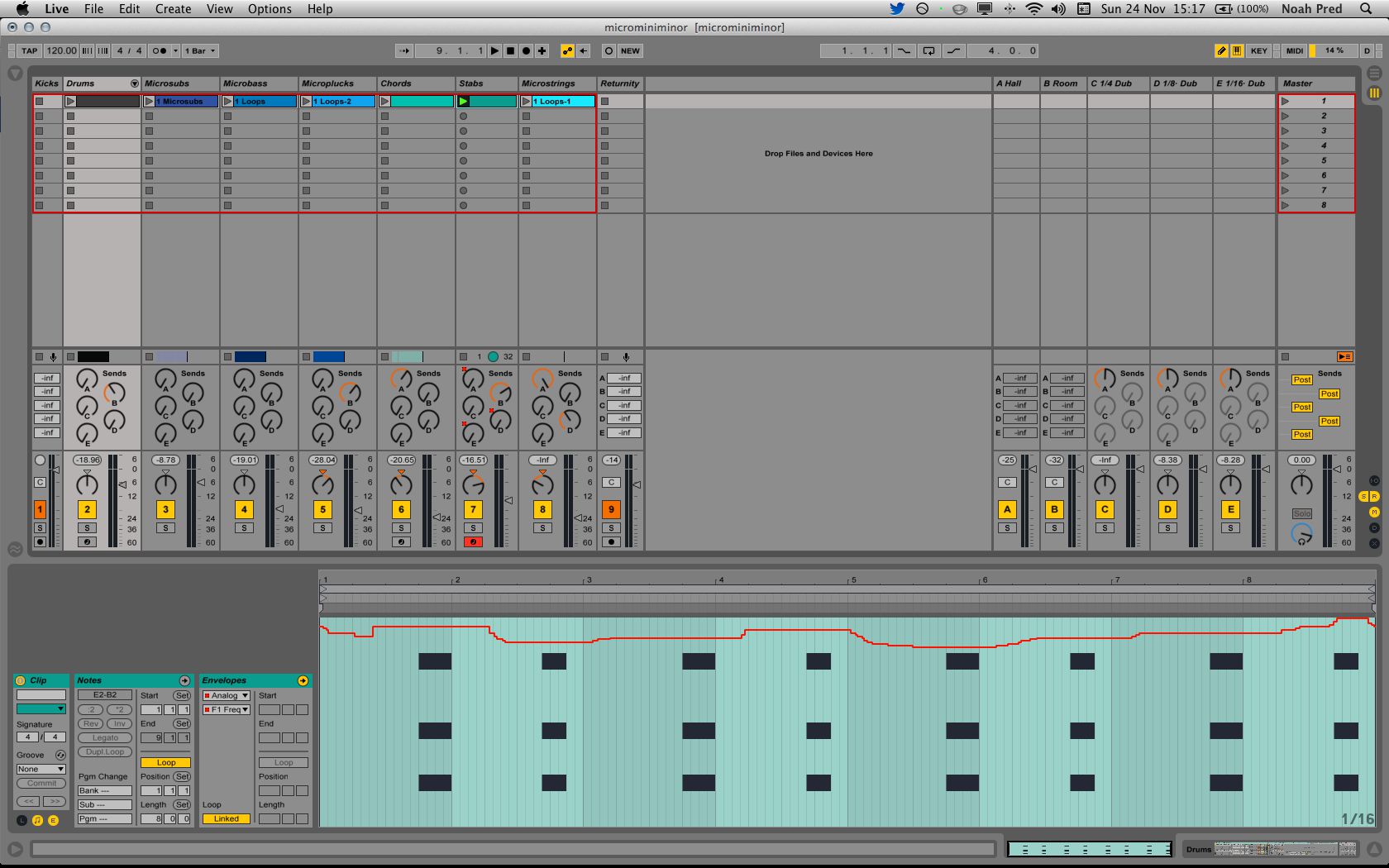 Pic 9
PRO-TIP: Whichever parameter was last selected, changed or clicked on a device will automatically be the parameter displayed in the Clip Envelope editor. You can also navigate to a parameter via the device and parameter selection drop-down menus in the Envelopes settings area.

Now that we're in the Clip Envelope editor, there's a few ways to approach it. In this case, I'll first switch to Edit mode and click within the clip display area to make sure the entire envelope span is not selected. Now I can hover just beneath an unbroken envelope segment until it turns blue, then click to grab and drag this entire segment—which is what I'll do for the areas that are both too high or too low in value (Pic 10).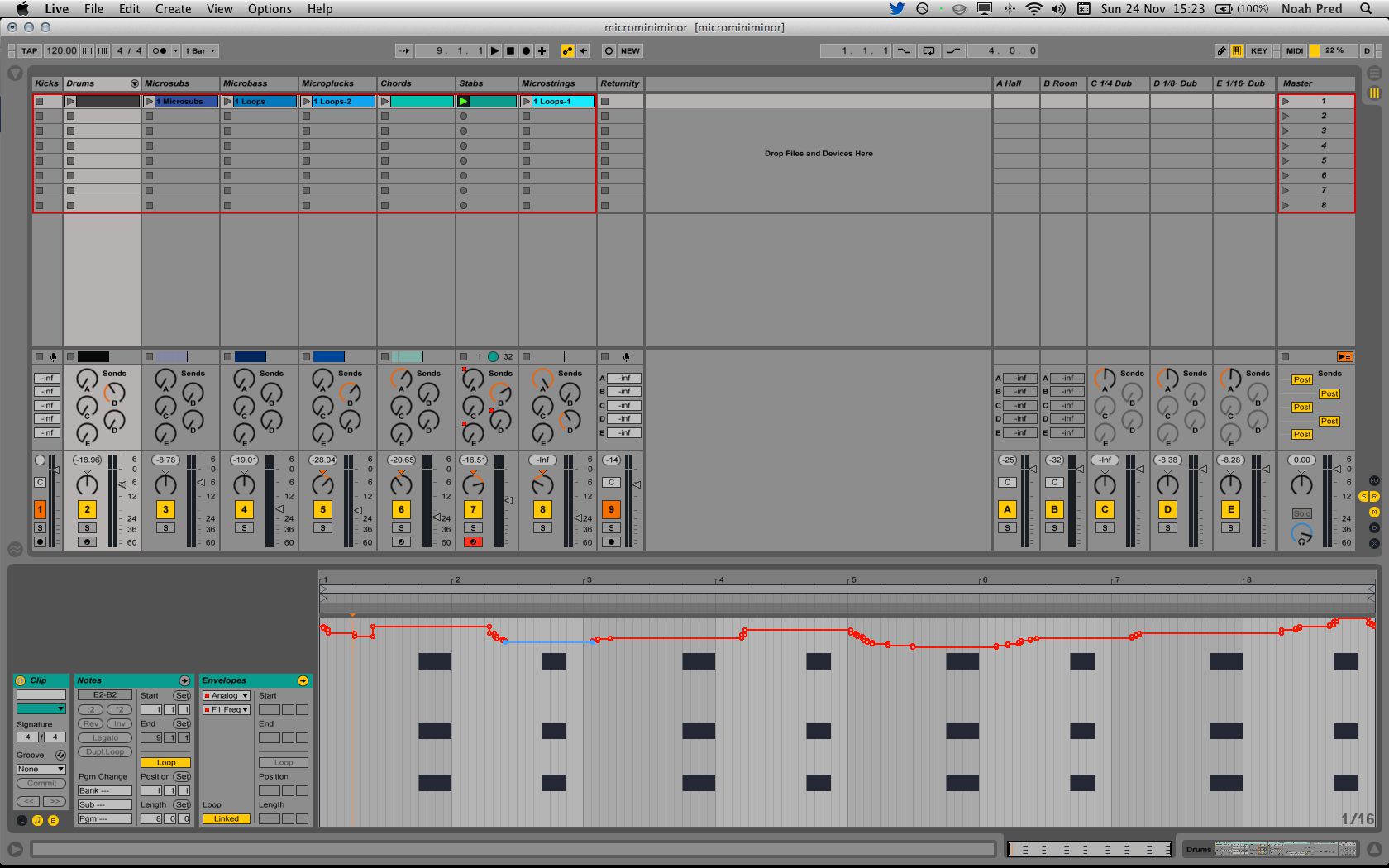 Pic 10
Alternatively, we can select a span of time within the envelope editor, then grab any breakpoint in that selected span to move all automation within that selected area (Pic 11).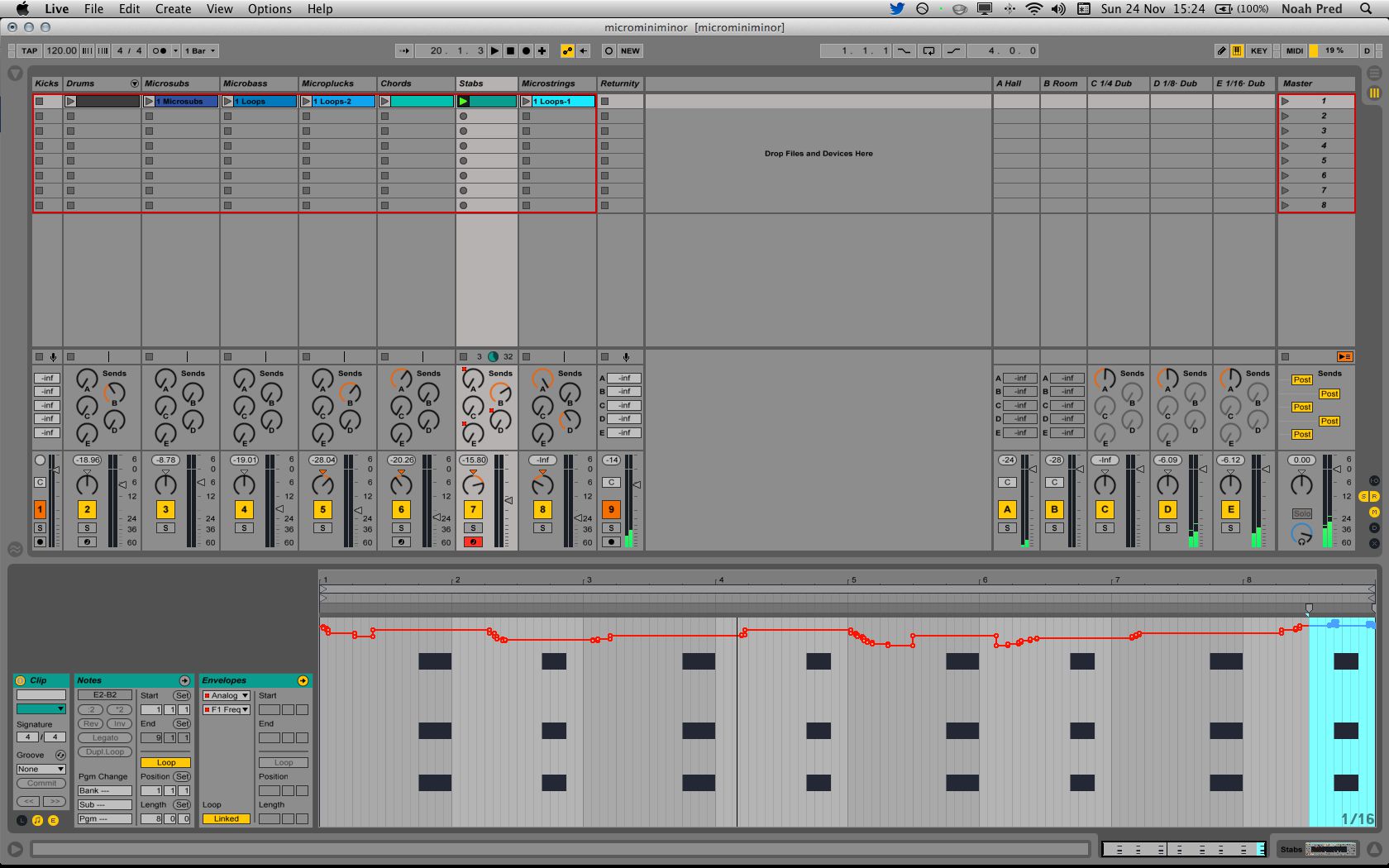 Pic 11
We can also create diagonal lines by clicking to add or remove breakpoints and drag them as desired. Holding the Option key while hovering beneath a line segment allows us to click and drag up or down to give it a curved shape. Or, as I'll do now, we can switch to Draw mode, change the grid interval (in this case, fairly wide, to one full bar) and draw the desired automation values in quantized steps (Pic 12).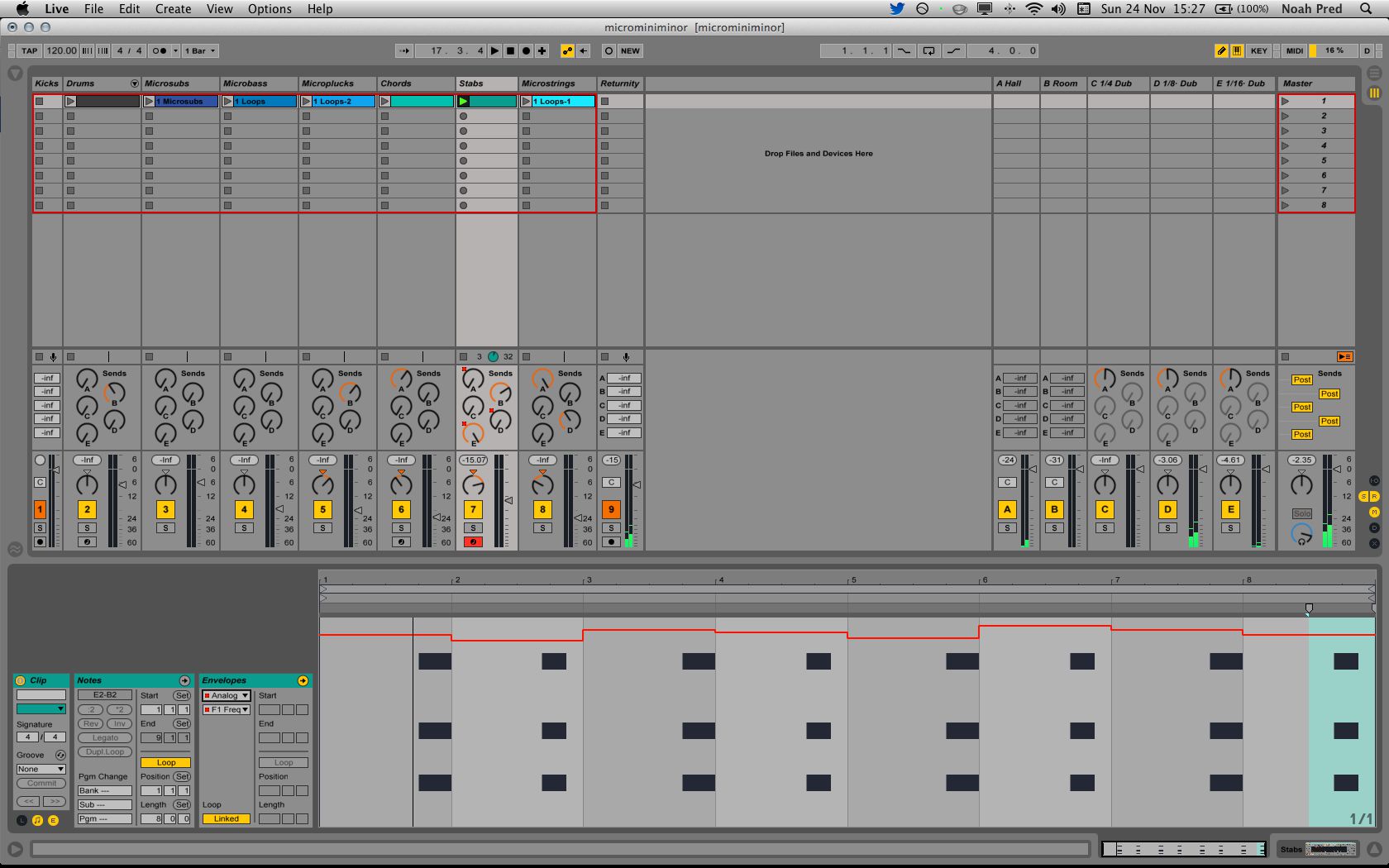 Pic 12
PRO-TIP: Automation envelope selections can be copied, cut, pasted, duplicated and deleted within the envelope editor just the same as any other data you might select anywhere else in Live. 

Ideally (for instance when using an Instrument Rack with Macros that have already been constrained for optimal parameter values) this sort of envelope editing might not be necessary; while there's much fun to be had recording the Session Automation envelopes in real time, knowing how to edit them is just as important.



PRO-TIP: To create multiple instances of a clip with different automation settings, duplicate the clip (Via Command-D) to a new clip slot before performing a new envelope edit.

Unlinked Reality
I also recorded some Send amount automation for some dub effects, but I want to make these reverb and echo dubs occur a bit less predictably. First, I'll click the Send A dial on the stab track to jump directly to that parameter's envelope in the Clip Envelope detail view, and clean it up with quantized automation using the Draw tool (Pic 13).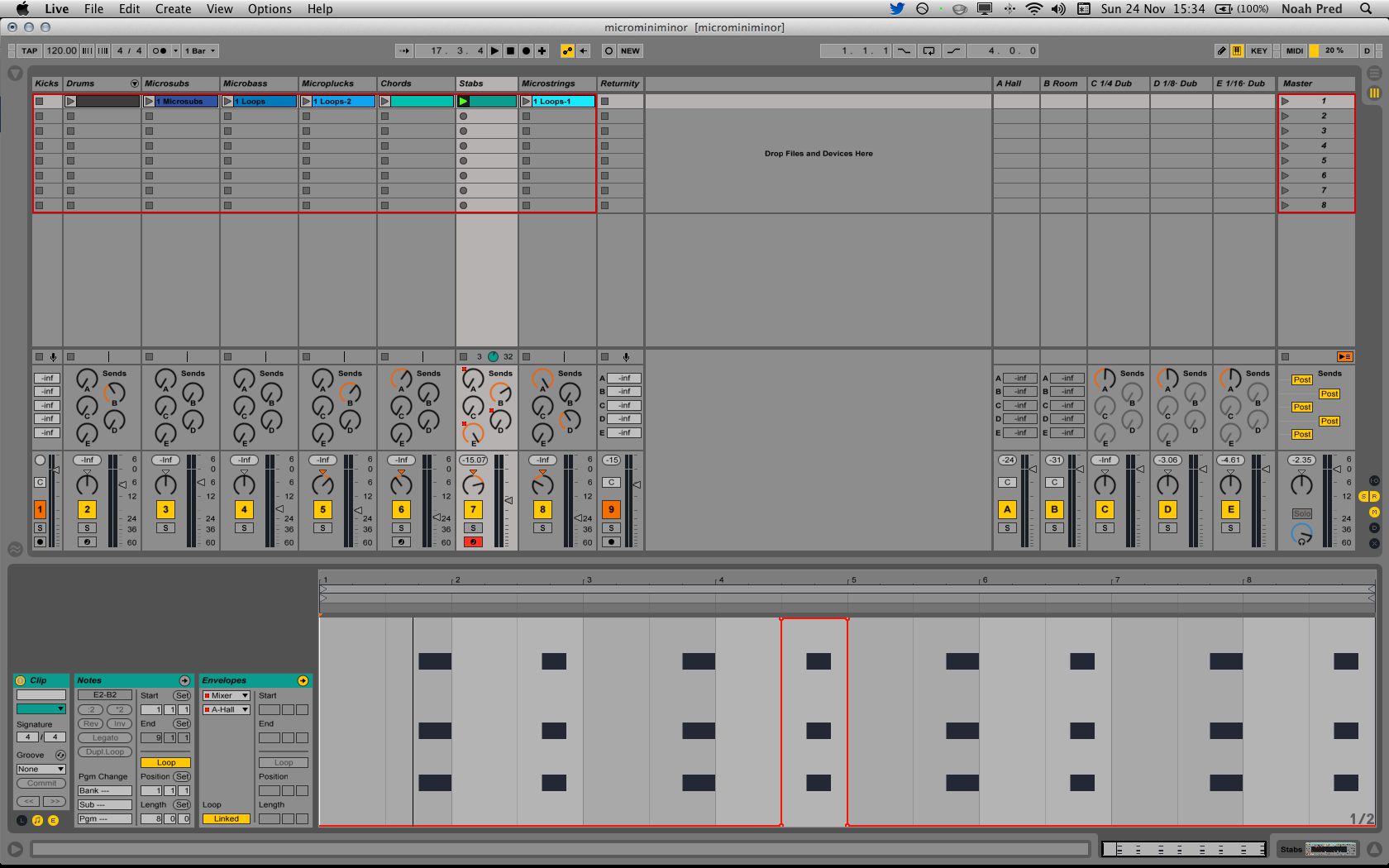 Pic 13
Now, I'll click the button that says "Linked" beneath where it says "Loop" in the Envelopes settings area; the button will now go orange and instead read "Unlinked". We can see the Start, End, Loop, Position and Length controls are now activated to their right; you'll notice that the loop brace in the Envelope editor has gone orange as well (Pic 14).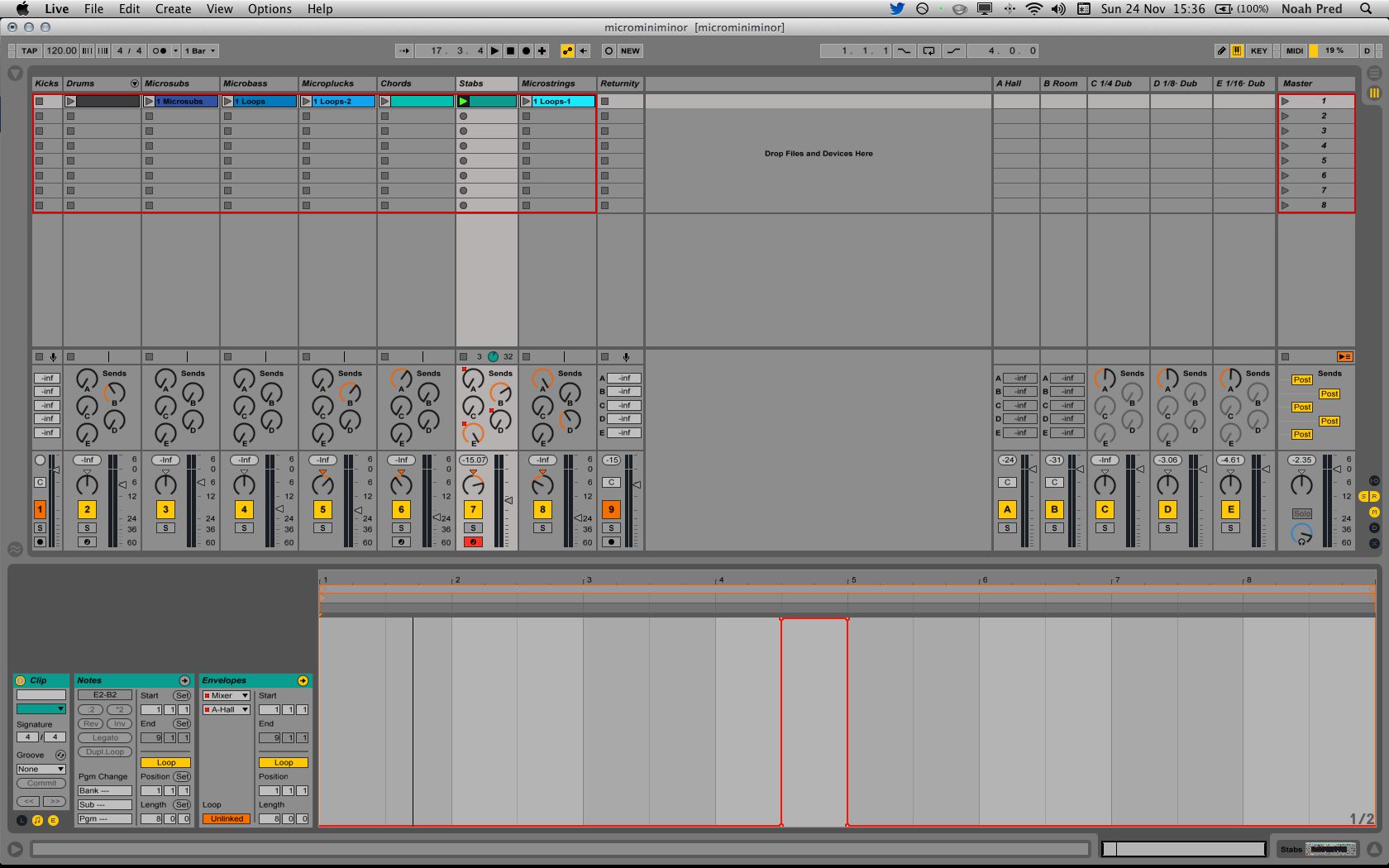 Pic 14
What does this mean? By default, any clip envelope is linked to the duration of the audio or MIDI loop itself; since this was an eight-bar MIDI clip, any automation attached to it will loop over eight bars as well—unless we specify otherwise, which is just what we've done here by unlinking the Send A automation envelope. I'll now set it to a 12-bar length via the numeric Loop Length entry field, but I could also set this by stretching the now-orange Envelope loop brace accordingly. It's important to recognize that an orange loop-brace pertains only to the duration of the currently viewed parameter automation—while the default grey and black loop brace will adjust the duration of the entire clip's loop. Now that we've changed the length for this parameter, our reverb dub via Send A will repeat on a 12-bar (rather than 8) cycle (Pic 15).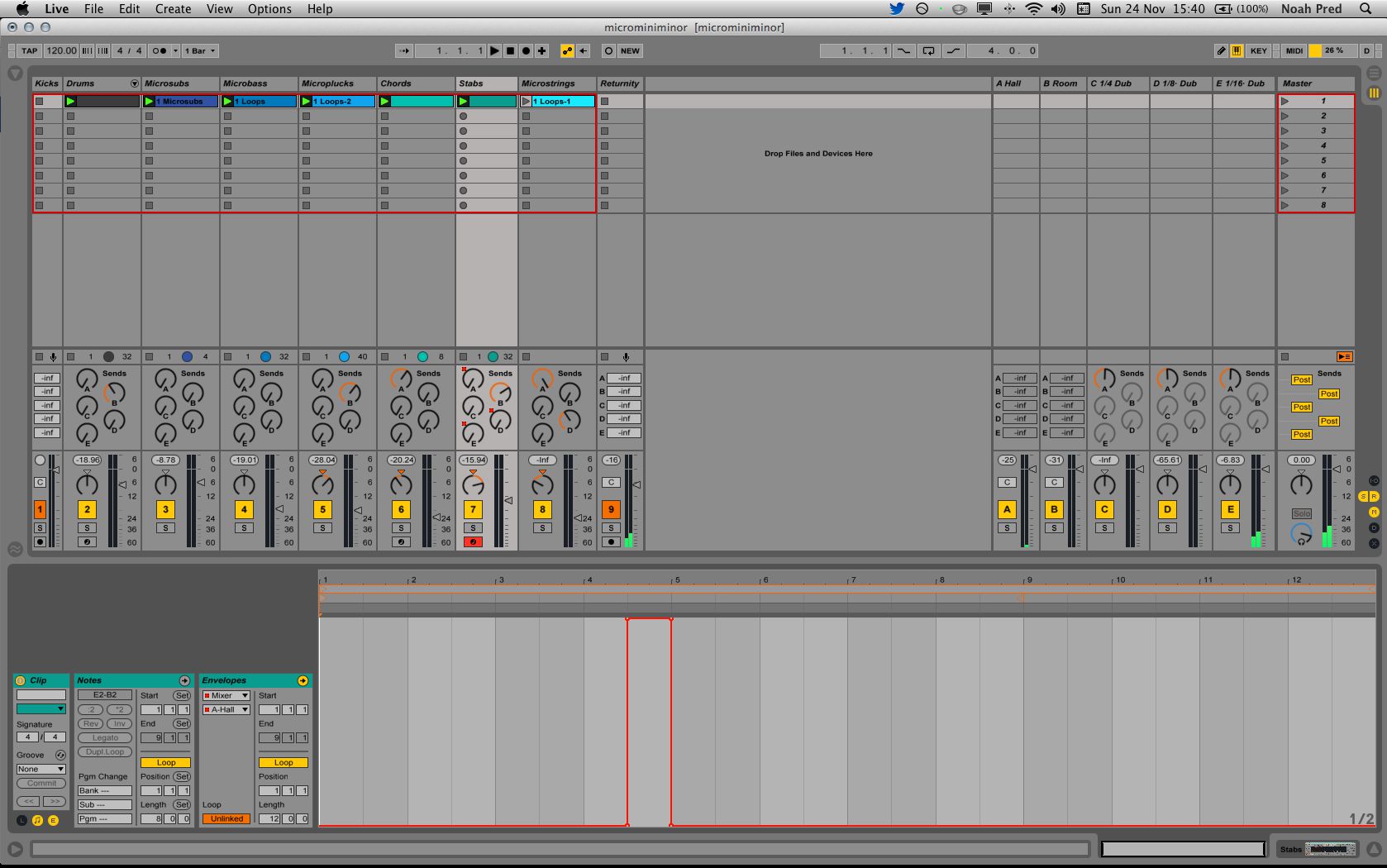 Pic 15
PRO-TIP: What's the difference between Clip Envelope Automation and Clip Envelope Modulation? While they both appear almost identical in the Envelope editor, Automation will be recorded as-is to Automation Lanes in the Arrange view, whereas Modulation works in relation to the overall Automation of a parameter in the Arrange view; this is similar to an LFO assigned to a filter cutoff oscillating that filter value up and down within a range determined by the current filter cutoff value itself.

Since any automated parameter envelope can have its own discrete loop length, I'll set the other two send amounts to unusual lengths (10 and 14 bars, respectively), ensuring that our three dub sends won't repeat in the same pattern for a much longer period than the 8-bar repetition we had originally recorded. By unlinking various automation envelopes, we can inject our loops with all sorts of evolving, shifting, and higher-order dynamics that extend far beyond the duration of the original musical content.
PRO-TIP: Just as with audio and MIDI loops, each unlinked automation envelope can have a start point separate from the parameter's loop (if looping is enabled for that envelope), allowing for all sorts of automation to occur before settling into the automation loop you've selected.

Listen: Main Loop Full Dub Automation
Super Session
When you consider that any effect, instrument, rack, configured third-party plug-in, or mixer device parameter on any audio or MIDI track in your set is available for both Session Automation and linked or unlinked Clip Envelope editing and Modulation, limitless possibilities emerge: explore them!