In today's world of ubiquitous auto-tuned pop vocals, vocoder technology is largely taken for granted. Invented in the late '60s and popularized in the '70s by seminal German electro act Kraftwerk, it's been a recognizable effect ever since – primarily to create "robotic" voice tones (see: Cylons). But even beyond its traditional use in applying synthesized melodies and harmonies to vocal impulses, it is, in fact, an incredibly powerful sound design tool, and Live's built-in Vocoder effect is a deceptively flexible device that can generate a huge variety of harmonic distortion, formant manipulation and the ability to infer melodic information where there was none before.
To make full use of the Vocoder, it's important to know the basics of how it works. The effect requires two signals: the Modulator, which provides the rhythmic or spoken impulse that will be applied to the Carrier, which is the sustained melodic or harmonic waveform that provides the musical tone to be modulated. These are then combined through a series of bandpass filters, whose frequencies are modified by the Formant control, which alters the perceived "gender" of a vocoded vocal. We'll take a look at vocoding a simple drum loop before launching into a more traditional vocal-oriented technique.
Vocodrumming
To begin, we'll take a simple staccato drum loop (Pic. 1) on a basic audio track.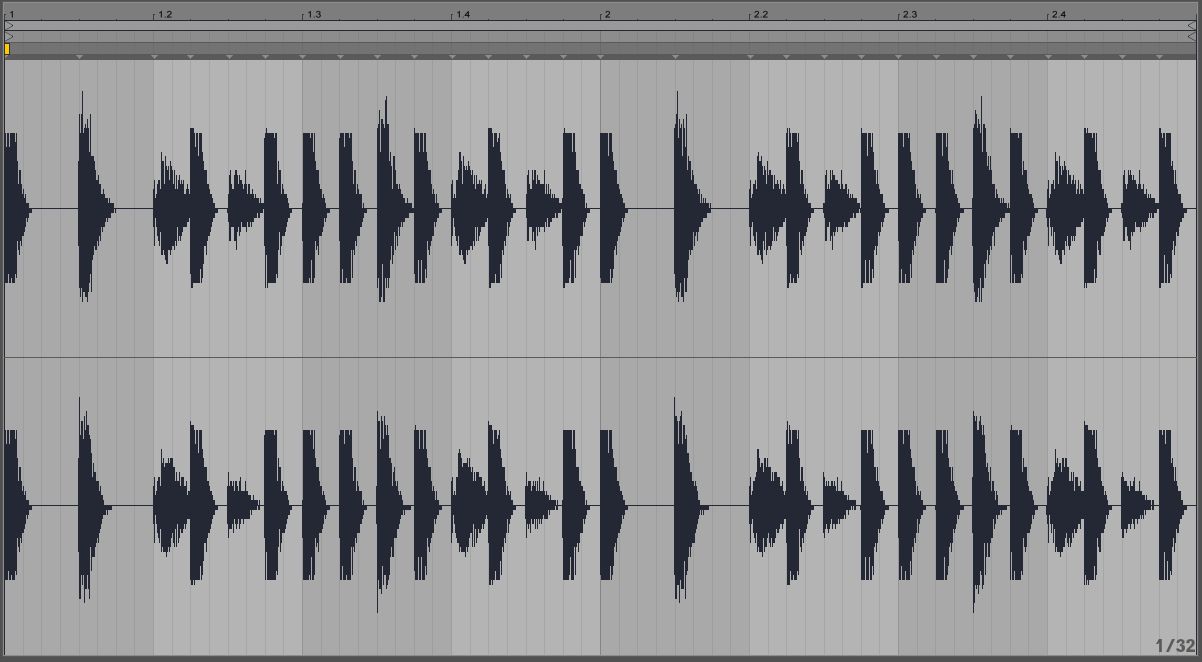 Pic. 1
Next, add a default Vocoder effect to it (Pic. 2) from Live's device browser (Pic. 3).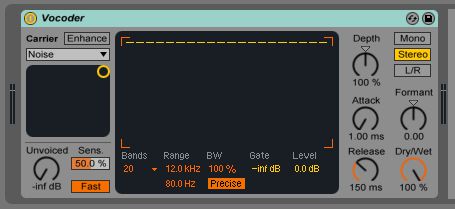 Pic. 2
Pic. 3
LISTEN: Original Drum Loop


In the upper left corner of the Vocoder is a drop-down menu that contains the four selectable Carrier sources – and basic modes of Vocoder operation: Noise, which uses a filtered noise signal as a carrier; External, which allows you to route an external audio signal from another track or device in your set as the Carrier (which is the perfect way to achieve "traditional" vocoder effects by using a synth Carrier signal, as we'll examine later); Modulator, in which the incoming signal vocodes itself as its own Carrier; and Pitch Tracking, which enables a monophonic oscillator that attempts to follow the pitch of the Modulator signal.
We'll begin with the default Noise mode. There's an XY pad to change the density and bit-rate of the Noise Carrier – and even just manipulating this can give your loops a completely different quality.
LISTEN: Noise modulated Drum Loop
Now let's take a look at the Filter Bank, the black section at the center of the Vocoder device. The first drop-down menu, at the bottom left of the filter bank area, gives us our Band selection, where we can choose anywhere between 4 and 40 filter bands for our Vocoder; the more bands we use, the richer and more precise the sound can be, but as a result, the more CPU intensive the effect becomes. To the right of this, we have our Range control which allows us to specify the allowable range of frequencies via the top maximum frequency value and, beneath that, the minimum frequency value, which determines the frequencies our Vocoder can explore.

To the right of this, we have our Bandwidth control (designated BW), which determines the width or specificity of each bandpass filter. Below are two filter modes we can select: Precise and Retro. You'll notice when sweeping the Bandwidth, the lower the value, the more resonant and "soft" the results; the higher you go, the more brittle and distorted it becomes.
LISTEN: Different band and bandwidth settings
PRO-TIP: Use the draw tool in the filter bank to attenuate the levels of each filter band and remove or enhance specific frequencies (Pic. 4).

 By adjusting the Gate threshold, we can ensure only the loudest peaks cut through to be vocoded, giving some degree of control over background noise. Finally, the Level parameter gives us an overall volume control to boost or reduce the end result.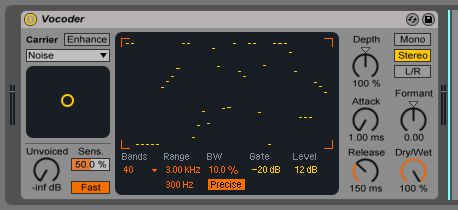 Pic. 4
LISTEN: Attenuated drum loop with Gate threshold at -20 dB
To the right of the filter bank, we'll find the Vocoder's global controls. Depth controls the amount of Modulation signal applied to the Carrier, with 0% resulting in no Modulation at all and 200% applying only the Modulation signal's highest peaks to the Carrier. The Attack and Release dials determine how rapidly the Carrier is applied to the Modulation signal and how long it "hangs" for. The Formant shifts the filter bank frequencies up or down, which, when applied to a vocal Modulation signal, results in a more "female" voice at higher values and a more "male" voice at lower values, with extreme gender-bending available in either direction. Finally, the Dry-Wet signal works as expected, while there are three stereo modes available.
Harmonization Station
So far we've only used the Noise mode of the Vocoder. To create a more "typical" vocoder result, we'll have to create another track in Live to generate our Carrier signal. I've added a new MIDI track with an Analog synth instrument, included in Live Suite, with a single sawtooth oscillator and an ADSR envelope with a high Sustain value and short Release time (Pic. 5).

Pic. 5
I've renamed the track it's on "Carrier." Now I'll go back to the Vocoder – which should always be placed on the Modulator's track – and in the upper left drop-down, switch it from Noise to External mode. From the new routing drop-down menu that appears below it, I'll now choose to receive Audio From the track I renamed Carrier (Pic. 6).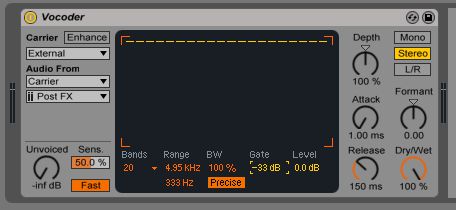 Pic. 6


Next, we'll have to create a melody on the Carrier track, which is what will be applied to the Vocoder. I've created a two-bar chord progression in E Minor (Pic. 7). Now – and this is important – be sure to mute your Carrier track so that you'll only hear it as it applies to the Vocoder; otherwise you'll hear it as a continuous synth pattern outside the Vocoder as well (Pic. 8).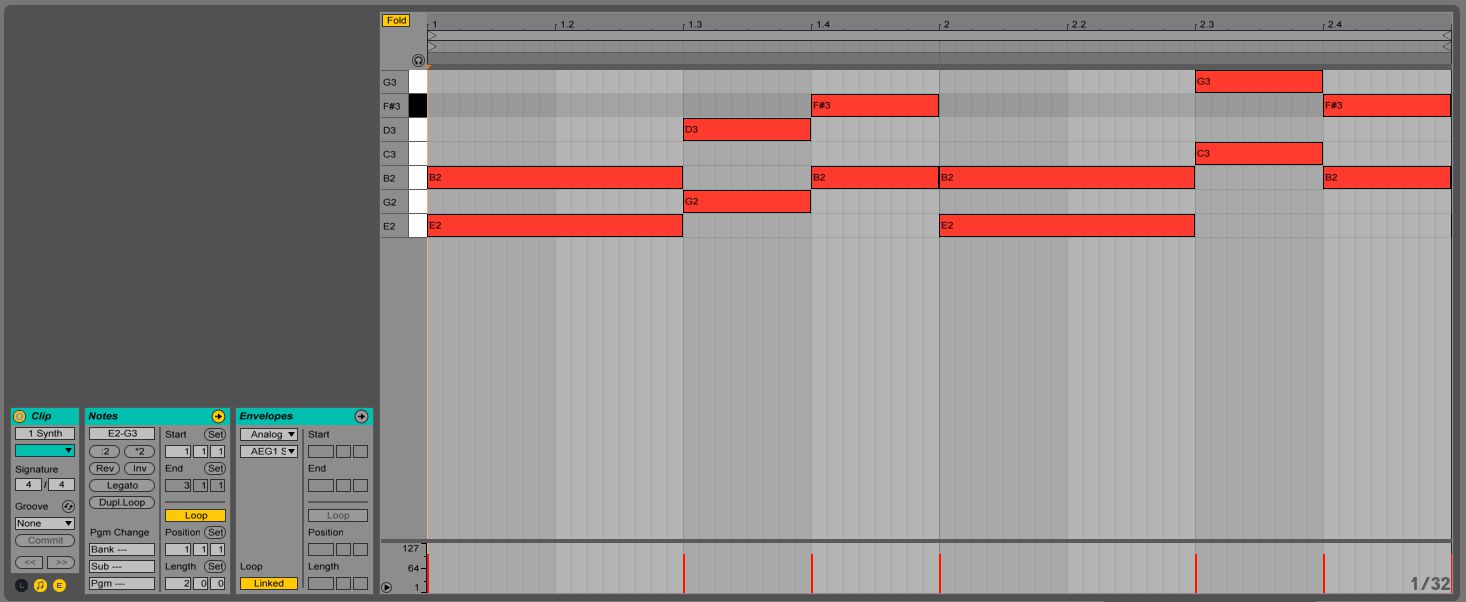 Pic. 7

Pic. 8
PRO-TIP: It's crucial that your Carrier signal has plenty of gain, so make sure it's putting out a healthy output level. Full Sustain volume on the ADSR envelope should help here as well.
LISTEN: Carrier synth pattern from Analog, no vocoding
LISTEN: Drum Loop vocoded with Analog Synth line and Formant automation sweep
PRO-TIP: Modulate the Unvoiced Noise amount to add staccato white noise for added rhythmic intensity.

LISTEN: Drum Loop vocoded with Analog Synth line, Formant automation sweep and Unvoiced Noise sweep added
Finally, for a more standard Vocoder effect, we'll replace the drum loop with a different Modulator: a recording of my voice (Pic. 9).
Pic. 9
LISTEN: The dry vocal Modulator signal
Now that I'm working with vocals, I've adjusted my Vocoder settings to taste (Pic. 10), and automated a different formant sweep so you can hear both the synthesized harmonization of the vocal signal and the motion from female to male characteristics.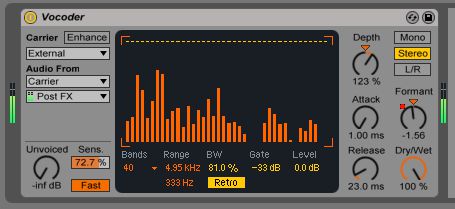 Pic. 10
LISTEN: Vocoded vocals with formant sweep (14)
PRO-TIP: Add a Chorus effect to the vocoded modulation track for a wider, smoother and more classic vintage vocoder sound (Pic. 11)

Pic. 11
LISTEN: Vocoded vocals with Chorus
Vocoder Mania
One of the most recognizable effects in modern music, many of today's biggest electronic hits wouldn't be possible without Vocoder technology – where would Daft Punk be without their catchy robot-vocals? That said, catchy robot-vocals are only the beginning of what you can achieve with Live's flexible Vocoder. Without even examining the Modulator or Pitch Tracking modes (which I encourage you to experiment with), there are as many possibilities as your imagination can conceive when considering all the possible Carrier and Modulation sources waiting to be combined: modulating a synth line with your voice is standard usage, but there's no reason not to experiment with, for instance, modulating a reverb-drenched granular time-stretched recording of acoustic guitar with a field recording of fireworks. And this is all without even considering the vast manipulations possible by grouping the Vocoder with other devices in an audio effect rack and assigning and modulating macros, or vocoding multiple signals simultaneously by putting a Vocoder on a group track. Whether you're looking for a classic electro-style vocal to push your mix over the top or a platform for morphing your sounds beyond all recognition, Live's Vocoder is the tool for you.