Hansy1010 Is a Gorgeous Open-Source Analog DIY Synth
Hansy1010 hybrid-analog synthesizer just got a makeover. This cool sounding DIY and open-source synth now has a fetching new color. Listen to it in action below.
Hailing from Grenoble in France, Hansy synthesizer is the brainchild of Gilles Lacaud. When Arturia released the MiniBrute, Gilles thought he could make something similar. Over 2 years ago he began from humble beginnings with "an evaluation board from ATMEL for the XMEGA and a Korg Monotron". Soon after he moved on to "an analog filter from Mutable Instrument, the SMR4MKII, and an eeprom to store the sounds".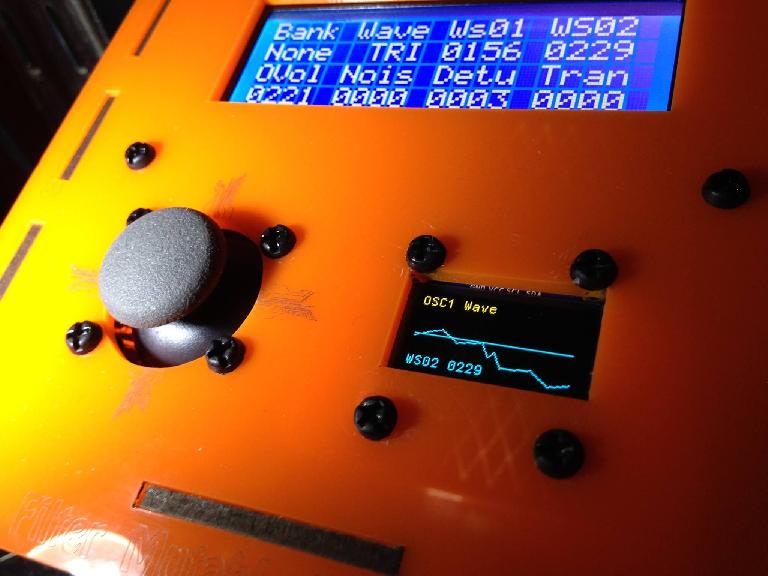 You can read the full story and download the manual for the Hansy on the website here. But, basically, Gilles designed his own board with filter and created an open-source synth with a lot of interesting features. Hansy, which relies upon the Nucleo STM32L152 as its brain, stands for hybrid analog numeric synth.
On January 3rd, Gilles posted photos of his smart new color faceplate for the Hansy1010 which is certainly worth showing off.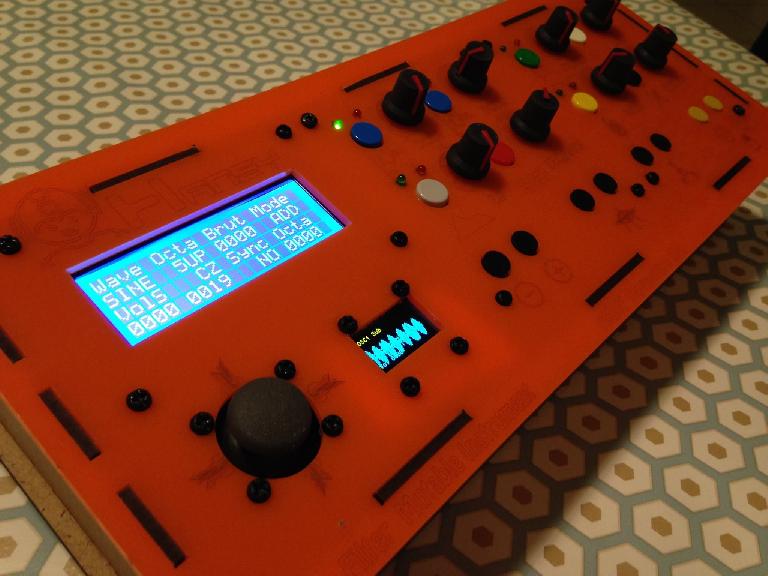 Here's photos, a video of Hansy1010 in action and the main features/spec of this curiously cool analog synthesizer.
Oh, and before you ask Hansy1010 is not for sale right now. However, Gilles is open to selling PCB for the synth and much more. You'll need to contact him for more info. Also, you can find schematics for everything except the softawre on his site (link at end of article).
Here's the most recent video showing what Hansy1010 is capable of: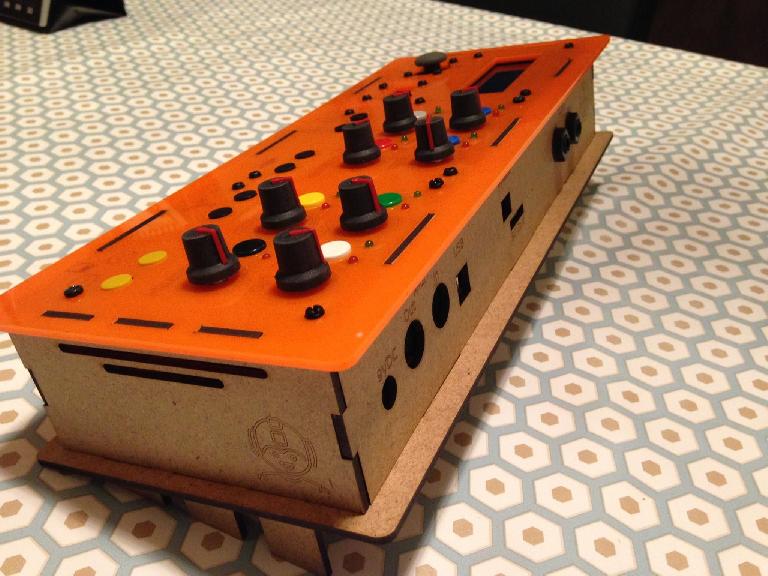 Main Features
Duophonic Hybrid synthesizer : Mono or Duo Mode
Large Interface with 4*40 LCD and OLED (128*64)/ 8 Potentiometers / 16 Push Button and one Joystick
256 memory locations
Digital Oscillators / Analog Filter
Filter : Mutable instrument SMR4 MKII
4 or 2 poles
Cutoff and Resonance
Keyboard tracking positive or negative
Oscillator waveform
Legacy waveform: Sine/Tri/Saw/Square/PWM/Random
Special waveform: TriSquare/SawSquare/Pro2/MKS
Wavetable : over 4300 wavetables from AKWF Adventure kids
Noise generator
Transpose and detune
Osc2 can be route to cutoff frequency
Phase Distortion
One Sub Osc per Osc
Sub Waveform : Sine/Tri/Saw/Square/Pulse1/Pulse2/Pulse3
Sub Type: -2 / -1 / 0 Octave or 5Th Up or 5Th Down
Combi between OSC and SubOsc : ADD/MULTIPLY/XOR/ENTERLACE
Wave Morphing and Wave shaping possibility (2 parameters per OSC)
3 LFO
LFO Waveform : Sine/Tri/Saw/Inv/Random/Lag
LFO Sync: Free/Key/delay
4 ADSR envelope Generator with positive and negative amount
VCF Negative and positive Amount
VCA
Pitch route to OSC1/OSC2 or OSC1&2
Extended
Glide
External Analog audio input
Midi In and Out with soft Thru
Sequencer and Arpeggiator ( 1 Sequence or Arp per Sound)
24 Step
8 Parameters per step: Transpose/Velocity/Cutoff/Gate/Glide/Noise/Ex1/Ex2
Swing
Sequencer or Arp send to Midi channel
Midi Sync In and Out
Assignable Pitch bend and Mod wheel
Sound and Library manager software on PC
Want to buy a Hansy1010? Contact Gilles via his website.