Towards the end of August, 2014, myself and one of our top (and most trusted) writers for AskAudioMag.com, Hollin Jones, were invited to a top-secret viewing by our friends at Native Instruments. If you've been following the recent leaks (and have read the headline), you'll know that we're of course talking about NI's new keyboard controller, designed to integrate perfectly with Komplete 9 and 10.
Without wanting to blow my own trumpet, before reaching NI HQ UK, based in the über-trendy London area of Shoreditch, I'd kinda guessed that a Komplete keyboard controller was the likely new product, especially considering the role hardware has to play with Traktor and Maschine. However, knowing that didn't prepare me fully for what the Komplete Kontrol S-Series would be capable of.
Here's my brief preview/overview of the new Komplete Kontrol S-Series keyboards...
그것은 키보드 및 콘텐츠 더보기
Hollin and I spent over an hour with NI's Johannes and Nadine who had flown in from Berlin to show us round Komplete Kontrol and the new instruments in Komplete 10. The S-series keyboards come in 3 varieties: 25, 49 and 61 keys and happily, despite the size differences, all models share the same functionality. At first glance the S-series is minimal. These keyboards are not packed to the hilt with unnecessary knobs and buttons. But, as we discovered when getting hands on, there are enough encoders, buttons and displays to make browsing, controlling and modifying parameters in Komplete easy and effortless. As we came to see, a lot of thought has gone into making these keyboards the ideal controllers for Komplete users.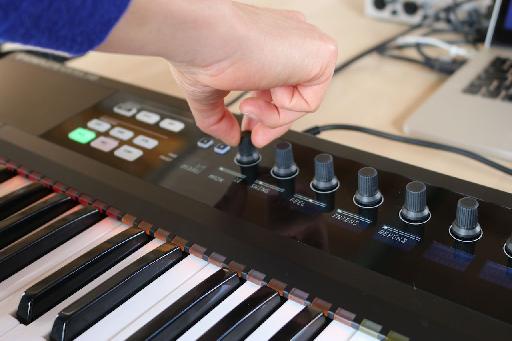 As you'd expect the hardware construction, look and feel is right up to Native Instruments' Maschine and Traktor standards. Though not designed primarily for performance, this baby packs a lot of features (and good quality Fatar synth action keys) which live musicians, as well as us studio ones, will enjoy. Yes, you have to hook it up to your Mac or PC, but the point is to be able to quickly browse and discover Komplete sounds and instruments you might never find using a mouse or trackpad. The capitative encoders are auto-mapped for each instrument and patch too, and the LED displays are responsive and easy to read, in turn making designing sounds, or making existing and custom patches your own surprisingly quick and fun.
I was also particularly impressed with the arpeggiator, the fact it can be used as a mappable MIDI controller for any DAW (with its own transport controls), and the innovative chord and key modes which, thanks to the clever lights above each key will give musicians (like myself) who struggle learning scales the chance to improve their keyboard skills. After all, that's what it's all about, right? Playing music and enjoying making music. And that's what I feel Komplete Kontrol brings to the table, which will be especially exciting for Komplete users. But it's not just Komplete users that'll benefit. We've heard there will be deeper integration with Maschine too... and you can expect other interesting features like a step sequencer, thanks to the fact that the brain for the keyboards are inside the software. Bring on the updates!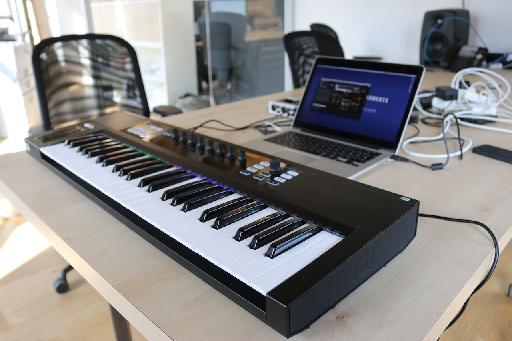 에 대한 심층적 인 검토가 출시 예정
Needless to say we'll have a full, in-depth review of Komplete Kontrol S-Series coming soon on AskAudioMag.com from Hollin Jones, who is currently putting a 61-key unit through its paces. In the meantime, you may like to immerse yourself in the official Native Instruments press release and find out exactly what's new and hot with the Komplete Kontrol S-Series Keyboards.
공식 보도 자료
Berlin, September 2, 2014 – Native Instruments today announced the KOMPLETE KONTROL S-Series keyboards. The keyboards represent a hallmark in the history of Native Instruments, providing advanced innovations in hardware/software integration and uniting the KOMPLETE Instrument portfolio under one purpose-built keyboard controller and software interface. KOMPLETE KONTROL S-Series keyboards are available in a choice of 25, 49 or 61 keys and come equipped with premium Fatar keybeds for a luxurious playing experience. They will be available online and at retailers worldwide October 1, 2014.
Daniel Haver, CEO of Native Instruments, comments: "In the last two decades our software instruments have shaped and defined diverse musical styles and genres. The KOMPLETE KONTROL S-Series keyboards finally bring our original vision to life, and elevate the experience of sounds to a whole new level. Only now the diversity of all KOMPLETE instruments and sounds becomes truly accessible in a single instrument, in ways that no controller or keyboard ever did before."
The KOMPLETE KONTROL S-Series keyboards signal a new era of control for the KOMPLETE Instrument portfolio. The all-new KOMPLETE Browser™ unifies the powerful instruments in KOMPLETE, delivering tag-based access to all KOMPLETE Instrument presets from one plug-in interface. Instead of browsing by instrument, users can now search by sound, opening the breadth of the KOMPLETE Instrument range faster and easier than ever before.
Native Map™ technology automatically maps all key parameters for each KOMPLETE Instrument to the touch-sensitive controller knobs – all clearly visible on the keyboards' Clear View™ display. Each instrument was carefully mapped by NI sound designers to arrange the most relevant parameters on pages laid out on the keyboard's display. The need for complicated mapping is eliminated, bringing producers closer to the act of creating music and allowing them to stay in the creative flow.
A first-of-its-kind Light Guide™ shows key switches, zones, and more on multi-color LEDs positioned just above the keys. For example, key switches for KONTAKT Instruments such as ACTION STRIKES are illuminated in one color, while keys used for performance are lit with another. This puts the instrument's layout on the keyboard at a glance without having to look at the software. The lights also provide performance feedback – scales, chords, and arpeggios light up across the keyboard as they are played.
KOMPLETE KONTROL S-Series keyboards also deliver Smart Play™ features to accelerate workflow and stimulate new ideas. Chord mode lets producers play complex chords with single keys. Chord Set mode provides ready-to-play progressions that can inspire and augment original compositions or add new flavor to remixes. The integrated scale mapping features deliver fast access to new melodic possibilities – notes of the currently selected scale light up on the Light Guide. Many widely-used musical scales can also be mapped to the white keys. 'Wrong' notes can be automatically re-mapped so melodies are always in tune. The arpeggiator works seamlessly with every KOMPLETE Instrument. And the eight controller knobs manage parameters such as direction, rate, rhythm, patterns, and variations.
Furthermore, two touch-sensitive Touch Kontrols™ tap into a new paradigm in software instrument control. They can mimic the behavior of pitch and mod wheels, and physical objects like springs and bouncing balls for interesting modulation curves – far beyond the capabilities of conventional mod wheels. Keyboard functionality such as key splits and Touch Kontrol behavior also function when using the keyboards as a standard MIDI controller, opening these control innovations to instruments outside the KOMPLETE universe.
KOMPLETE KONTROL S-Series keyboards were designed to integrate seamlessly with the 10th generation of NI's acclaimed instruments and effects suites, released October 1st, 2014. Registered users of KOMPLETE 9 and KOMPLETE 9 ULTIMATE will receive a free download for the KOMPLETE KONTROL software, giving them the same functionality on KOMPLETE KONTROL S-Series keyboards as KOMPLETE 10 and KOMPLETE 10 ULTIMATE users.
KOMPLETE KONTROL S-Series keyboards are available online and in retailers October 1, 2014. Preorder is also available.
KOMPLETE KONTROL S25 is available for $499 / 499 €. KOMPLETE KONTROL S49 is available for $599 / 599 €. KOMPLETE KONTROL S61 is available for $699 / 699 €.

Additional information on the new KOMPLETE KONTROL S-Series is available at: