The Dr.OctoRex is a great update to one of my favorite virtual instruments. Amongst the many updated features is an innovative new graphical editing system. In this quick tip we'll take a look at how the new system works and what we can do with it.

Passo 1 - Carregando o seu Dr.OctoRex
Para começar, você vai precisar de um OctoRex carregado em Razão 5 . Eu tenho carregado o meu com um loop interessante instrumental de uma das bibliotecas de minha amostra que deve demonstrar o sistema de edição de novo bem.
Você pode ouvir o circuito seco afetado no clipe abaixo.
O loop estaremos tratando:
[Audio id = "6040"]
Passo 2 - Ativando Slice Modo de Edição
Em seu estado padrão, o Dr.OctoRex sistema de edição é muito igual ao seu antecessor. Usuários do player Dr.Rex original deve ter nenhum problema ficar preso à direita para usar os botões em toda a parte inferior da área de exibição da amostra.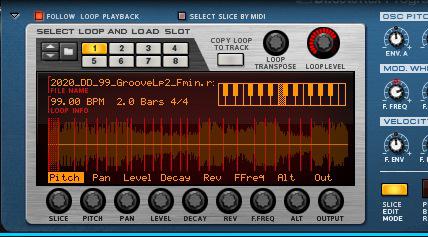 O Slice modo de edição é acessado
A verdadeira diversão começa quando você ativar o novo "Slice Edit Mode ', há um botão dedicado para este novo sistema, logo à direita da tela principal. Uma vez ativado este irá transformar a janela de exibição ea forma como os nossos parâmetros são exibidos.
Passo 3 - Alterando Algumas configurações
Com o Modo Editar Slice ativada, você agora pode selecionar qualquer parâmetro abaixo da área de exibição e você será presenteado com uma tela gráfica diferente para cada um. Você pode então usar o cursor para editar estes parâmetros diretamente no display.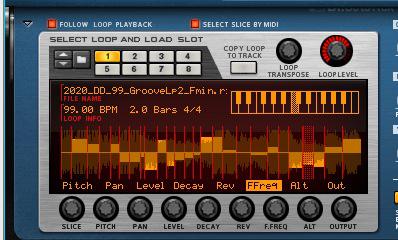 Alguns parâmetros são editados
Agora vendo exatamente o que as edições têm sido realizados e que fatia no circuito tem novos dados é muito simples. Simplesmente movendo-se através dos diferentes parâmetros agora é o suficiente para ver exatamente o que está acontecendo em seu loop.
O loop alteradas reproduz:
[Audio id = "6043"]
Passo 4 - Torcendo seus Loops
Usando o novo sistema você realmente pode torcer o seu loops e literalmente transformar o modo como elas soam. Alterar parâmetros como pan, filtro de freqüência e nível de realmente ajudar a dar o seu laço uma sensação nova, mas é a novos parâmetros disponíveis, tais como reprodução reversa e alternativo que pode realmente fazer coisas interessantes.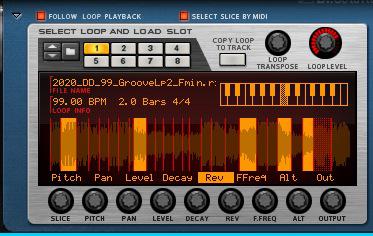 O loop pode ser totalmente torcido usando parâmetros como reverter
No exemplo abaixo eu usei uma combinação destes parâmetros para produzir uma versão nova e interessante do loop. Esperemos que isto deve dar-lhe uma boa idéia do que é possível.
Os parâmetros torcida em ação:
[Audio id = "6045"]
Há muito mais para explorar no Dr.OctoRex. Você pode saber mais aqui .