The Dr.OctoRex is a great update to one of my favorite virtual instruments. Amongst the many updated features is an innovative new graphical editing system. In this quick tip we'll take a look at how the new system works and what we can do with it.

Fase 1 - Caricamento Dr.OctoRex
Per cominciare si sta per bisogno di un OctoRex caricati in Reason 5 . Ho caricato la mia con un ciclo interessante strumentale da una delle mie librerie di campioni che devono dimostrare il nuovo sistema di editing bene.
È possibile ascoltare il ciclo asciutto inalterato nel clip qui sotto.
Il ciclo saremo trattare:
[Audio id = "6040"]
Fase 2 - Attivare modalità Slice Edit
Nel suo stato di default il sistema Dr.OctoRex editing è molto simile come il suo predecessore. Gli utenti del giocatore originario Dr.Rex dovrebbe avere alcun problema di rimanere bloccati a destra utilizzando le manopole in tutta la parte inferiore dell'area di visualizzazione del campione.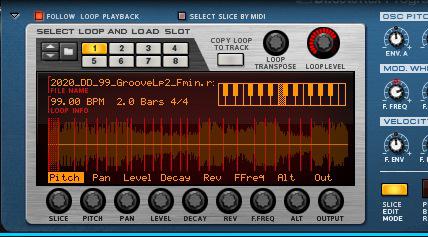 La modalità edit Slice si accede
Il vero divertimento comincia quando si attiva il nuovo 'Slice modalità di modifica', c'è un pulsante dedicato per questo nuovo sistema, appena a destra del display principale. Una volta attivato questo trasformerà il display e la modalità di visualizzazione i nostri parametri.
Fase 3 - Modifica alcune impostazioni
Con la fetta modalità di modifica attivato è ora possibile selezionare qualsiasi parametro sotto l'area di visualizzazione e ti verrà presentato con un display grafico per uno. È quindi possibile utilizzare il cursore per modificare questi parametri direttamente all'interno del display.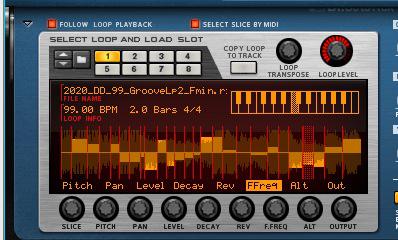 Alcuni parametri sono modificati
Ora visualizzazione esattamente ciò che le modifiche sono state eseguite e che fetta nel ciclo di nuovi dati è molto semplice. Basta muoversi attraverso i vari parametri è ora sufficiente a vedere esattamente cosa sta succedendo nel vostro loop.
Il ciclo alterato riproduce:
[Audio id = "6043"]
Fase 4 - girare la Loops
Con il nuovo sistema si può davvero girare il vostro loop e letteralmente trasformare il modo in cui suono. Alterazione dei parametri come il pan, frequenza del filtro e del livello di grande aiuto per dare al vostro anello una sensazione nuova, ma è il nuovi parametri disponibili, come la riproduzione all'indietro e alternativo che può davvero fare cose interessanti.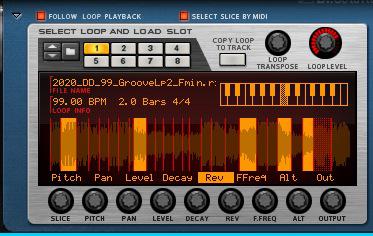 Il ciclo può essere completamente contorta utilizzando parametri come inverso
Nell'esempio qui sotto ho usato una combinazione di questi parametri per produrre una versione nuova interessante del ciclo. Speriamo che questo dovrebbe darvi una buona idea di ciò che è possibile.
I parametri contorto in azione:
[Audio id = "6045"]
C'è così tanto da esplorare in Dr.OctoRex. Potete saperne di più qui .