The Dr.OctoRex is a great update to one of my favorite virtual instruments. Amongst the many updated features is an innovative new graphical editing system. In this quick tip we'll take a look at how the new system works and what we can do with it.

Paso 1 - Colocación del Dr.OctoRex
Para empezar se va a necesitar un OctoRex cargado de razón 5 . He mina cargada con un lazo de interés fundamental de una de mis librerías de muestras que deben demostrar el nuevo sistema de edición muy bien.
Usted puede escuchar el loop seco afectados en el clip de abajo.
El bucle vamos a tratar:
[Audio id = "6040"]
Paso 2 - Cortar Activar el modo de edición
En el estado por defecto es el sistema de edición es muy Dr.OctoRex lo mismo que su predecesor. Los usuarios de la original Dr.Rex jugador debería tener problemas para quedarse atascado derecho a usar los botones en la parte baja del área de visualización de la muestra.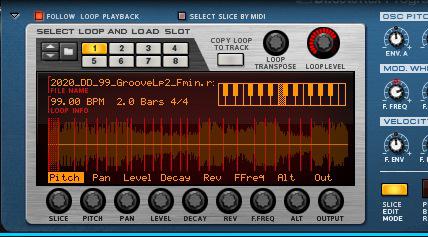 El modo Editar sector se accede
La verdadera diversión comienza cuando se activa el nuevo 'Cortar el modo de edición, hay un botón dedicado para este nuevo sistema, a la derecha de la pantalla principal. Una vez activado este va a transformar la ventana de la pantalla y la forma en que nuestros parámetros se muestran.
Paso 3 - La alteración de algunos ajustes
Cortar con el modo de edición activado ahora puede seleccionar cualquier parámetro por debajo del área de la pantalla y se le presentará con una pantalla gráfica diferente para cada uno. A continuación, puede utilizar el cursor para modificar estos parámetros directamente en la pantalla.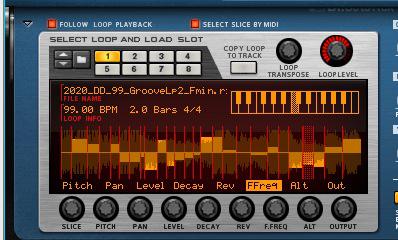 Algunos parámetros se editan
Ahora viendo exactamente lo que las ediciones se han realizado y que corte en el circuito dispone de nuevos datos es muy sencillo. Simplemente moviendo a través de los diferentes parámetros es ahora suficiente para ver exactamente lo que está pasando en el bucle.
El bucle alterado reproduce:
[Audio id = "6043"]
Paso 4 - Torcer su Loops
Utilizando el nuevo sistema que realmente puede torcer los bucles y literalmente transformar la forma en que el sonido. Alteración de los parámetros como el pan, la frecuencia del filtro y el nivel realmente ayudan a dar a su bucle de una sensación nueva, pero los parámetros recién disponibles, tales como la reproducción en retroceso y un suplente que realmente puede hacer cosas interesantes.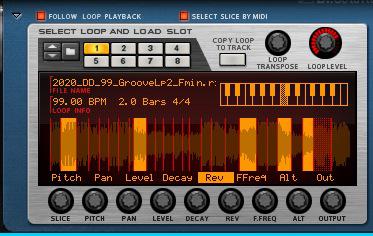 El circuito puede ser totalmente torcido utilizando parámetros como la inversa
En el siguiente ejemplo que he utilizado una combinación de estos parámetros para producir una versión nueva e interesante del circuito. Espero que esto te dará una buena idea de lo que es posible.
Los parámetros de trenzado en acción:
[Audio id = "6045"]
Hay mucho más para explorar en Dr.OctoRex. Puede encontrar más información aquí .