The Dr.OctoRex is a great update to one of my favorite virtual instruments. Amongst the many updated features is an innovative new graphical editing system. In this quick tip we'll take a look at how the new system works and what we can do with it.

Step 1 - Loading your Dr.OctoRex
To start with you are going to need an OctoRex loaded up in Reason 5. I've loaded mine up with an interesting instrumental loop from one of my sample libraries which should demonstrate the new editing system nicely.
You can hear the dry unaffected loop in the clip below.
The loop we'll be treating:
Step 2 - Activating Slice Edit Mode
In it's default state the Dr.OctoRex editing system is very much the same as it's predecessor. Users of the original Dr.Rex player should have no problem getting stuck right into using the knobs across the lower part of the sample display area.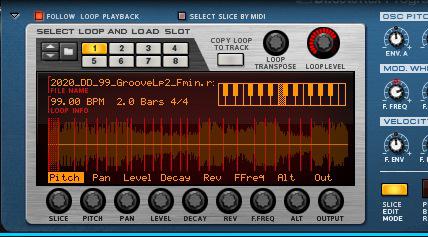 The Slice edit mode is accessed
The real fun begins when you activate the new 'Slice Edit Mode', there is a dedicated button for this new system, just to the right of the main display. Once activated this will transform the display window and the way our parameters are displayed.
Step 3 - Altering Some Settings
With Slice Edit Mode activated you can now select any parameter below the display area and you will be presented with a different graphical display for each one. You can then use the cursor to edit these parameters directly within the display.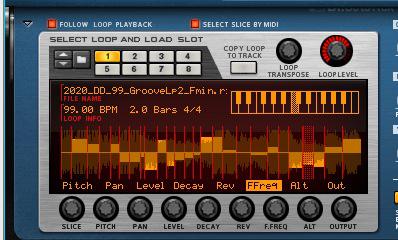 Some parameters are edited
Now viewing exactly what edits have been performed and which slice in the loop has new data is very straight forward. Simply moving through the different parameters is now enough to see exactly what's going on in your loop.
The altered loop plays back:
Step 4 - Twisting your Loops
Using the new system you can really twist your loops and quite literally transform how they sound. Altering parameters like pan, filter frequency and level really help to give your loop a new feel, but it's the newly available parameters such as reverse and alternate playback that can really make things interesting.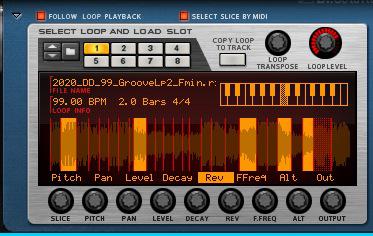 The loop can be totally twisted using parameters like reverse
In the example below I have used a combination of these parameters to produce an interesting new version of the loop. Hopefully this should give you a good idea of what's possible.
The twisted parameters in action:
There's so much more to explore in Dr.OctoRex. You can find out more here.