It's not every day you win a Grammy. Jerome Harmon, also known as J-Roc, has won two! Just days before the 2015 Grammy Awards, we spoke to Jerome about his rise to the top, his personal studio techniques, his love of synths, and of course his work with Beyonce and his productions on her self-titled album, including "Partition" and "Drunk in Love" (which was awarded Best R&B Song, 2015).
No matter what style of music you're into, if you're interested in music production this interview is a must-read.
Ask: Did you get into music at an early age?
J-Roc: I'd consider that music got into me. I come from a musical family of doo-wop singers back in the late ' 60s. And when they had me I guess I became their little project. When I was 3, I started playing drums. I played at my mom's church where she was a minister. About the age of 9 while at church I bet my older brother I could play the song, "Lean on Me". That's when my mom discovered I could play, and in the next week or so she bought me an old upright piano I could beat the crap out of and that's how I honed my skills!
I played at church and in jazz bands when I was 10. I became well advanced quickly at an early age. From there I got into liking a lot of horn players like David Sanborn. I picked up my teacher's saxophone and just started playing. I was playing three different instruments before I was 12. I began growing as I'd been playing with a lot of older cats who were advanced in music theory. I became seasoned.
Ask: Did you find your ear was your main tool to help you start playing instruments, or would you use sheet music?
J-Roc: It was by ear at first. Then once my mom knew I had the talent she'd invest in me taking lessons. I started composing minuets and sonatas in elementary for a lot of competitions around town. It helped broaden my knowledge and musical ideas knowing how to read and write music. But the gift was something that was… really a gift from God is all I can say.
"I started programming [synth] sounds before I even got to high school!"
Ask: There are different kinds of producers today. You've come through being a musician/producer. How did that happen for you?
J-Roc: It was an alumnus from Cal, Berkley in Odessa, Texas where we moved to when I was 14. He worked at a music store and he heard me playing one day and was impressed. He taught me about using software and keyboards in around 1985. We're talking the real Moog's and Prophet 5's, the real Korg synths with knobs that nobody really knows about these days.
So, he taught me how to program and use the different synths to make and shape sounds. That's when the DX7 came out. I started programming sounds before I even got to high school!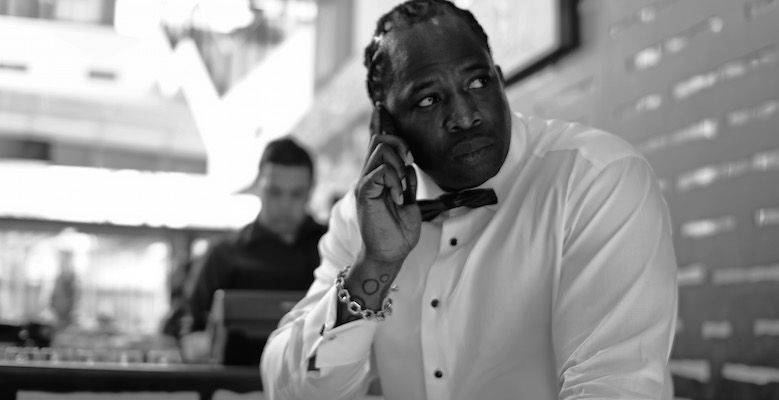 Ask: It's interesting to know about your background in synthesis. On your productions in Beyonce's "Drunk in Love" and "Partition" I love the grimy, almost Euro club feel of the synths which then are punctuated with cleaner, minimal textures. Tell us about the synths and production techniques you used.
J-Roc: It was all organic. I don't go into a session thinking I'm going to use a particular synth. When I listen to the lyrics and the song I try to blend around Beyonce's vocals. Some sounds could be too edgy or too harsh and other sounds could be harsh enough depending on the texture of her vocals in any particular track. Everything I do it compliments the vocals.
I approach it as if I was the soloist and how I'd want the sound around me to compliment from what I'm doing and not to take away from it. A lot of producers haven't learned that technique—to accompany the vocalist, to support them.
Ask: How involved do you get giving advice and feedback to Beyonce and other artists you work with when producing? Do you ever tailor their voice to fit the musical aspects?
J-Roc: Definitely. We discuss different textures and the mood she wants the song to put her in. It's all about the soloist. I'm a band in the box and I have to know every aspect of coloring and texturing for artists.
"If the drums are not grooving and the bass is not grooving then everything else becomes a fight."
Ask: In terms of your mixing techniques. "Drunk in Love" is a really full, big, punchy song. Yet there's still space. It's something I like most about productions: there's lots of layers, but lots of space too. Tell us about how you start shaping your sounds and your mix.
J-Roc: You're trying to get me to tell you all my secrets! [Laughs] Well, first you've got to establish your rhythm section. Once I get the foundation then I'll go for the root: the bass. If the drums are not grooving and the bass is not grooving then everything else becomes a fight. Then even if you're not using hard drums there's loop movement that has to be established to where the singers or rappers can find pockets. Certain accents accentuate different words or help the singer remember what to do when performing too.
"You want to paint a picture for the artist so she can perform that picture to the audience."
Ask: I imagine that's quite challenging to be thinking about how the song will be played live when producing in the studio.
J-Roc: Having a background as being a music director on tours, you get that first-hand. "How does my music translate into a performance?" We're trying to get a positive reaction from the audience. You want to paint a picture for the artist so she can perform that picture to the audience. Everything I do in the studio I think about how it's going to sound in an arena, on stage and on TV. Music is art. Art is visual. So you have to keep in mind what we're doing has to be a visual performance for the artist and the audience.
Ask: You mentioned before the interview you're an Ableton Live user. How do you incorporate it into your workflow? As a composition and arrangement tool… and also to mix?
J-Roc: I can mix with it. I have a UAD so I can do anything!!!
I do all my programming and tracking in Ableton. It's easy and fast and I can get to my VSTs without any interruptions when in the studio. Nowadays they want you to be in the studio for very little time as budgets have been slashed. Ableton Live allows me to get my ideas and tracks out, render them, take them into Pro Tools where we do the final mix. All my concepts, ideas and VSTs and plug-ins are in Ableton.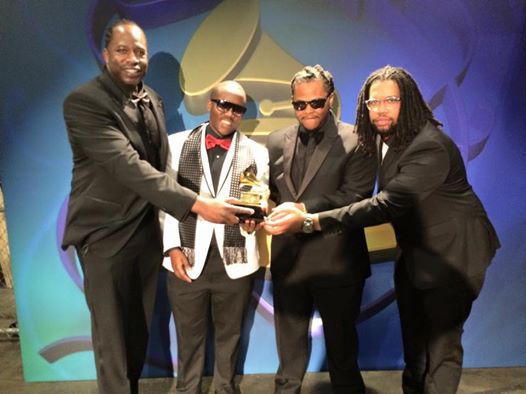 And he won the grammy for Best R&B song!
Ask: What are your favorite plug-ins? I don't want you to give away all your secrets ;)
J-Roc: Most producers probably use some of the same plug-ins, but it's how you use them. I've been using hardware synths since the beginning and it makes it easier for me to pick up new synths. Most of the stuff I use is in Native Instruments' Kontakt. Reaktor is a nice tool that not many people know about. I use a lot of Rob Papen… SubBoomBass! Some people get it, but they don't know how to tweak it. I like Omnisphere too.
"I love the whole UAD plug-in collection. I have it maxed out. These are the top ones I always stick with."
I love the whole UAD plug-in collection. I have it maxed out. My engineers, Chris and Matt and I are plug-in geeks. We like to take sounds and shape them differently. These are the top ones I always stick with.
Ask: You mentioned hardware before that you were involved with the original Moog synths. Do you say Moo-g or Mo-ge?
J-Roc: I'm from Texas so we gonna always drag stuff out! Mooog… [laughs]
I still have my Moog, Prophet 5, Korg Kronos—all the Korg synths. I have the Yamaha Motifs, Fender Rhodes… My house is like Guitar Center.
But traveling is too difficult with that stuff as they're very delicate. That's why I'm happy with the plug-ins I've got. Even though they're not tubes I can use some plugs to warm them up anyway. Most of my synths I keep at the crib, they don't move. Oh my God I'm drawing a blank at all the crap I've got!
Ask: Back inside the studio. You've worked with a lot of different artists from Timbaland to Jay Z to Beyonce. Do you have different ways to build bonds with different personalities to make sessions work?
J-Roc: I just be myself. If you can't be yourself around people then you're an imposter. I make sure I have a level of professionalism around them so they know they're getting the best for their money and their time. I just be myself and make sure we have great communication so we can strategize towards making the best sound possible. And I give it my all. It's not only my reputation, but theirs also, that's on the line.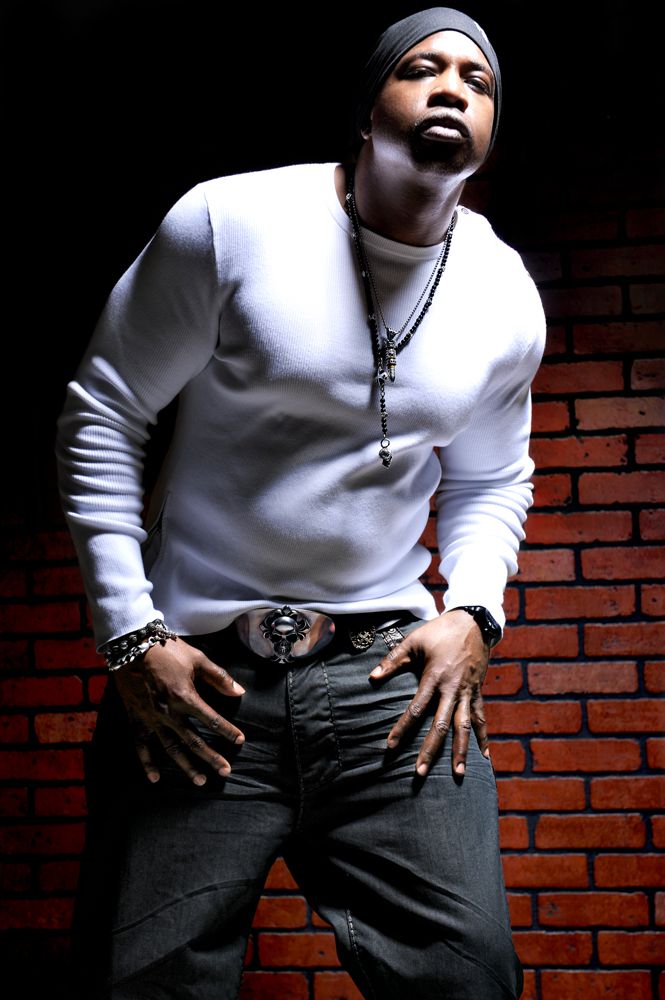 Jerome Harmon when not in the studio.
Ask: Do you know a song is going to be hit when you're working on it? For example, "Drunk in Love"?
J-Roc: Every good producer, writer, composer should have gut feeling. Every time I go into a session I try to make that the best track I've ever done. I try to make sure I have short-term memory, to forget what I did last. So I keep striving to perfect each track or album I do and do it better than I ever done. In my mind I've not made the best track yet and it keeps me grounded and hungry. Until I can reach Quincy Jones, Lionel Richie or Babyface type of status, I haven't done anything. Those guys have been doing it for 40 plus years! So, I've got a long way to go.
"My mindset is about making the best song the artist and I have ever heard even if it doesn't make 20 cents."
If you're true to music then music will be true to you. I don't go to music thinking about the monetary status first. That's a mistake a lot of producers do, which means it's not a true passion—if that's all you think about. My father always told me, "find something you're passionate about and you love and you're willing to do for free. Then figure out how to make money from it." I keep that in mind and keep the passion burning inside of me so I don't ever get delusional or get confused when I don't sell a million copies. Even though we all want that, my mindset is about making the best song the artist and I have ever heard even if it doesn't make 20 cents.
Ask: So you've been nominated for two Grammy Awards this time for Album of the Year, Beyonce, and R&B Song of the Year, "Drunk in Love". How do you feel about it?
J-Roc: It's an honor. There are tons of great producers who've been doing this for years and never got a nomination. Even if we don't win I'm so thrilled that we even got six nods two years in a row. I'm grateful and thankful.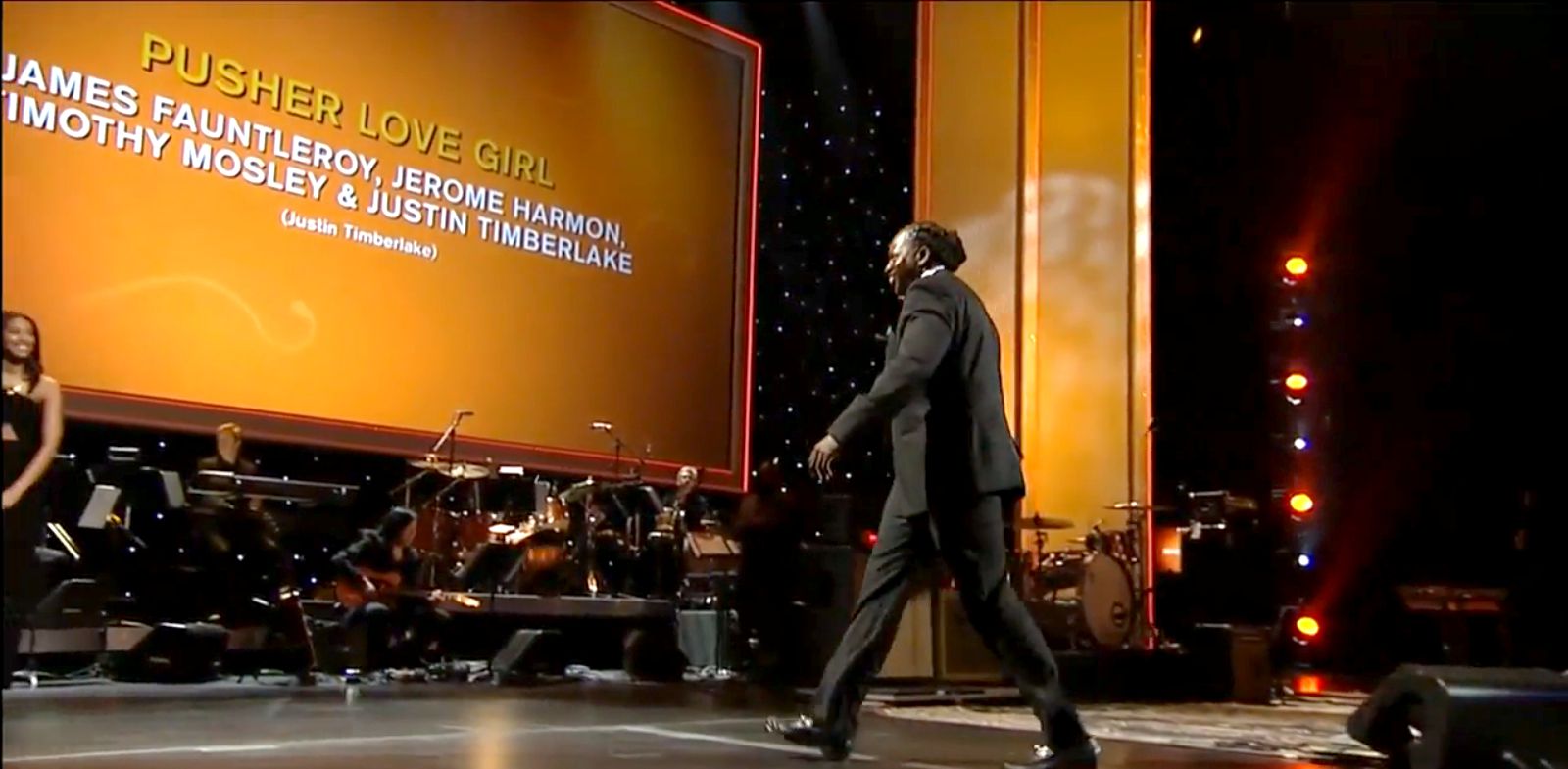 Jerome is no stranger to winning Grammy's...
Ask: Good luck!! I'd love to chat a little about your support for music education. I hear you're passionate about improving music education in the US?
J-Roc: In the States as a whole so much hype has been put into sports. I'm not knocking it. Sports is what got me into college by receiving all 3 scholarships. But the past 15 years interests in sports has increased and interest in arts has decreased because of the opportunities for funding. The government has taken money out of Home Ec., marching bands, choirs, etc. It's highly unlikely that the percentage of athletes make it in the professional world. Yet the sports part of the the school has been highly glamorized. But people don't realize that studying music at an early age enhances their social skills, mathematic and English snap grammar skills ten fold.
Since the governments been slashing the arts programs, many kids who have great talent don't have the educational know how to hone it or make it grow. It's becoming a bad epidemic. I'm all for advocating education and music. I have a scholarship program that allows people that want to go to school get funding. College tuition is really expensive. So, kids send me an essay about what they want to do in the future and if it's about arts and my panel and I agree with it, they get $1,000 towards their education. Last year we raised $16,000 so we helped 10 students.
"If you bet on yourself there's no way you'll lose because then you'll challenge yourself."
We don't have free education, free health. It's unheard of. You know, I don't want to just get a Grammy. I want to be an inspiration for kids who've come from small towns like me who think, "how can I outshine someone from a big city like Dallas?" So I try to be that beacon for kids to say, "look, I did it, so can you. Sometimes you just need to work that little bit harder." Sometimes they need a boost and financial backing. When I was young I didn't have that and I had to work hard. I was from a family of six kids so everyone had to go for it! So you can't be lazy and you've got to be ambitious.
Ask: Any further tips you'd like to give to kids wanting to break into the industry… want to become producers or the next Beyonce?
J-Roc: Trust yourself. Always bet on yourself. If you bet on yourself there's no way you'll lose because then you'll challenge yourself. When you challenge yourself you'll see that you can obtain certain goals. So, bet on yourself. Be focused and stay confident in what you believe and the sky is the limit. Also, stay healthy, eat well, and get rest!
Ask: Anything you're working on now you can share with us?
J-Roc: It's under wraps. Between Halloween to New Year is a dead season for music, so it gives me a chance to get my arsenal back up and get more sounds and work on different techniques. So once the year starts after the Grammys and artists want to get into the studio, I'm well prepared and ready.
Music Gear Mentioned:
Software: Ableton Live, Pro Tools, UAD Plug-ins, Native Instruments Kontakt, Reaktor, Rob Papen Sub Boom Bass, Spectrasonics Omnisphere.
Hardware: Yamaha DX7, Moog, Prophet 5, Korg Kronos, Yamaha Motif, Fender Rhodes, UAD.