Gorgeous, Affordable Analog Semi-Modular Synthesizer, Ants, Set To Add New Features
Plankton Electronics Ants! - yes, that gorgeous sounding semi-modular analog synth has reached its kickstarter goal! To celebrate here's 8 videos covering all aspects of Ants and new stretch goals.
Yes the lead up to Christmas is always a blur. But it was just 2 weeks ago that Plankton Electronics announced Ants, their semi-modular analog desktop synthesizer. Don't you remember?? Here's our original article to jog your memory.
Launched on Kickstarter in early December 2016 ths beautifully designed and sounding semi-modular synth was going for as little as €419 EUR (Aprox. $450 USD or £350 GBP). The synth world heard the demos. Liked the demos. Liked the design... and unsurprisingly with over 15 days to go the goal of €27,000 EUR was reached.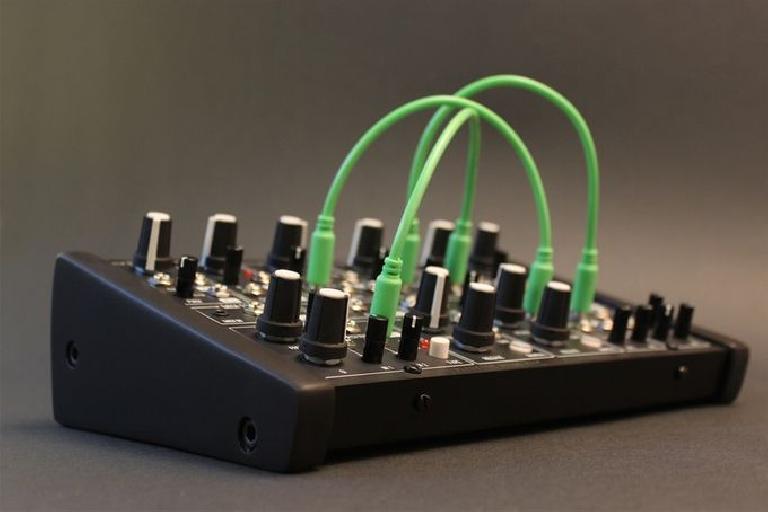 Today, Alex Ballester, of Plankton Electronics, informed us that they have added stretch goals to the Ants! kickstarter and 8 new videos showing what Ants! is really capable of.
Here's what Alex tells us:
"We have updated the project. If we hit the 45.000€ goal we will add some new features to "Ants!":
An extra CV output. The Midi in connector will be at the rear part (still with a 3.5mm jack) and we will add a second cv output. CC or velocity.
Selectable midi channel instead of "midi learn"
A sync in on the LFO1.
Envelope 1 will be a triggered Attack/Decay instead of a gated Attack/Release.
One of the LFOs will have a sine wave output.
We will replace the attenuators for "attenuverters" in the mixer section.
A big and complete "patch book" with video demos. From basic sounds to complex patching
Also Plankton Electronics have uploaded more videos. An intro video with some details. 4 generative patches. Making classic drums. Using it as an FX processor and a "in depth" video with technical details. Alla available to watch in this playlist below:
If you were sitting on the fence about whether to get Ants! or not, these extra features might well persuade you to try and help Ants! reach the €45,000 EUR goal. That's less than €20,000 EUR more to go.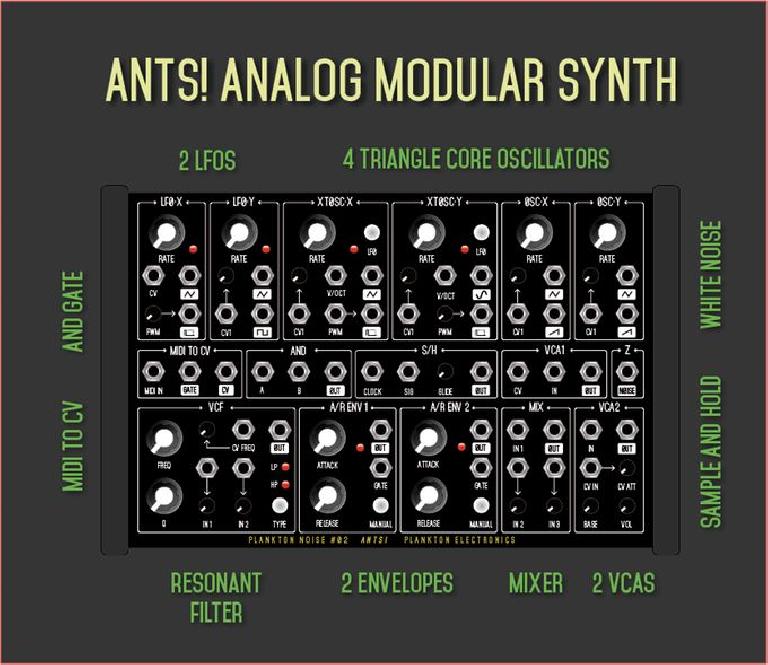 Here's a reminder of the main features of Ants!
Ants! Existing Features:
4 Oscillators: yes, 4! V/Oct triangle-core oscillators. 2 of them switchable to LFO. Combining sinusoidal, triangle, saw, square and pulse with PWM. Play chords, detuned basses, octaved leads, drums, and frequency modulated sounds.
2 LFOs: 2 low frequency oscillators with triangle, square and pulse outputs.
VCF: switchable analog 12dB low-pass / 6db high-pass filter with resonance. At high input volumes it distort the signal. Self oscillating. It can sound crystal clear or really dirty.
2 A/R envelopes: 2 attack - release envelopes with manual and external controls. Working at different times.
Mixer: 3 input mixer. Mix oscillators, envelopes, noise or any other AC or DC signal.
2 VCAs: control the level of the signals with 2 analog VCAs.
Noise: a white noise source!
Sample and Hold: create random voltages, stepped sequences or dither your sounds or even your own voice.
AND gate: logic AND gate. Combine oscillators to create new waves, combine LFOs to create different patterns or mix your control signals to create complex modulations.
MIDI to CV: connect any MIDI keyboard, sequencer or computer and transform the digital signal to analog voltages for controlling the synth.
49 patch points, 28 potentiometers, 5 switches and 8 leds.
Normalized: Some connections are already made between some functions. Just connect your Midi or CV controller and play the synth without patching it. You can break any connection by plugging a patch cord to the normalized input.