Primeiro, vamos começar com o que é Bitcrushing. Lembre-se dos velhos tempos de síntese, Speak
Mas não foi apenas dispositivos eletrônicos voltados para música eletrônica que tinha um som como este. Havia também os pedais de loop de guitarras que tinha um som muito lo-fi, os primeiros pedais de guitarra digital, pedais de distorção, amps certos, etc Realmente, quando você pensa sobre isso, a cada década que usou a gravação digital (80, 90) teve um som particular.
Então, novamente, o que é Bit Crushing? É um processo pelo qual você diminuir a resolução de amostra e taxa de bits de uma gravação. Por exemplo: mudar a gravação de um áudio CDwhich tem um
Por Bitcrush Alguma coisa?

Mas, novamente, por que você faria isso?! Eu posso responder a esta:
Pristine sound = Classical track.

Pristine sound + bit crusher = Dirty, growly recording with a lot of character.

Tenha em mente, não é para cada música, cada instrumento, etc Seu para faixas que precisa de um personagem, crus mal.
Passo 1

Vamos dar uma olhada no Logic Bitcrusher agora e também ouvir um pouco antes e depois: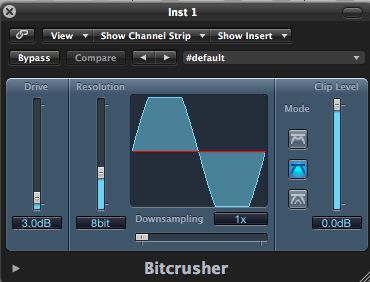 A amostra seca de áudio:
[Audio id = "6970"]

Para olhar este plug-in, pode-se pensar que seria mais adequado para a idade do espaço traquinagens através da estratosfera. Haveria dragões aqui.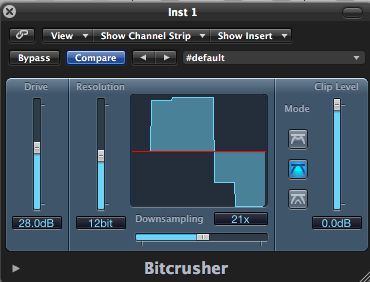 Passo 2

O controle deslizante da unidade é o que você usa para introduzir um efeito de overdrive em sua faixa bitcrushed. Se aumentá-lo, observe o gráfico que você vai nas mudanças do meio. Basicamente, você está recebendo esse som alto-falante distorcida, sem se fazer o pico de sinal. Sim, ele faz aumentar o sinal geral, mas não uma tonelada. Eu ainda recomendo batendo um limitador sobre este menino mau. Perfeito para loops de bateria desagradável, guitarras, synths growly, etc
Permite ouvir esta synth bass com o Drive dobrado:
[Audio id = "6972"]

Passo 3

Em seguida acima seria o Downsampling, que controla a freqüência de amostragem simulada, e o controle deslizante Resolução, que permite ajustar a taxa de bits.
Permite ajustar o controle deslizante Resolução e Downsampling e ver o que nós começamos.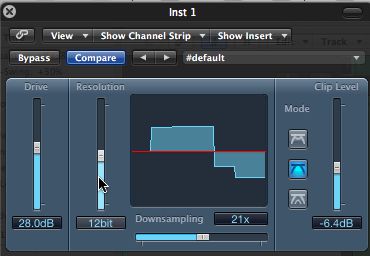 Amostra inferior Resolução:
[Audio id = "6971"]

Passo 4

Finalmente, você começou os botões de modo que determinar o tipo de distorção digital que você está recebendo. Esses modos são muito mais divertido quando você realmente experiência com eles, além de ler sobre eles. Mas o nível é crítico Clipe para cobrir, como define o limite da faixa de canal, basicamente, onde a distorção começa. E, se você clicar na seta na parte inferior, na verdade você pode ajustar o mix de quanto bitcrushing é aplicada.

Alright, theres meu sermão. Esperemos que esta tem suscitado um interesse em experimentar o Bitcrusher de idade. Se você está procurando um pouco de sujeira em sua gravação, você não poderia ter um parceiro na filthier Pro Logic !