En primer lugar, vamos a empezar con lo que se Bitcrushing. Recuerdo los viejos tiempos de la síntesis, hablar
Pero no fue sólo dispositivos electrónicos orientados a la música electrónica que tenía un sonido como este. También hubo pedales de loop de guitarras que tenía un sonido muy lo-fi, los primeros pedales de guitarra digital, pedales de distorsión, amplificadores determinado, etc Realmente, cuando se piensa en ello, cada década que utiliza grabación digital (80, 90) tuvo un sonido en particular.
Así, de nuevo, lo que es Bit aplastante? Es un proceso mediante el cual se baja la resolución de la muestra y la tasa de bits de una grabación. Por ejemplo: el cambio de la grabación de un audio CDwhich tiene un
¿Por qué Bitcrush ¿Cualquier cosa?

Pero, de nuevo, ¿por qué haces esto? Puedo responder a esta:
Pristine sound = Classical track.

Pristine sound + bit crusher = Dirty, growly recording with a lot of character.

Tenga en cuenta, no es para cada canción, cada instrumento, etc Sus pistas de que es necesario un carácter crudo, mal.
Paso 1

Vamos a echar un vistazo a la lógica Bitcrusher ahora y también escuchar un poco antes y después: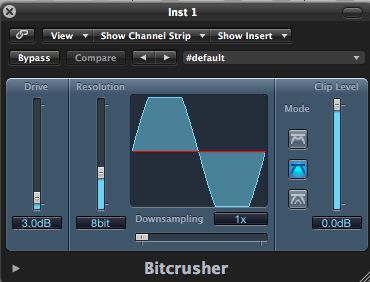 El audio de la muestra seca:
[Audio id = "6970"]

Para ver este plug-in, uno podría pensar que sería más adecuado para retozos de la era espacial a través de la estratosfera. No habría dragones aquí.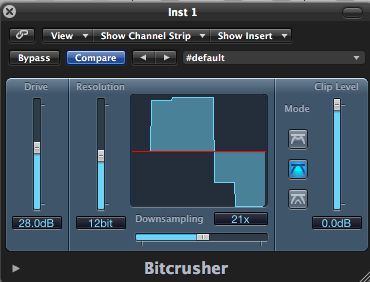 Paso 2

El control deslizante de la unidad es lo que se utiliza para introducir un efecto de saturación en la pista bitcrushed. Si se aumentan, previo aviso youll que el gráfico de los cambios del medio. Básicamente, usted está consiguiendo que el sonido del altavoz distorsionada, sin conseguir hacer el pico de la señal. Sí, sí aumenta la señal en general, pero no de una tonelada. Yo lo recomendaría abofetear a un limitador de este chico malo. Perfecto para loops de batería desagradable, guitarras, sintetizadores gruñón, etc
Oigamos esta bajo sintetizado con la unidad de manivela:
[Audio id = "6972"]

Paso 3

El siguiente paso sería la disminución de resolución, que controla la frecuencia de muestreo simulado, y el control deslizante Resolución, que le permite ajustar la velocidad de bits.
Permite ajustar el control deslizante de Resolución y disminución de resolución y ver lo que weve consiguió.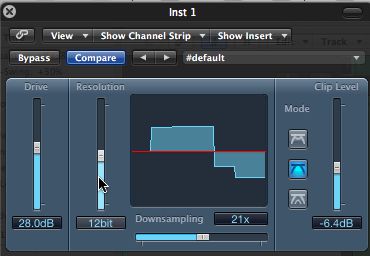 Resolución más baja de la muestra:
[Audio id = "6971"]

Paso 4

Por último, youve consiguió los botones de modo que determinar el tipo de distorsión digital que está recibiendo. Estos modos son mucho más divertido cuando realmente experimentar con ellos, aparte de leer acerca de ellos. Sin embargo, el nivel de saturación es esencial para cubrir, como lo establece el umbral de la canal, básicamente, en que la distorsión se inicia. Y, si hace clic en la flecha en la parte inferior, usted puede ajustar la mezcla de la cantidad de bitcrushing se aplica.

Bien, theres mi sermón. Esperamos que este ha despertado un interés en probar el Bitcrusher de edad. Si usted está buscando un poco de tierra en la grabación, que podía conseguir un socio más sucia en Pro Logic !